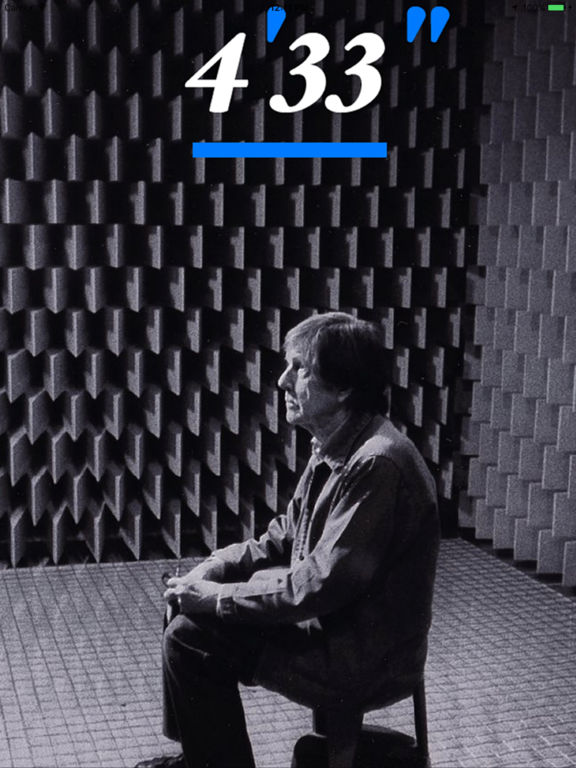 Image via iTunes
John Cage's 4'33" is one of the most infa­mous works of the 20th cen­tu­ry and which still has the abil­i­ty to divide peo­ple. Three move­ments of silence, where the per­former does noth­ing, it forces the audi­ence to lis­ten to its sur­round­ings and be present, a dis­til­la­tion of zen thought if there ever was one. In an increas­ing­ly dis­tract­ed age, being silent and present is very dif­fi­cult for most peo­ple. A Men­tal Floss arti­cle on the piece's lega­cy ref­er­enced a 2014 Uni­ver­si­ty of Vir­ginia study where hun­dreds of peo­ple sat in silence for a total of 15 min­utes. "25 per­cent of women and 67 per­cent of men opt­ed to endure painful elec­tric shocks rather than pass the time with­out any stim­u­la­tion," says the arti­cle.
Two years ago, the John Cage Trust launched the 4'33" app, which sounds coun­ter­in­tu­itive. How can a phone app make one present?
Well, it doesn't exact­ly do that. Instead, it offers a chance for mem­bers to record and share their own "per­for­mances" of Cage's famous piece, once again demon­strat­ing Cage's result-—there is no real silence. (Even in 1951, one year before 4'33"'s com­po­si­tion, when Cage sat in a sound dead­en­ing ane­choic cham­ber in Har­vard, he could still hear the blood rush­ing in his veins.)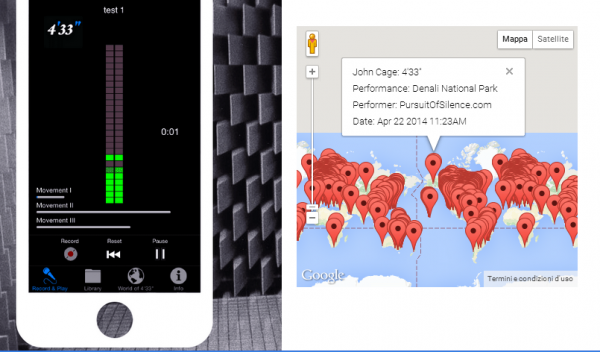 The iPhone app, which costs 99 cents, is sim­ple and comes with a record­ing of the piece from John Cage's New York apart­ment, which high­lights the traf­fic sounds and police sirens. Tap on the "World of 4'33"" but­ton at the bot­tom and a world map opens, show­ing green push­pins in var­i­ous loca­tions where users record­ed their own moments of silence. (The project is sim­i­lar to the 2008 inter­net project of field record­ings, "One Minute Vaca­tion").
One user's Kaloli, Hawaii record­ing is all trop­i­cal insects and birds busy com­pos­ing their own music. The one some­body record­ed down­town in my home city is of our shop­ping mall at Christ­mas, with pedes­tri­ans, far off car­ols, and the sounds of com­merce. In Japan, there's a love­ly record­ing of Chi­tose air­port, espe­cial­ly if you find echoey tan­noy announce­ments roman­tic (I do). From urban to sub­ur­ban to coun­try­side, this is a por­trait of a world that is nev­er silent.
Relat­ed Con­tent:
John Cage's Silent, Avant-Garde Piece 4'33" Gets Cov­ered by a Death Met­al Band
John Cage Per­forms His Avant-Garde Piano Piece 4'33" … in 1'22" (Har­vard Square, 1973)
Lis­ten to John Cage's 5 Hour Art Piece: Diary: How To Improve The World (You Will Only Make Mat­ters Worse)
Ted Mills is a free­lance writer on the arts who cur­rent­ly hosts the FunkZone Pod­cast. You can also fol­low him on Twit­ter at @tedmills, read his oth­er arts writ­ing at tedmills.com and/or watch his films here.