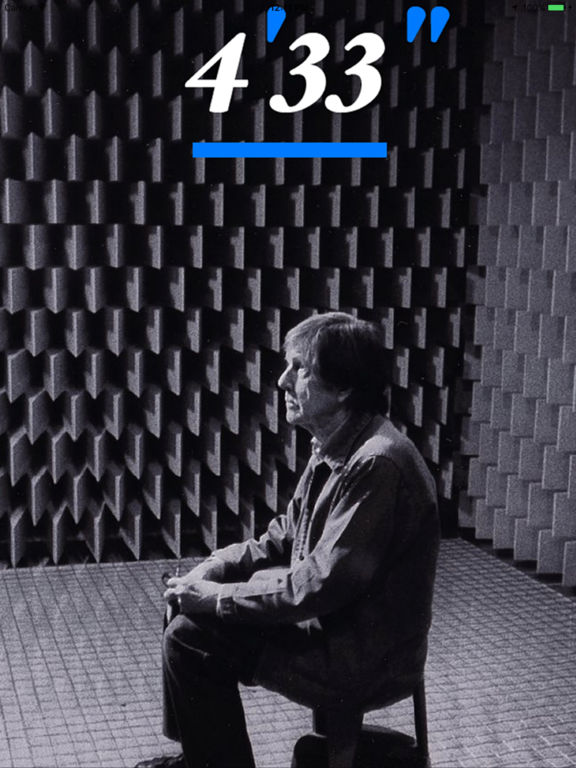 Image via iTunes
John Cage's 4'33" is one of the most infamous works of the 20th century and which still has the ability to divide people. Three movements of silence, where the performer does nothing, it forces the audience to listen to its surroundings and be present, a distillation of zen thought if there ever was one. In an increasingly distracted age, being silent and present is very difficult for most people. A Mental Floss article on the piece's legacy referenced a 2014 University of Virginia study where hundreds of people sat in silence for a total of 15 minutes. "25 percent of women and 67 percent of men opted to endure painful electric shocks rather than pass the time without any stimulation," says the article.
Two years ago, the John Cage Trust launched the 4'33" app, which sounds counterintuitive. How can a phone app make one present?
Well, it doesn't exactly do that. Instead, it offers a chance for members to record and share their own "performances" of Cage's famous piece, once again demonstrating Cage's result-—there is no real silence. (Even in 1951, one year before 4'33"'s composition, when Cage sat in a sound deadening anechoic chamber in Harvard, he could still hear the blood rushing in his veins.)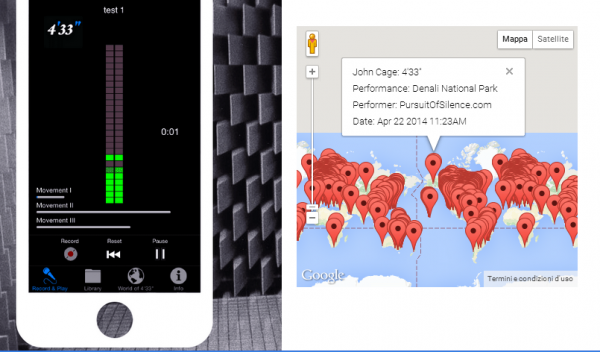 The iPhone app, which costs 99 cents, is simple and comes with a recording of the piece from John Cage's New York apartment, which highlights the traffic sounds and police sirens. Tap on the "World of 4'33"" button at the bottom and a world map opens, showing green pushpins in various locations where users recorded their own moments of silence. (The project is similar to the 2008 internet project of field recordings, "One Minute Vacation").
One user's Kaloli, Hawaii recording is all tropical insects and birds busy composing their own music. The one somebody recorded downtown in my home city is of our shopping mall at Christmas, with pedestrians, far off carols, and the sounds of commerce. In Japan, there's a lovely recording of Chitose airport, especially if you find echoey tannoy announcements romantic (I do). From urban to suburban to countryside, this is a portrait of a world that is never silent.
Related Content:
John Cage's Silent, Avant-Garde Piece 4'33" Gets Covered by a Death Metal Band
John Cage Performs His Avant-Garde Piano Piece 4'33" … in 1'22" (Harvard Square, 1973)
Listen to John Cage's 5 Hour Art Piece: Diary: How To Improve The World (You Will Only Make Matters Worse)
Ted Mills is a freelance writer on the arts who currently hosts the FunkZone Podcast. You can also follow him on Twitter at @tedmills, read his other arts writing at tedmills.com and/or watch his films here.