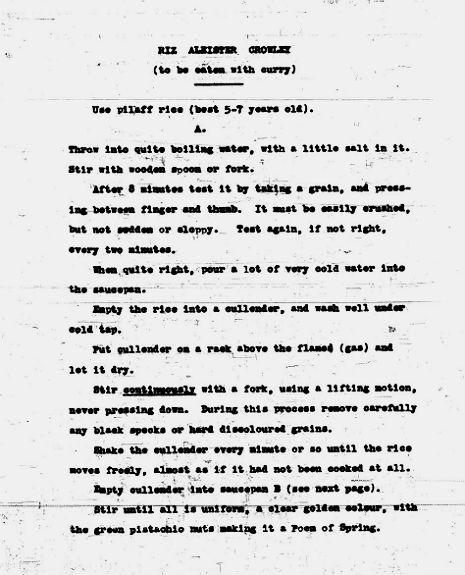 Before visiting a Gnostic Mass at one of Aleister Crowley's Ordo Templi Orientis chapters in the UK, Dangerous Minds' Thomas McGrath was warned by a friend in no uncertain all caps, "DO NOT EAT THE CAKE OF LIGHT." I'll let you find out for yourself why the excess caution against this Crowley confabulated piece of anti-Catholic sacramental bread. Suffice it to say, the British occultist who called himself the Great Beast 666 shared other ceremonial recipes in his copious writings on ritual practices. Many of them involved bodily fluids as a matter of course.
In addition to the Magick for which he's commonly known in countercultural circles, Crowley was an artist, avid mountain climber, world traveler, and aspiring chef of more or less edible foods, who often cooked for his traveling companions. Dangerous Minds draws our attention to one dish Crowley described in his "autohagiography," The Confessions of Aleister Crowley. Called "glacier curry," the stuff was apparently so spicy it made hardened mountaineers "dash out of the tent after one mouthful and wallow in the snow, snapping at it like mad dogs."
Crowley neglected to list the ingredients and means of preparation for the unbearable "glacier curry," but he did leave another recipe among his papers for a much cooler accompaniment. (Discovered, writes Coilhouse, by a "Professor Jack" in the Crowley Archives at Bird Library, Syracuse University.) Called "Riz Aleister Crowley," and meant "to be eaten with curry," you can find it below. The proportions have been estimated by writer Nico Mara McKay, who has made the rice with delicious results.
Ingredients

– 1 cup brown basmati rice

– sea salt

– 1/4 cup sultanas

– 1/4 cup slivered almonds(1)

– 1/4 cup pistachio nuts

– powdered clove

– powdered cardamoms

– turmeric powder (enough to colour the rice to a clear golden tint)

– 2 tblsp. butter

Steps

Bring two cups of salted water to a bowl. Throw in in the rice, stirring regularly.

Test the rice after about ten minutes "by taking a grain, and pressing between finger and thumb. It must be easily crushed, but not sodden or sloppy. Test again, if not right, every two minutes."

When ready, pour cold water into the saucepan.

Empty the rice into a colander, and rinse under cold tap.

Put colander on a rack above the flames, if you have a gas stove, and let it dry. If, like me, your stove is electric, the rice can be dried by placing large sheets of paper towel over and under the rice, soaking up the water. Preferably the rice should seem very loose, almost as if it it has not been cooked at all. When you've removed as much water as you can, remove the paper towel.

Place the rice back into the pot on a much lower temperature.

Stirring continuously, add the butter, sultanas, almonds, pistachio nuts, a dash or two of cloves and a dash of cardamom.

Add enough turmeric that the rice, after stirring, is "uniform, a clear golden colour, with the green pistachio nuts making it a Poem of Spring."
In addition to the estimated proportions, the version above has been modified somewhat to fit our contemporary recipe expectations, but the folks at food blog Happy Vegetable Cow have an exact transcription of Crowley's typescript (top). They note Crowley's continuity with free-form recipe traditions of antiquity and celebrate the bit of "creative narrative" at the end. For an even more creatively phrased grain recipe than Crowley's aromatic rice, see David Lynch's surreal quinoa instructions.
via Dangerous Minds
Related Content:
Aleister Crowley: The Wickedest Man in the World Documents the Life of the Bizarre Occultist, Poet & Mountaineer
Aleister Crowley & William Butler Yeats Get into an Occult Battle, Pitting White Magic Against Black Magic (1900)
Aleister Crowley Reads Occult Poetry in the Only Known Recordings of His Voice (1920)
Josh Jones is a writer and musician based in Durham, NC. Follow him at @jdmagness