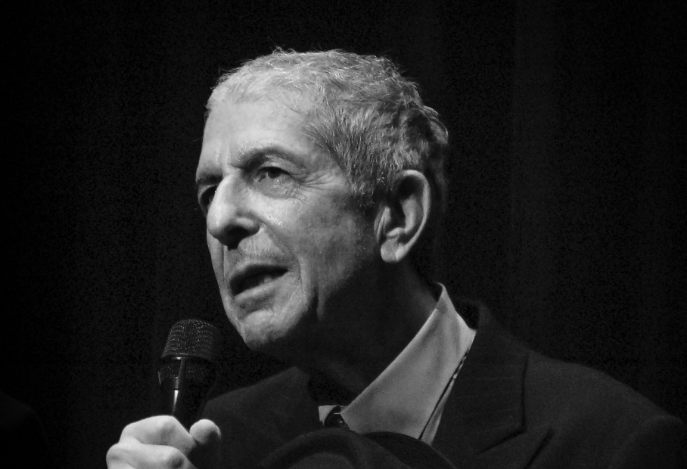 Image by Rama, via Wikimedia Commons
We've heard very few details about Leonard Cohen's death this week, and that is by design. The Cohen family requested privacy for his funeral and received it. While most outlets reported that he passed away on Thursday night, he actually died on Wednesday and was buried on Thursday. This collective graciousness on the part of the press comes, I'd say, at a time when little grace abounds. Grace is a word that I particularly associate with Cohen. He was a graceful man, always impeccably coiffed and dressed (his father was a tailor), his handsome, hangdog face never anything but perfectly direct.
For several days before his death, New Yorker editor David Remnick sat down with Cohen for the first interview he'd given in several years. The poet and folk singer/songwriter legend had terminal cancer, we learn, and was confined to a medical chair. Nonetheless, says Remnick, introducing the edited audio interview below, Cohen was "in an ebullient mood for a man… who knew exactly where he was going, and he was headed there in a hurry. And at the same time, he was incredibly gracious. The most gracious host this side of my mother." Cut to Cohen offering him a few slices of cheese, and Reminick declining.
Cohen kept his illness secret (though he made allusions to it in a letter to his dying girlfriend Marianne this past summer). Remnick reveals that he recorded almost the entirety of his incredible final album You Want It Darker while confined to that chair. His voice rubbed raw with age, like Johnny Cash's in his American Recordings sessions, Cohen's last songs carry all the spiritual urgency and ragged vigor of the best work of his career. Where did it come from? Unsurprisingly, the first subject in Remnick's interview is death. Cohen has been writing about death since his first album in 1967.
He begins with his father's death when he was nine, "a kind of origin story for his career as a writer."
The funeral was held in our house. When we came down the stairs, the coffin was in the living room. And it was open. It was winter, you know. And I was thinking, like, it must be hard to dig.
Remembering this scene, Cohen's Montreal accent strengthens, then relaxes as he describes how, after the funeral, he went to his father's closet, cut a bow tie in half, wrote "some kind of farewell to my father" on the wing of the tie, and buried it in the backyard. "It was just some attraction to a ritual response," he says, "to an impossible event."
This tragic vignette, and Cohen's reflection on it, is, as Remnick says, like a superhero origin story. With the same measured, rhythmic voice and clear expressions as his songs, Cohen connects the mortal to the mysteriously divine act of writing, which accomplishes "some kind of farewell" whose effects are unknown to us. What possible significance the act had for Cohen, he cannot say, but it was simply the appropriate response. Cohen's final album seemed to be the right response to his own death.
This dwelling on mortality is of course hugely significant and in the foreground of this interview-slash-tribute from Remnick, but it isn't a morbid piece at all. In a retrospective of Cohen's career, we learn how he went from an acclaimed but struggling poet and novelist to folk singer in 1967, and how crippling stage fright led to him drinking three bottles of wine before he performed. At a 1972 concert in Israel, Cohen apologized, left the stage partway through a song, and dropped two hits of acid in his dressing room. The audience began singing loudly, and he returned to sing "So Long, Marianne" while hallucinating wildly.
The story is hilarious, told with the same dry wit that undercuts all of Cohen's observations about sex, death, and God. For all the deepness we associate with Leonard Cohen, says Remnick, he seemed reluctant to analyze his work in religious terms. But when he does open up about it, he gives us a backdrop against which to understand much of his spiritual philosophy: prayers, he says, "are to remind God, it was once a harmonious unity…. " as well as his writing philosophy: "I only know," says Cohen, "that if I write enough verses, and keep discarding the slogans, even the hip ones, even the subtle ones, that something will emerge that represents."
You can also listen to Remnick's New Yorker Radio Hour podcast at the WNYC site (and above) and read Remnick's article on his last meetings with Cohen at The New Yorker.
Related Content:
Leonard Cohen Has Passed at Age 82: His New and Now Final Album Is Streaming Free Online
Leonard Cohen Plays a Spellbinding Set at the 1970 Isle of Wight Festival
Ladies and Gentlemen… Mr. Leonard Cohen: The Poet-Musician Featured in a 1965 Documentary
Josh Jones is a writer and musician based in Durham, NC. Follow him at @jdmagness