Amazing things happen every day in New York City—some spontaneous, some whose execution is carefully planned over weeks and months.
Equally amazing is the total ignorance with which one can go about one's business at just a few blocks remove … be it the Coney Island Mermaid Parade, Egg Rolls and Egg Creams, or the Three Kings Day Parade, some folks only have eyes for brunch.
But it would have been difficult for anyone to overlook seven animatronic dinosaurs, traveling by barge on October 15, 1963, bound for the Sinclair Oil Corporation's "Dinoland" exhibit at the 1964 World's Fair.
In a stunt worthy of Barnum, the synthetic beasts trekked 150 miles from the exhibit's designer, Jonas Studios, to the World's Fair site in Flushing, Queens, hailed by fireboats and an enthusiastic throng. The sponsoring corporation, whose highly recognizable logo was a brontosaurus, had furnished the public with a timetable of estimated arrivals along the route.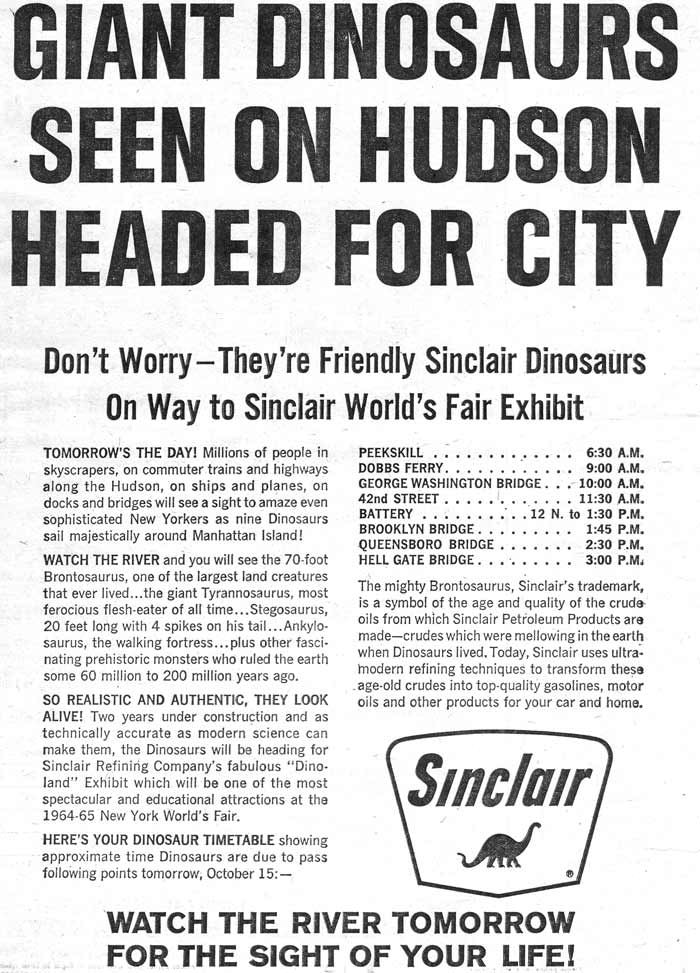 For good measure, every family to visit the exhibit within the first year was offered a coupon for a free gallon of gasoline.
Installed in what the marvelously evocative Jam Handy short below termed a "prime location surrounded by titans of American industry," the dinosaurs attracted over 10 million "car-owning, traveling" fans. (That's a lot of fossil fuel.)
On the way out, visitors were encouraged to avail themselves of the Mold-A-Rama machine, which pumped out miniature plastic dinosaur souvenirs at 25¢ a pop.
After the fair closed, the dinosaurs went on tour, put in an appearance in the Macy's Thanksgiving Day Parade, and eventually settled into zoos and natural history museums around the country.
Read the Dinoland guidebook here. A sample:
Sinclair uses the Dinosaur "Brontosaurus" as a symbol to dramatize the age and quality of the crude oils from which Sinclair Petroleum Products are made — crudes which were mellowing in the earth millions of years ago when Dinosaurs lived.
Related Content:
Gertie the Dinosaur: The Mother of all Cartoon Characters (1914)
Watch Lost World (1925), the Granddaddy of Giant Monster Movies Like The Lost World: Jurassic Park
Watch a Timelapse Video Showing the Creation of New York City's Skyline: 1500 to Present
Ayun Halliday is an author, illustrator, theater maker and Chief Primatologist of the East Village Inky zine.  Her play Zamboni Godot is opening in New York City in March 2017. Follow her @AyunHalliday.