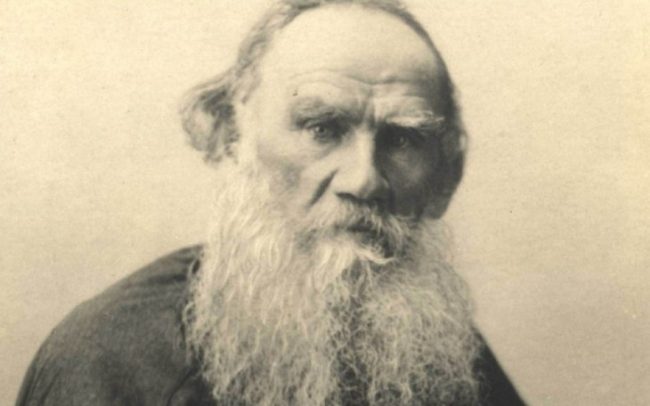 Leo Tol­stoy is remem­bered as both a tow­er­ing pin­na­cle of Russ­ian lit­er­a­ture and a fas­ci­nat­ing exam­ple of Chris­t­ian anar­chism, a mys­ti­cal ver­sion of which the aris­to­crat­ic author pio­neered in the last quar­ter cen­tu­ry of his life. After a dra­mat­ic con­ver­sion, Tol­stoy reject­ed his social posi­tion, the favored vices of his youth, and the dietary habits of his cul­ture, becom­ing a vocal pro­po­nent of veg­e­tar­i­an­ism in his ascetic quest for the good life. Thou­sands of his con­tem­po­raries found Tolstoy's exam­ple deeply com­pelling, and sev­er­al com­munes formed around his prin­ci­ples, to his dis­may. "To speak of 'Tol­stoy­ism,'" he wrote, "to seek guid­ance, to inquire about my solu­tion of ques­tions, is a great and gross error."
"Still," writes Kelsey Osgood at The New York­er, "peo­ple insist­ed on seek­ing guid­ance from him," includ­ing a young Mahat­ma Gand­hi, who struck up a live­ly cor­re­spon­dence with the writer and in 1910 found­ed a com­mu­ni­ty called "Tol­stoy Farm" near Johan­nes­burg.
Though uneasy in the role of move­ment leader, the author of Anna Karen­i­na invit­ed such treat­ment by pub­lish­ing dozens of philo­soph­i­cal and the­o­log­i­cal works, many of them in oppo­si­tion to a con­trary strain of reli­gious and moral ideas devel­op­ing in the late nine­teenth cen­tu­ry. Often called "mus­cu­lar Chris­tian­i­ty," this trend respond­ed to what many Vic­to­ri­ans thought of as a cri­sis of mas­culin­i­ty by empha­siz­ing sports and war­rior ideals and rail­ing against the "fem­i­niza­tion" of the cul­ture.
Tol­stoy might be said to rep­re­sent a "veg­etable Christianity"—seeking har­mo­ny with nature and turn­ing away from all forms of vio­lence, includ­ing the eat­ing of meat. In "The First Step," an 1891 essay on diet and eth­i­cal com­mit­ment, he char­ac­ter­ized the pre­vail­ing reli­gious atti­tude toward food:
I remem­ber how, with pride at his orig­i­nal­i­ty, an Evan­gel­i­cal preach­er, who was attack­ing monas­tic asceti­cism, once said to me "Ours is not a Chris­tian­i­ty of fast­ing and pri­va­tions, but of beef­steaks." Chris­tian­i­ty, or virtue in general—and beef­steaks!
While he con­fessed him­self "not hor­ri­fied by this asso­ci­a­tion," it is only because "there is no bad odor, no sound, no mon­stros­i­ty, to which man can­not become so accus­tomed that he ceas­es to remark what would strike a man unac­cus­tomed to it." The killing and eat­ing of ani­mals, Tol­stoy came to believe, is a hor­ror to which—like war and serfdom—his cul­ture had grown far too accus­tomed. Like many an ani­mal rights activist today, Tol­stoy con­veyed his hor­ror of meat-eat­ing by describ­ing a slaugh­ter­house in detail, con­clud­ing:
[I]f he be real­ly and seri­ous­ly seek­ing to live a good life, the first thing from which he will abstain will always be the use of ani­mal food, because, to say noth­ing of the exci­ta­tion of the pas­sions caused by such food, its use is sim­ply immoral, as it involves the per­for­mance of an act which is con­trary to the moral feeling—killing.

[W]e can­not pre­tend that we do not know this. We are not ostrich­es, and can­not believe that if we refuse to look at what we do not wish to see, it will not exist.… [Y]oung, kind, unde­praved people—especially women and girls—without know­ing how it log­i­cal­ly fol­lows, feel that virtue is incom­pat­i­ble with beef­steaks, and, as soon as they wish to be good, give up eat­ing flesh.
The idea of veg­e­tar­i­an­ism of course pre­ced­ed Tol­stoy by hun­dreds of years of Hin­du and Bud­dhist prac­tice. And its grow­ing pop­u­lar­i­ty in Europe and Amer­i­ca pre­ced­ed him as well. "Tol­stoy became an out­spo­ken veg­e­tar­i­an at the age of 50," writes Sam Pavlenko, "after meet­ing the pos­i­tivist and veg­e­tar­i­an William Frey, who, accord­ing to Tolstoy's son Sergei Lvovich, vis­it­ed the great writer in the autumn of 1885." Tolstoy's dietary stance fit in with what Char­lotte Alston describes as an "increas­ing­ly orga­nized" inter­na­tion­al veg­e­tar­i­an move­ment tak­ing shape in the late nine­teenth cen­tu­ry.
Like Tol­stoy in "The First Step," pro­po­nents of veg­e­tar­i­an­ism argued not only against cru­el­ty to ani­mals, but also against "the bru­tal­iza­tion of those who worked in the meat indus­try, as butch­ers, slaugh­ter­men, and even shep­herds and drovers." But veg­e­tar­i­an­ism was only one part of Tolstoy's reli­gious phi­los­o­phy, which also includ­ed chasti­ty, tem­per­ance, the rejec­tion of pri­vate prop­er­ty, and "a com­plete refusal to par­tic­i­pate in vio­lence or coer­cion of any kind." This marked his dietary prac­tice as dis­tinct from many con­tem­po­raries. Tol­stoy and his fol­low­ers "made the link between veg­e­tar­i­an­ism and a wider human­i­tar­i­an­ism explic­it."
"How was it pos­si­ble," Alston sum­ma­rizes, "to regard the killing of ani­mals for food as evil, but not to con­demn the killing of men through war and cap­i­tal pun­ish­ment? Not all mem­bers of the veg­e­tar­i­an move­ment agreed." Some saw "no con­nec­tion between the ques­tions of war and diet." Tolstoy's philo­soph­i­cal argu­ment against all forms of vio­lence was not orig­i­nal to him, but it res­onat­ed all over the world with those who saw him as a shin­ing exam­ple, includ­ing his two daugh­ters and even­tu­al­ly his wife Sophia, who all adopt­ed the prac­tice of veg­e­tar­i­an­ism. A book of their recipes was pub­lished in 1874, and adapt­ed by Pavlenko for his Leo Tol­stoy: A Vegetarian's Tale. (See one exam­ple here—a fam­i­ly recipe for mac­a­roni and cheese.)
In her study Tol­stoy and His Dis­ci­ples, Alston details the Russ­ian great's wide influ­ence through not only his diet but the total­i­ty of his spir­i­tu­al prac­tices and unique polit­i­cal and reli­gious views. Inter­est­ing­ly, unlike many ani­mal rights activists of his day and ours, Tol­stoy refused to endorse leg­is­la­tion to pun­ish ani­mal cru­el­ty, believ­ing that pun­ish­ment would only result in the per­pet­u­a­tion of vio­lence. "Non-vio­lence, non-resis­tance and broth­er­hood were the prin­ci­ples that lay at the basis of Tol­stoy­an veg­e­tar­i­an­ism," she observes, "and while these prin­ci­ples meant that Tol­stoy­ans coop­er­at­ed close­ly with veg­e­tar­i­ans, they also kept them in many ways apart."
Relat­ed Con­tent:
Leo Tolstoy's Fam­i­ly Recipe for Mac­a­roni and Cheese
Watch Glass Walls, Paul McCartney's Case for Going Veg­e­tar­i­an
Tol­stoy and Gand­hi Exchange Let­ters: Two Thinkers' Quest for Gen­tle­ness, Humil­i­ty & Love (1909)
Leo Tolstoy's Masochis­tic Diary: I Am Guilty of "Sloth," "Cow­ardice" & "Sissi­ness" (1851)
Leo Tol­stoy Cre­ates a List of the 50+ Books That Influ­enced Him Most (1891)
Josh Jones is a writer and musi­cian based in Durham, NC. Fol­low him at @jdmagness