From Newton's mechan­i­cal cal­cu­la­tions to Einstein's gen­er­al and spe­cial rel­a­tiv­i­ty to the baf­fling inde­ter­mi­na­cy of quan­tum mechan­ics, the dis­ci­pline of physics has become increas­ing­ly arcane and com­plex, and less and less gov­erned by order­ly laws. This presents a prob­lem for the layper­son, who strug­gles to under­stand how New­ton­ian physics, with its pre­dictable obser­va­tions of phys­i­cal forces, relates to the par­al­lax and para­dox of lat­er dis­cov­er­ies. "If you don't already know physics," says physi­cist Dominic Wal­li­man in the video above, it's dif­fi­cult some­times to see how all of these dif­fer­ent sub­jects are relat­ed to each oth­er." So Wal­li­man has pro­vid­ed a help­ful visu­al aid: an ani­mat­ed video map show­ing the con­nec­tions between clas­si­cal physics, quan­tum physics, and rel­a­tiv­i­ty.
Newton's laws of motion and grav­i­ta­tion and his inven­tion of cal­cu­lus best rep­re­sent the first domain. Here we see the insep­a­ra­ble rela­tion­ship between physics and math, "the bedrock that the world of physics is built from." When we come to one of Newton's less well-known pur­suits, optics, we see how his inter­est in light waves antic­i­pat­ed James Clerk Maxwell's work on elec­tro­mag­net­ic fields. After this ini­tial con­nec­tion, the pro­lif­er­a­tion of sub­dis­ci­plines inten­si­fies: flu­id mechan­ics, chaos the­o­ry, ther­mo­dy­nam­ics… the guid­ing force of them all is the study of ener­gy in var­i­ous states. The heuris­tics of clas­si­cal physics pre­vailed, and worked per­fect­ly well, until about 1900, when the clock­work uni­verse of New­ton­ian mechan­ics explod­ed with new prob­lems, both at very large and very small lev­els of descrip­tion.
It is here that physics branch­es into rel­a­tiv­i­ty and quan­tum mechan­ics, which Wal­li­man explains in brief. While we are like­ly famil­iar with the very basics of Einstein's rel­a­tiv­i­ty, quan­tum physics tends to get a lit­tle less cov­er­age in the typ­i­cal course of a gen­er­al edu­ca­tion, due to its com­plex­i­ty, per­haps, as well as the fact that at their edges, quan­tum expla­na­tions fail. While quan­tum field the­o­ry, says Wal­li­man, is "the best descrip­tion of the uni­verse we have," once we come to quan­tum grav­i­ta­tion, we reach "the giant Chasm of Igno­rance" that spec­u­la­tive and con­tro­ver­sial ideas like string the­o­ry and loop quan­tum grav­i­ty attempt to bridge.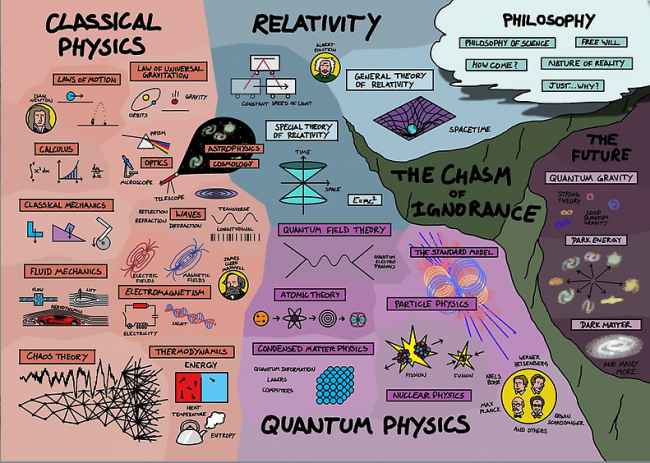 At the "Chasm of Igno­rance," our jour­ney through the domains of physics ends, and we end up back in the airy realm where it all began, phi­los­o­phy. Those of us with a typ­i­cal gen­er­al edu­ca­tion in the sci­ences may find that we have a much bet­ter under­stand­ing of the field's intel­lec­tu­al geog­ra­phy. As a handy reminder, you might even wish to pur­chase a poster copy of Walliman's Map of Physics, which you can see en minia­ture above. (It's also avail­able as a dig­i­tal down­load here.) Just below, the charm­ing, laid-back physi­cist takes the stage in a TEDx talk to demon­strate effec­tive sci­ence com­mu­ni­ca­tion, explain­ing "quan­tum physics for 7 year olds," or, as it were, 37, 57, or 77-year olds. To learn more about physics, please don't miss these essen­tial resources in our archive: Free Online Physics Cours­es and Free Physics Text­books
Relat­ed Con­tent:
Free Online Physics Cours­es, a sub­set of our col­lec­tion, 1,700 Free Online Cours­es from Top Uni­ver­si­ties
Physics & Caf­feine: Stop Motion Film Uses a Cup of Cof­fee to Explain Key Con­cepts in Physics
The Feyn­man Lec­tures on Physics, The Most Pop­u­lar Physics Book Ever Writ­ten, Now Com­plete­ly Online
Quan­tum Physics Made Rel­a­tive­ly Sim­ple: A Mini Course from Nobel Prize-Win­ning Physi­cist Hans Bethe
Josh Jones is a writer and musi­cian based in Durham, NC. Fol­low him at @jdmagness