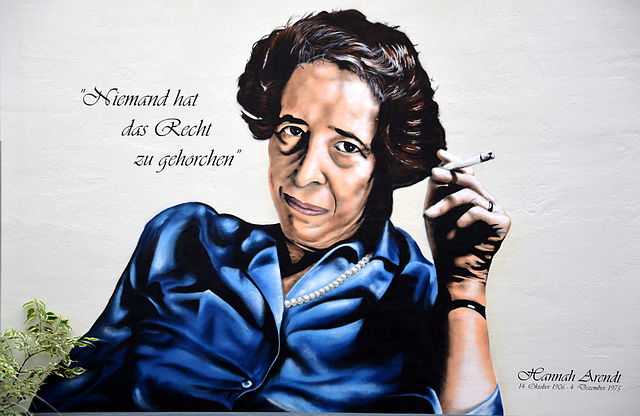 Image by Bernd Schwabe, via Wiki­me­dia Com­mons
At least when I was in grade school, we learned the very basics of how the Third Reich came to pow­er in the ear­ly 1930s. Para­mil­i­tary gangs ter­ror­iz­ing the oppo­si­tion, the incom­pe­tence and oppor­tunism of Ger­man con­ser­v­a­tives, the Reich­stag Fire. And we learned about the crit­i­cal impor­tance of pro­pa­gan­da, the delib­er­ate mis­in­form­ing of the pub­lic in order to sway opin­ions en masse and achieve pop­u­lar sup­port (or at least the appear­ance of it). While Min­is­ter of Pro­pa­gan­da Joseph Goebbels purged Jew­ish and left­ist artists and writ­ers, he built a mas­sive media infra­struc­ture that played, writes PBS, "prob­a­bly the most impor­tant role in cre­at­ing an atmos­phere in Ger­many that made it pos­si­ble for the Nazis to com­mit ter­ri­ble atroc­i­ties against Jews, homo­sex­u­als, and oth­er minori­ties."
How did the minor­i­ty par­ty of Hitler and Goebbels take over and break the will of the Ger­man peo­ple so thor­ough­ly that they would allow and par­tic­i­pate in mass mur­der? Post-war schol­ars of total­i­tar­i­an­ism like Theodor Adorno and Han­nah Arendt asked that ques­tion over and over, for sev­er­al decades after­ward. Their ear­li­est stud­ies on the sub­ject looked at two sides of the equa­tion. Adorno con­tributed to a mas­sive vol­ume of social psy­chol­o­gy called The Author­i­tar­i­an Per­son­al­i­ty, which stud­ied indi­vid­u­als pre­dis­posed to the appeals of total­i­tar­i­an­ism. He invent­ed what he called the F‑Scale ("F" for "fas­cism"), one of sev­er­al mea­sures he used to the­o­rize the Author­i­tar­i­an Per­son­al­i­ty Type.
Arendt, on the oth­er hand, looked close­ly at the regimes of Hitler and Stal­in and their func­tionar­ies, at the ide­ol­o­gy of sci­en­tif­ic racism, and at the mech­a­nism of pro­pa­gan­da in fos­ter­ing "a curi­ous­ly vary­ing mix­ture of gulli­bil­i­ty and cyn­i­cism with which each mem­ber… is expect­ed to react to the chang­ing lying state­ments of the lead­ers." So she wrote in her 1951 Ori­gins of Total­i­tar­i­an­ism, going on to elab­o­rate that this "mix­ture of gulli­bil­i­ty and cyn­i­cism… is preva­lent in all ranks of total­i­tar­i­an move­ments":
In an ever-chang­ing, incom­pre­hen­si­ble world the mass­es had reached the point where they would, at the same time, believe every­thing and noth­ing, think that every­thing was pos­si­ble and noth­ing was true… The total­i­tar­i­an mass lead­ers based their pro­pa­gan­da on the cor­rect psy­cho­log­i­cal assump­tion that, under such con­di­tions, one could make peo­ple believe the most fan­tas­tic state­ments one day, and trust that if the next day they were giv­en irrefutable proof of their false­hood, they would take refuge in cyn­i­cism; instead of desert­ing the lead­ers who had lied to them, they would protest that they had known all along that the state­ment was a lie and would admire the lead­ers for their supe­ri­or tac­ti­cal clev­er­ness.
Why the con­stant, often bla­tant lying? For one thing, it func­tioned as a means of ful­ly dom­i­nat­ing sub­or­di­nates, who would have to cast aside all their integri­ty to repeat out­ra­geous false­hoods and would then be bound to the leader by shame and com­plic­i­ty. "The great ana­lysts of truth and lan­guage in pol­i­tics"—writes McGill Uni­ver­si­ty polit­i­cal phi­los­o­phy pro­fes­sor Jacob T. Levy—includ­ing "George Orwell, Han­nah Arendt, Vaclav Havel—can help us rec­og­nize this kind of lie for what it is.… Say­ing some­thing obvi­ous­ly untrue, and mak­ing your sub­or­di­nates repeat it with a straight face in their own voice, is a par­tic­u­lar­ly star­tling dis­play of pow­er over them. It's some­thing that was endem­ic to total­i­tar­i­an­ism."
Arendt and oth­ers rec­og­nized, writes Levy, that "being made to repeat an obvi­ous lie makes it clear that you're pow­er­less." She also rec­og­nized the func­tion of an avalanche of lies to ren­der a pop­u­lace pow­er­less to resist, the phe­nom­e­non we now refer to as "gaslight­ing":
The result of a con­sis­tent and total sub­sti­tu­tion of lies for fac­tu­al truth is not that the lie will now be accept­ed as truth and truth be defamed as a lie, but that the sense by which we take our bear­ings in the real world—and the cat­e­go­ry of truth ver­sus false­hood is among the men­tal means to this end—is being destroyed.
The epis­te­mo­log­i­cal ground thus pulled out from under them, most would depend on what­ev­er the leader said, no mat­ter its rela­tion to truth. "The essen­tial con­vic­tion shared by all ranks," Arendt con­clud­ed, "from fel­low trav­el­er to leader, is that pol­i­tics is a game of cheat­ing and that the 'first com­mand­ment' of the move­ment: 'The Fuehrer is always right,' is as nec­es­sary for the pur­pos­es of world pol­i­tics, i.e., world-wide cheat­ing, as the rules of mil­i­tary dis­ci­pline are for the pur­pos­es of war."
"We too," writes Jef­frey Isaacs at The Wash­ing­ton Post, "live in dark times"—an allu­sion to anoth­er of Arendt's sober­ing analy­ses—"even if they are dif­fer­ent and per­haps less dark." Arendt wrote Ori­gins of Total­i­tar­i­an­ism from research and obser­va­tions gath­ered dur­ing the 1940s, a very spe­cif­ic his­tor­i­cal peri­od. Nonethe­less the book, Isaacs remarks, "rais­es a set of fun­da­men­tal ques­tions about how tyran­ny can arise and the dan­ger­ous forms of inhu­man­i­ty to which it can lead." Arendt's analy­sis of pro­pa­gan­da and the func­tion of lies seems par­tic­u­lar­ly rel­e­vant at this moment. The kinds of bla­tant lies she wrote of might become so com­mon­place as to become banal. We might begin to think they are an irrel­e­vant sideshow. This, she sug­gests, would be a mis­take.
Relat­ed Con­tent:
Han­nah Arendt's Orig­i­nal Arti­cles on "the Banal­i­ty of Evil" in the New York­er Archive
Enter the Han­nah Arendt Archives & Dis­cov­er Rare Audio Lec­tures, Man­u­scripts, Mar­gin­a­lia, Let­ters, Post­cards & More
Han­nah Arendt Dis­cuss­es Phi­los­o­phy, Pol­i­tics & Eich­mann in Rare 1964 TV Inter­view
Josh Jones is a writer and musi­cian based in Durham, NC. Fol­low him at @jdmagness