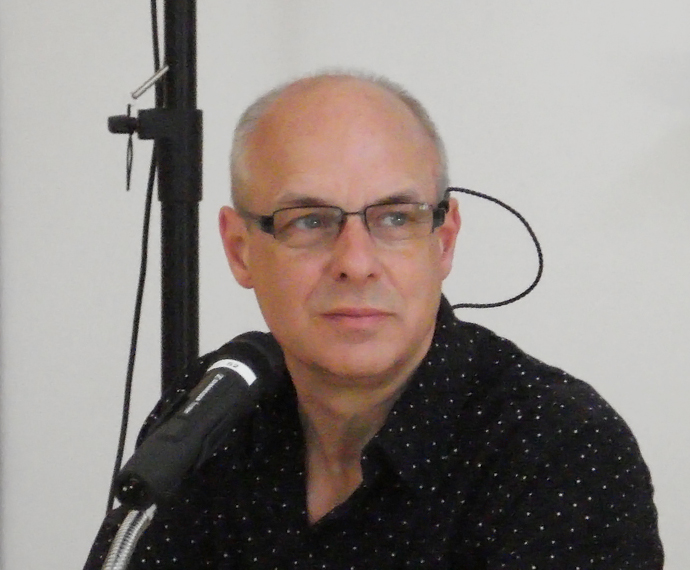 Creative Commons image via Wikimedia Commons
"The consensus among most of my friends seems to be that 2016 was a terrible year, and the beginning of a long decline into something we don't even want to imagine." Perhaps you find yourself, here at the dawn of 2017, thinking the very same thing. But Brian Eno, who wrote those words in a new year's Facebook message to his fans, wonders if 2016 marked "the end — not the beginning — of a long decline." Amid all the sound and fury, he's also noticed "a quieter but equally powerful stirring: people are rethinking what democracy means, what society means and what we need to do to make them work again."
If share and reaction counts are any indication, Eno's assessment of the current human situation has resonated with people, many of whom must simply feel relieved to hear that at least one of their favorite musical luminaries has made it into 2017 unscathed.
Not only has he survived, he's put out a brand new album called Reflection which, in an essay on his web site, he calls "the latest work in a long series" that includes 1975's Discreet Music, 1985's Thursday Afternoon, 1993's Neroli, 2012's Lux, and "the first original piece of music I ever made, at Ipswich Art School in 1965 — recordings of a metal lampshade slowed down to half and quarter speed, all overlaid."
Eno refers, broadly speaking, to the sort of music now known as "ambient," though "I don't think I understand what that term stands for anymore." He more accurately describes this thread of his work as "generative music," which means music where the pieces "make themselves. My job as a composer is to set in place a group of sounds and phrases, and then some rules which decide what happens to them. I then set the whole system playing and see what it does, adjusting the sounds and the phrases and the rules until I get something I'm happy with." The album version of Reflection, which you can stream on Spotify (after downloading Spotify's free software here) or purchase on Amazon or iTunes, represents just one "recording of one of those unfoldings."
Reflection's single track, writes the Guardian's Kitty Empire, "unfurls very gradually over 54 minutes (and one second), its thrums and oscillations reverberating at a pace you might call glacial if the glaciers weren't all melting in such a hurry. At seven minutes in, the tones gather momentum. At 21 minutes, there's something like the twitter of an electronic bird. It gets going again at the 47-minute mark, when the bell-like nuances once again turn up a notch. The overall effect is deeply, magnificently peaceful, meditative, even; ambient certainly monopolises certain sections of the thesaurus. Naysayers may liken ambient music to watching paint dry, but this is paint drying on a Mark Rothko canvas."
Just as a Rothko canvas provides a visual environment conducive to thought, so an ambient Eno album provides a sonic one. "Reflection is so called because I find it makes me think back. It makes me think things over," Eno writes on his notes on the album. "It seems to create a psychological space that encourages internal conversation. And external ones actually — people seem to enjoy it as the background to their conversations." This goes just as much, presumably, for the the app version, which provides the generative system for a different Reflection listening experience each time. We need the kind of space it creates more than ever, now that, as Eno put it in his optimistic New Year's dispatch, "people are thinking hard, and, most importantly, thinking out loud, together."
Related Content:
Brian Eno Creates a List of His 13 Favorite Records: From Gospel to Afrobeat, Shoegaze to Bulgarian Folk
Brian Eno on Why Do We Make Art & What's It Good For?: Download His 2015 John Peel Lecture
The Genius of Brian Eno On Display in 80 Minute Q&A: Talks Art, iPad Apps, ABBA, & More
Brian Eno Once Composed Music for Windows 95; Now He Lets You Create Music with an iPad App
Based in Seoul, Colin Marshall writes and broadcasts on cities and culture. He's at work on a book about Los Angeles, A Los Angeles Primer, the video series The City in Cinema, the crowdfunded journalism project Where Is the City of the Future?, and the Los Angeles Review of Books' Korea Blog. Follow him on Twitter at @colinmarshall or on Facebook.