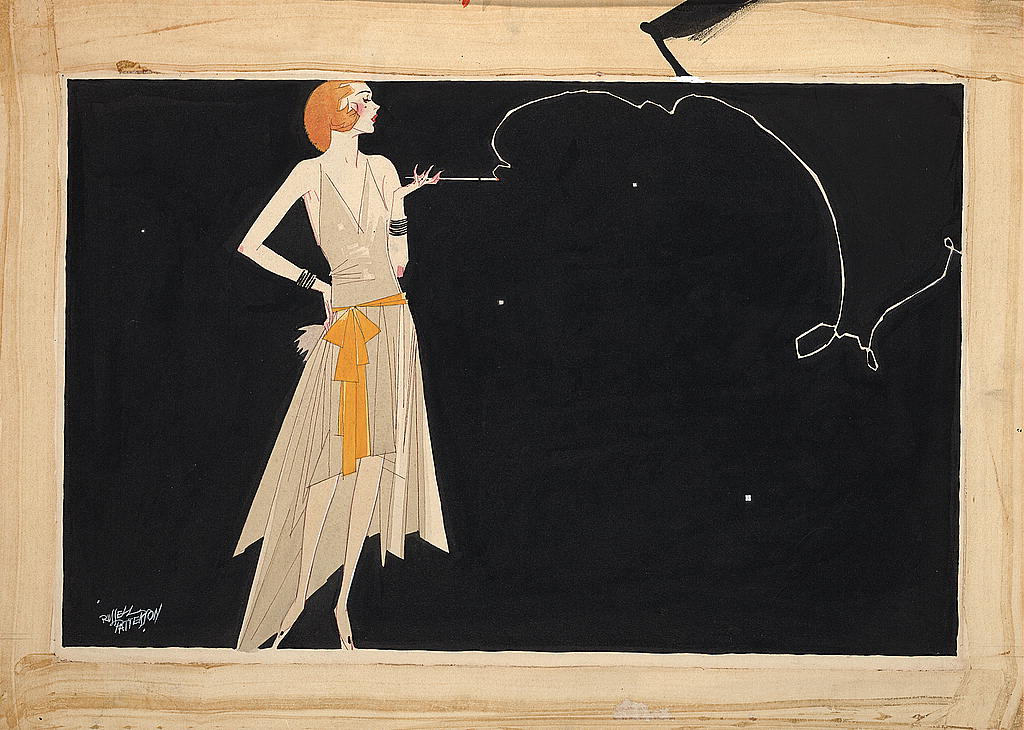 His­tor­i­cal­ly speak­ing, what we call car­toons began as arti­facts of print cul­ture, and as such, of moder­ni­ty. Before the wide­spread avail­abil­i­ty of print­ed texts, the word "car­toon" referred to a sketch, an artist's mock-up of a greater work. The word lit­er­al­ly meant "a very large sheet of paper," since Renais­sance car­tones "were the same size as the intend­ed paint­ing and were cre­at­ed to trans­fer the image," as one art his­to­ri­an notes (with some very ele­gant exam­ples). So when and how did the car­toon become short­hand for illus­trat­ed com­ic edi­to­ri­als?
Not until the late 18th cen­tu­ry, though the ori­gins of the form are often traced to anoth­er Ital­ian art, the car­i­catu­ra, satir­i­cal doo­dles favored by such mas­ters as Leonar­do da Vin­ci and Gian Loren­zo Berni­ni.
These, writes the Car­toon Muse­um, "were tech­ni­cal exer­cis­es in vir­tu­os­i­ty with the dar­ing aim of defin­ing the essence of a per­son in a few deft strokes of the pen." Like the work of board­walk car­i­ca­tur­ists, we asso­ciate the con­tem­po­rary car­toon with deft essen­tial­iz­ing, but rarely with high art.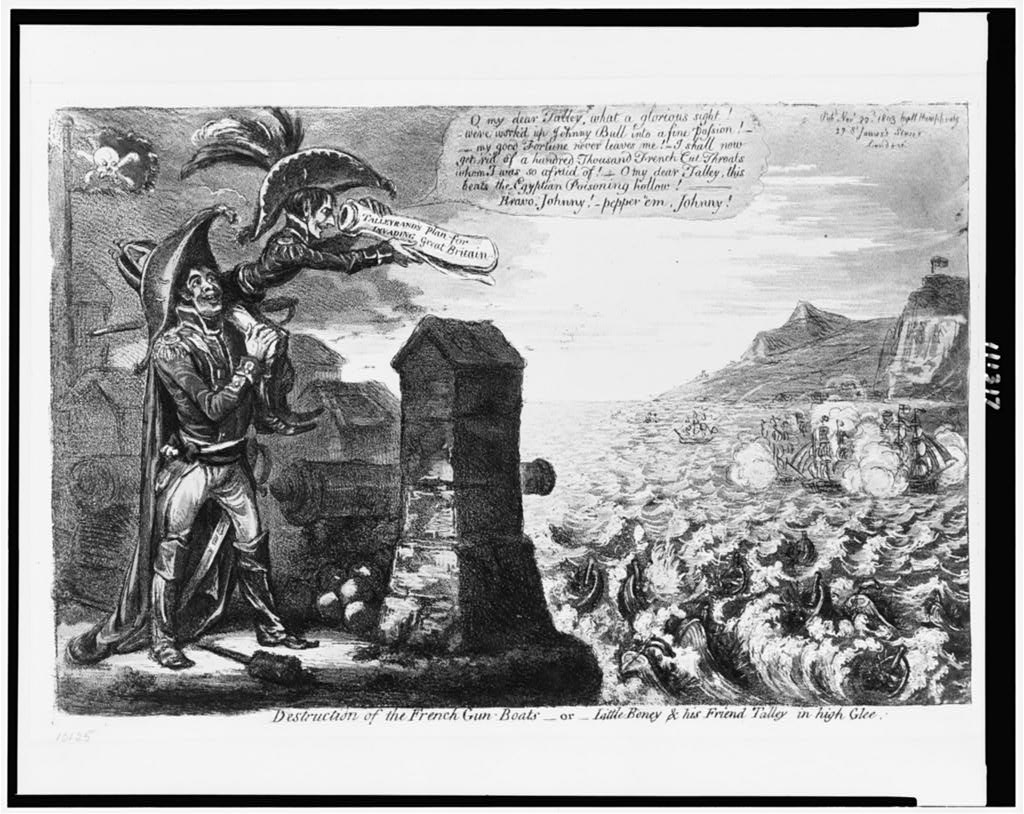 Yet when car­toons as we know them began pro­lif­er­at­ing, illus­tra­tors pro­duced very high-qual­i­ty work. Many, like Eng­lish engraver William Hog­a­rth—"regard­ed as the father of British car­i­ca­ture… and of the com­ic strip"—are well-known as fine artists. Oth­ers, like James Gill­ray, the most influ­en­tial car­toon­ist of the peri­od next to Hog­a­rth, com­bined fine draughts­man­ship with the Ital­ian love of exag­ger­a­tion and the use of word bub­bles. Gill­ray, who freely sat­i­rized fig­ures like George III and Napoleon (above)—is one of many promi­nent car­toon­ists rep­re­sent­ed in the Library of Congress's dig­i­tal col­lec­tions of vin­tage car­toons, which, tak­en togeth­er, is com­prised of about 24,000 images.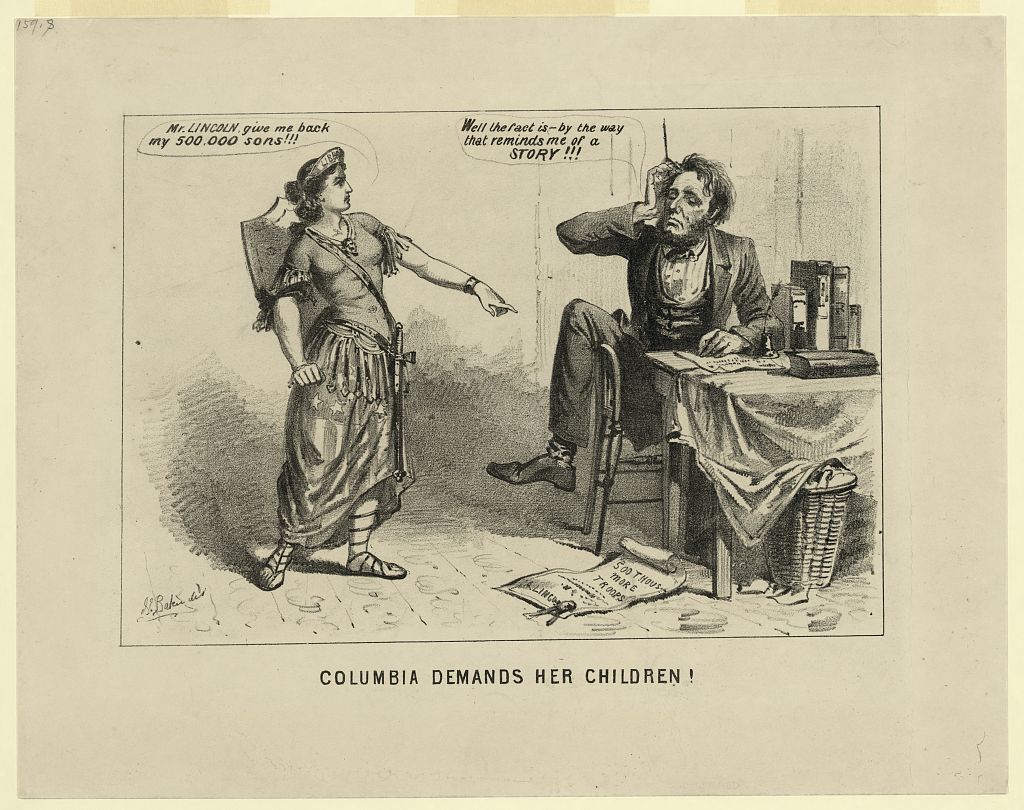 The work of Gill­ray, George Cruik­shank, and oth­er famous car­toon artists of the "gold­en Geor­gian age" (1770–1820) appears in a British Col­lec­tion that show­cas­es "approx­i­mate­ly 9,000 prints" high­light­ing "British polit­i­cal life, soci­ety, fash­ion, man­ners, and the­ater." Most of the Library's Amer­i­can Col­lec­tion begins when the Geor­gian peri­od ends, around 1830, when U.S. illus­tra­tors par­tic­i­pat­ed in furi­ous debates over slav­ery, the expand­ing nation's colo­nial wars and, of course, the Civ­il War. In the 1864 car­toon above, "Colum­bia, wear­ing a lib­er­ty cap and a skirt made of an Amer­i­can flag, demands, 'Mr. Lin­coln, give me back my 500,000 sons,'" to which the car­i­ca­ture of Lin­coln responds with a visu­al and rhetor­i­cal shrug.

The Swann Col­lec­tion of Car­i­ca­ture and Car­toon takes us well into the 20th cen­tu­ry with 2,085 "draw­ings, prints, and paint­ings relat­ed to the art of car­i­ca­ture, car­toon, and illus­tra­tion, span­ning the years 1780 to 1977" and encom­pass­ing mag­a­zine illus­tra­tions like Rus­sell Patterson's "Where there's smoke there's fire" at the top, and polit­i­cal car­toons, com­ic book art, and com­ic strips like the four-frame Bat­man com­ic above from 1966. A larg­er col­lec­tion of Car­toon Draw­ings col­lects "9,000 orig­i­nal draw­ings for edi­to­r­i­al car­toons, car­i­ca­tures, and com­ic strips span­ning the late 1700s to the present."
Final­ly, the Herblock Col­lec­tion con­tains "the bulk of the 14,000 orig­i­nal ink and graphite draw­ings… from 1946 through 2001, when Herblock [Her­bert L. Block] worked for the Wash­ing­ton Post," as well as 1,300 images from his days at the Chica­go Dai­ly News. (See a slideshow here of select­ed car­toons through­out the artist's career.) Many of the issues in these draw­ings now seem for­got­ten or obscure. Some, like his Nixon car­toons, are new­ly rel­e­vant to our times. As we look through these archives, that phe­nom­e­non repeats itself over the course of two-hun­dred years of car­toon­ing. Fash­ions and tastes may change, but some of the tan­gled cir­cum­stances of British and Amer­i­can pol­i­tics have remained remark­ably con­sis­tent.
Relat­ed Con­tent:
Down­load Over 22,000 Gold­en & Sil­ver Age Com­ic Books from the Com­ic Book Plus Archive
Read The Very First Com­ic Book: The Adven­tures of Oba­di­ah Old­buck (1837)
Japan­ese Car­toons from the 1920s and 30s Reveal the Styl­is­tic Roots of Ani­me
How Ani­mat­ed Car­toons Are Made: A Vin­tage Primer Filmed Way Back in 1919
Josh Jones is a writer and musi­cian based in Durham, NC. Fol­low him at @jdmagness