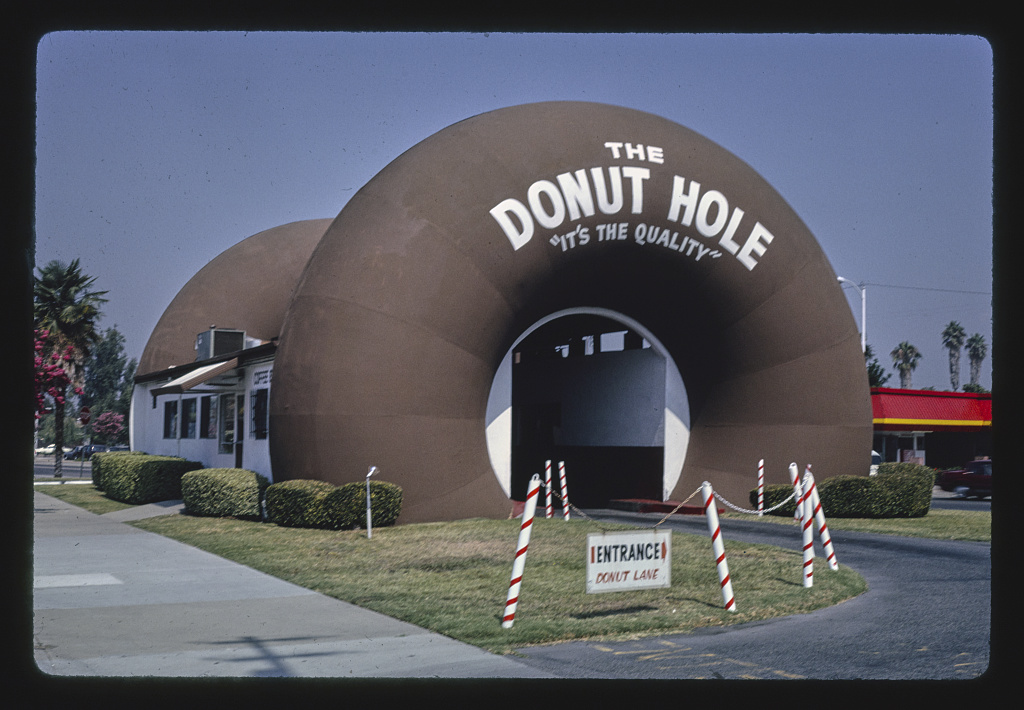 Many connoisseurs of architecture are enthralled by the modernist philosophy of Le Corbusier, Frank Lloyd Wright, and I M Pei, who shared a belief that form follows function, or, as Wright had it, that form and function are one.
Others of us delight in gas stations shaped like teapots and restaurants shaped like fish or doughnuts. If there's a philosophy behind these insistently playful visions, it likely has something to do with joy…and pulling in tourists.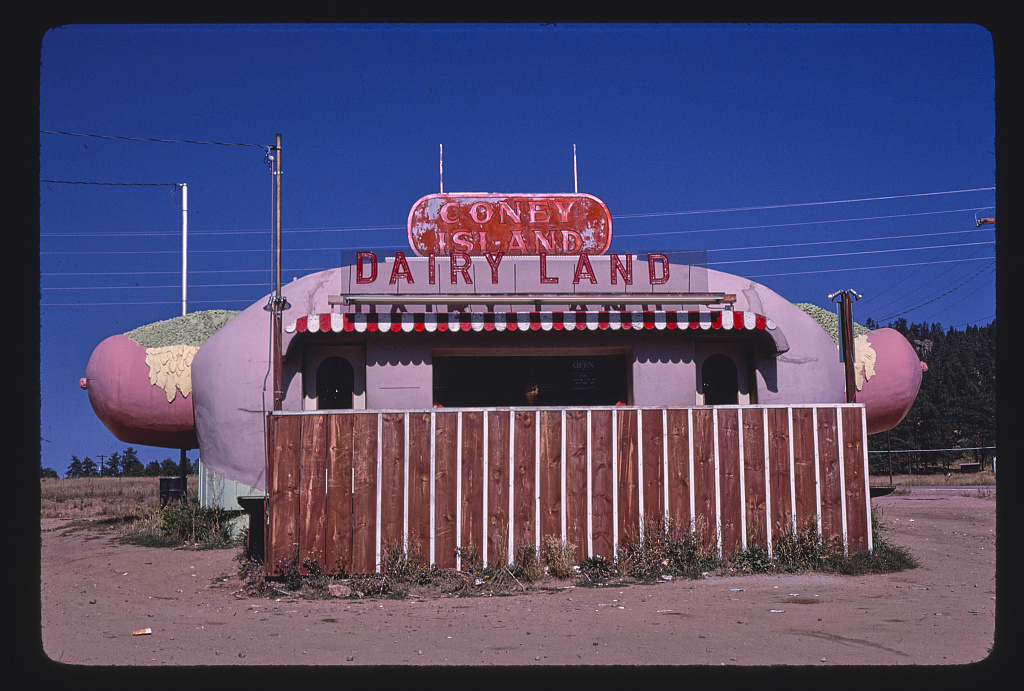 Art historian John Margolies (1940-2016), responding to the beauty of such quirky visions, scrambled to preserve the evidence, transforming into a respected, self-taught photographer in the process. A Guggenheim Foundation grant and the financial support of architect Philip Johnson allowed him to log over four decades worth of trips on America's blue highways, hoping to capture his quarry before it disappeared for good.
Despite Johnson's patronage, and his own stints as an Architectural Record editor and Architectural League of New York program director, he seemed to welcome the ruffled minimalist feathers his enthusiasm for mini golf courses, theme motels, and eye-catching roadside attractions occasioned.
On the other hand, he resented when his passions were labelled as "kitsch," a point that came across in a 1987 interview with the Canadian Globe and Mail:
People generally have thought that what's important are the large, unique architectural monuments. They think Toronto's City Hall is important, but not those wonderful gnome's-castle gas stations in Toronto, a Detroit influence that crept across the border and polluted your wonderfully conservative environment.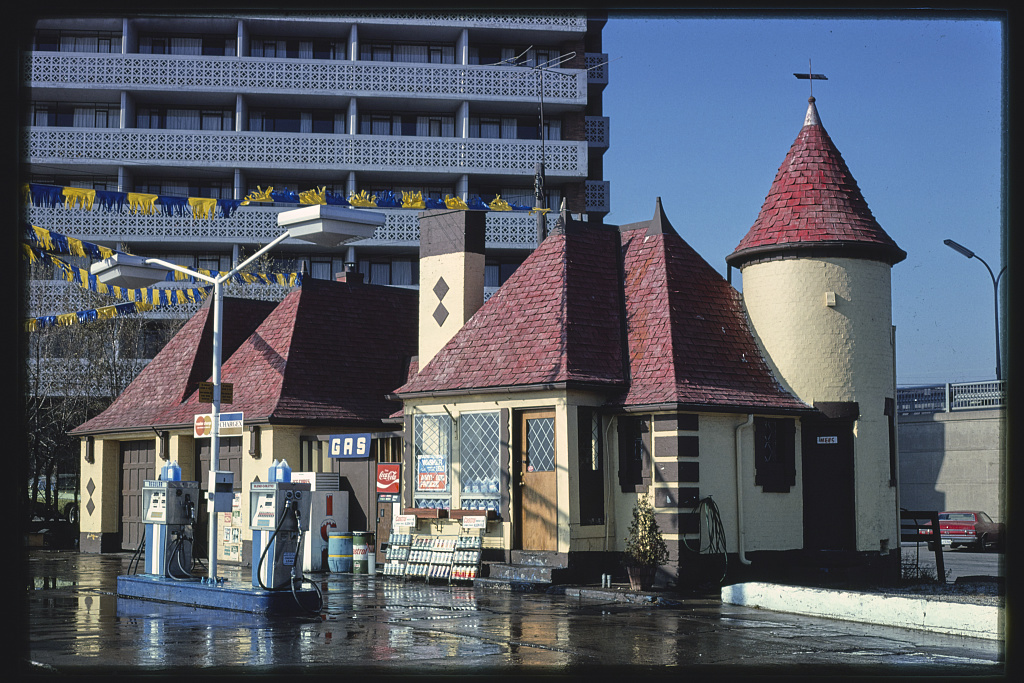 As Margolies foresaw, the type of commercial vernacular architecture he'd loved since boyhood–the type that screams, "Look at me! Look at me"–has become very nearly extinct.
And that is a maximal shame.
Your children may not be able to visit an orange juice stand shaped like an orange or the Leaning Tower of Pizza, but thanks to the Library of Congress, these locales can be pitstops on any virtual family vacation you might undertake this July.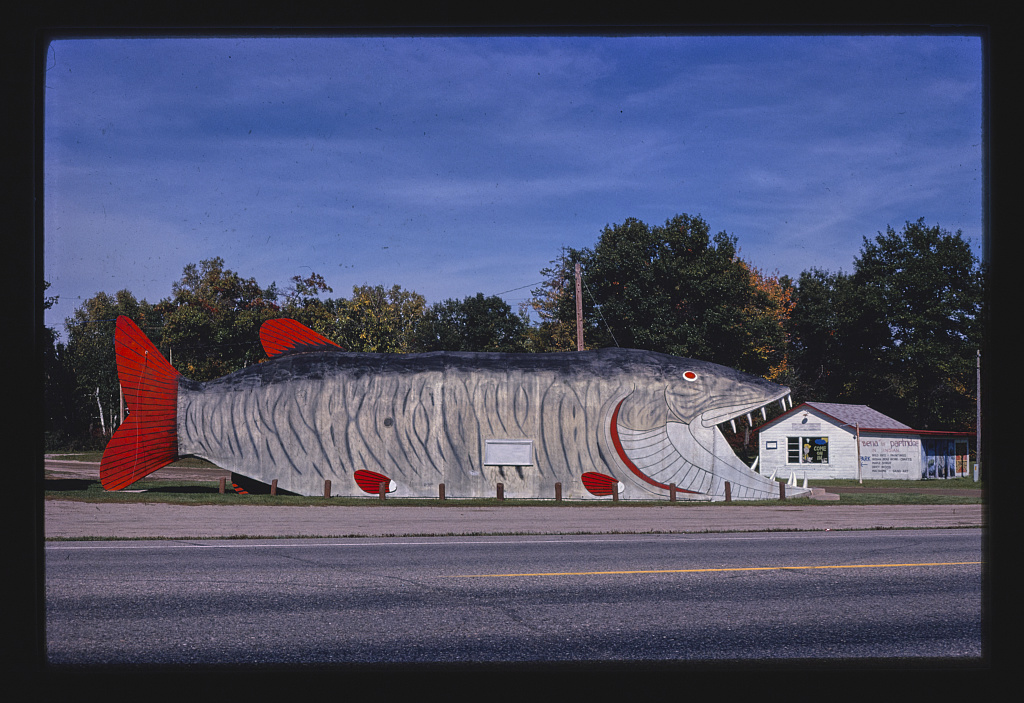 The library has selected the John Margolies Roadside America Photograph Archive as its July "free to use and reuse" collection. So linger as long as you'd like and do with these 11,700+ images as you will–make postcards, t-shirts, souvenir placemats.
(Or eschew your computer entirely–go on a real road trip, and continue Margolies' work!)
Whatever you decide to do with them, the archive's homepage has tips for how to best search the 11,710 color slides contained therein. Library staffers have supplemented Margolies' notes on each image with subject and geographical headings.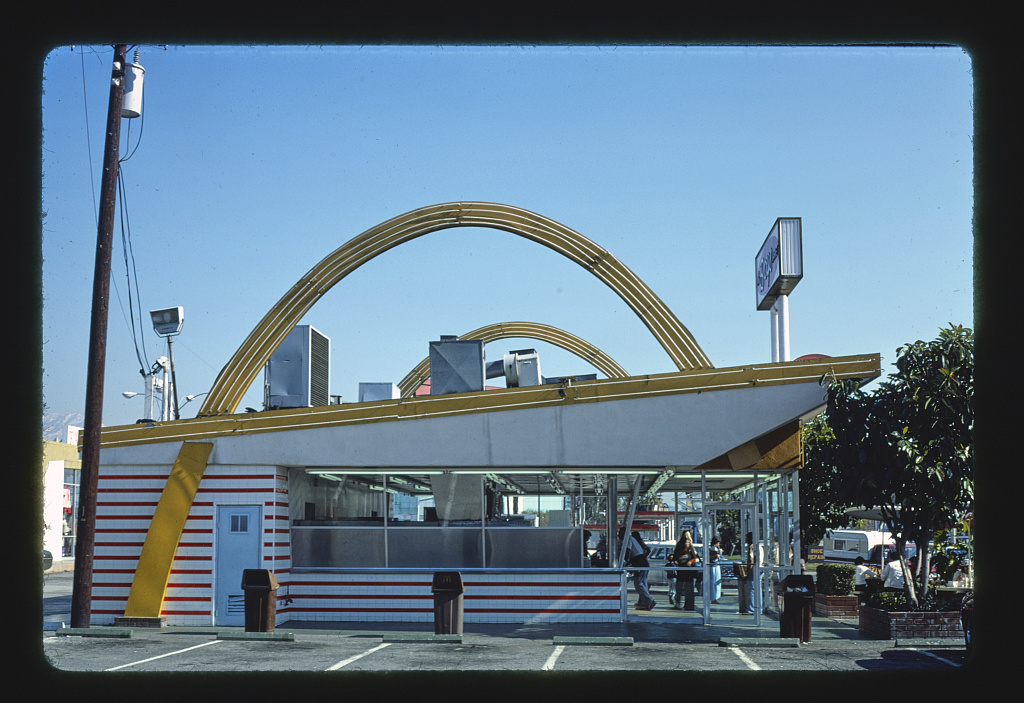 Begin your journey through the Library of Congress' John Margolies Roadside America Photograph Archive here.
We'd love to see your vacation snaps upon your return.
Related Content:
Watch Stewart Brand's 6-Part Series How Buildings Learn, With Music by Brian Eno
Frank Lloyd Wright Designs an Urban Utopia: See His Hand-Drawn Sketches of Broadacre City (1932)
A is for Architecture: 1960 Documentary on Why We Build, from the Ancient Greeks to Modern Times 
Watch 50+ Documentaries on Famous Architects & Buildings: Bauhaus, Le Corbusier, Hadid & Many More
Ayun Halliday is an author, illustrator, theater maker and Chief Primatologist of the East Village Inky zine.  Follow her @AyunHalliday.