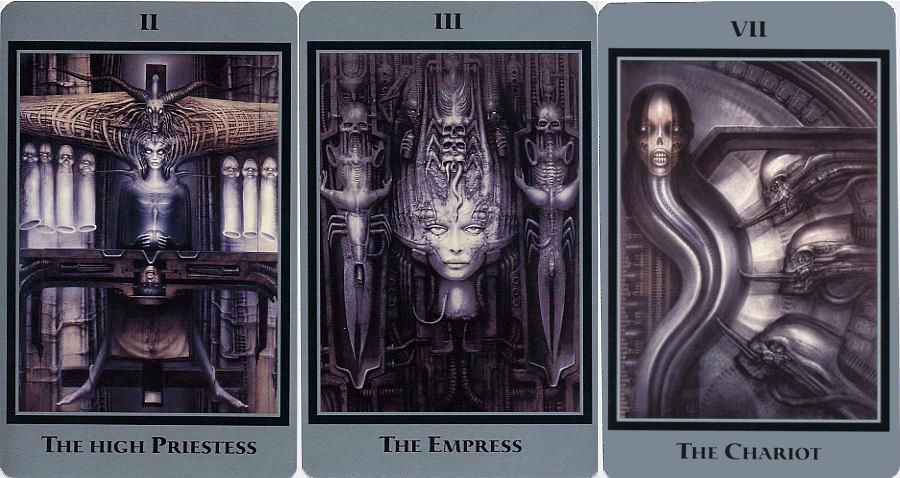 The first tarot cards appeared in Europe in the mid-fifteenth century, and those who used them used to play simple card games. But as the art of the tarot deck developed to incorporate a host of historical, philosophical, and astronomical symbols, their imagery took on more weight, and a couple hundred years later the cards had become popular instruments of divination. From the late eighteenth century on, one could obtain tarot decks specifically designed for occult purposes, and their artistic variety has only expanded in the 250 or so years since. In the 1990s, the imaginative world of tarot collided with an equally rich set of visions: those of H.R. Giger.
Giger, a Swiss artist who first gained worldwide fame and influence with his design work on Ridley Scott's Alien (up to and including the terrifying alien itself), united the biological and the mechanical in a distinctive and disturbing fashion.
After seeing Giger's art in his first book of paintings Necronomicon, a Swiss occultist by the name of Akron understood its potential as tarot imagery. The collection's title picture, Akron writes, showed a "fascinating monster" called Baphomet, "the symbol of the connection between the rational and irrational world," the same function performed by the occult tarot deck itself.
When Akron approached Giger proposing to collaborate on a deck, according to i09's Lauren Davis, "Giger felt that he didn't have the time to create new works that would do the deck justice. So he selected 22 of his existing, previously unpublished pieces" for the cards' faces. In a later interview, "Giger says that he never studied Tarot cards and in fact, had no interest in having his fortune told with them. (Giger claimed he was too superstitious, though he describes Akron's descriptions of the individual cards as 'sometimes crazy, but funny — but not probably very serious.')" His "mix of occult iconography, demonic organisms, and his trademark biomechanical aesthetic make for apt, if unusually dark Tarot illustrations."
You can see more of Giger and Akron's tarot deck, available in both English and German, at i09 and Dangerous Minds. Or better yet, pick up your own deck of cards. While browsing, do keep in mind two things: first, that Giger's visions, even those selected to represent age-old tarot arcana, can certainly get NSFW. Second, even though the artist specialized in nightmarish imagery (hence his popularity on the grimmer side of science fiction) we should resist interpreting them too literally as representations of the future. After all, the cards, as a much more lighthearted production once joked, are vague and mysterious.
Related Content:
The Tarot Card Deck Designed by Salvador Dalí
Twin Peaks Tarot Cards Now Available as 78-Card Deck
Alejandro Jodorowsky Explains How Tarot Cards Can Give You Creative Inspiration
The 14-Hour Epic Film, Dune, That Alejandro Jodorowsky, Pink Floyd, Salvador Dalí, Moebius, Orson Welles & Mick Jagger Never Made
Based in Seoul, Colin Marshall writes and broadcasts on cities and culture. He's at work on the book The Stateless City: a Walk through 21st-Century Los Angeles, the video series The City in Cinema, the crowdfunded journalism project Where Is the City of the Future?, and the Los Angeles Review of Books' Korea Blog. Follow him on Twitter at @colinmarshall or on Facebook.