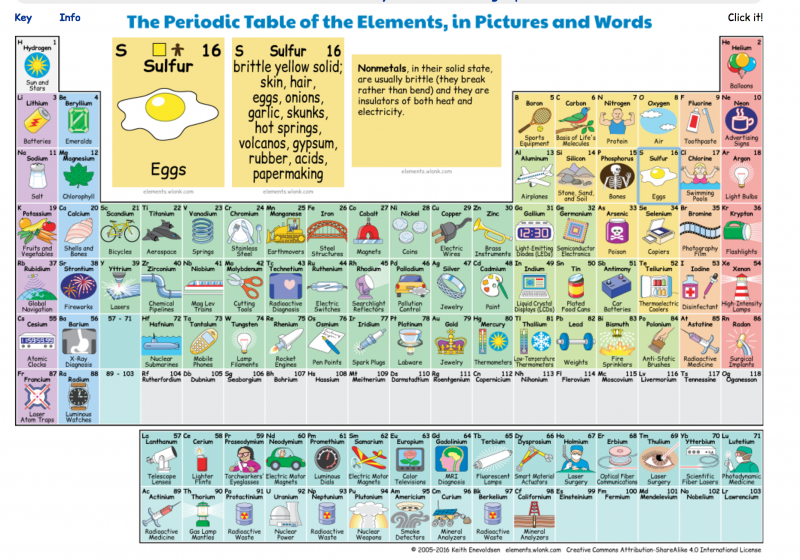 Keith Enevoldsen, a software engineer at Boeing, has created an Interactive Periodic Table of Elements. As you might expect, the table shows the name, symbol, and atomic number of each element. But even better, it illustrates the main way in which we use, or come into contact with, each element in everyday life. For example, Cadmium you will find in batteries, yellow paints, and fire sprinklers. Argon you'll encounter in light bulbs and neon tubes. And Boron in soaps, semiconductors and sports equipment.
The Interactive Periodic Table of Elements (click here to access it) is a handy tool for chemistry teachers and students, but also for anyone interested in how the elements make a chemical contribution to our world. Also worth noting: Enevoldsen has released his Interactive Table under a Creative Commons Attribution-ShareAlike 4.0 International License.
Would you like to support the mission of Open Culture? Please consider making a donation to our site. It's hard to rely 100% on ads, and your contributions will help us continue providing the best free cultural and educational materials to learners everywhere.
Also consider following Open Culture on Facebook and Twitter and sharing intelligent media with your friends. Or sign up for our daily email and get a daily dose of Open Culture in your inbox. 
Related Content:
The Periodic Table of Elements Scaled to Show The Elements' Actual Abundance on Earth
Periodic Table Battleship!: A Fun Way To Learn the Elements
"The Periodic Table Table" — All The Elements in Hand-Carved Wood
World's Smallest Periodic Table on a Human Hair
"The Periodic Table of Storytelling" Reveals the Elements of Telling a Good Story
Chemistry on YouTube: "Periodic Table of Videos" Wins SPORE Prize