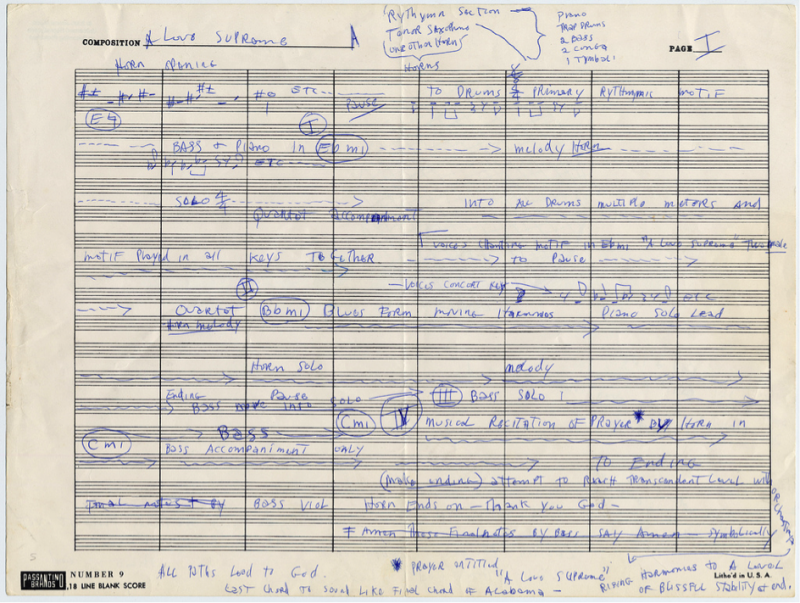 Click the image above to view it in a larg­er for­mat.
The great jazz sax­o­phone play­er John Coltrane was born 87 years ago today. To mark the occa­sion we present this rare doc­u­ment from the Smith­so­ni­an's Nation­al Muse­um of Amer­i­can His­to­ry: Coltrane's hand­writ­ten out­line of his ground­break­ing jazz com­po­si­tion A Love Supreme.
Record­ed in Decem­ber of 1964 and released in 1965, A Love Supreme is Coltrane's per­son­al dec­la­ra­tion of his faith in God and his aware­ness of being on a spir­i­tu­al path. "No road is an easy one," writes Coltrane in a prayer at the bot­tom of his own lin­er notes for the album, "but they all go back to God."
If you click the image above and exam­ine a larg­er copy of the man­u­script, you will notice that Coltrane has writ­ten the same sen­ti­ment at the bot­tom of the page. "All paths lead to God." The piece is made up of a pro­gres­sion of four suites. The names for each sec­tion are not on the man­u­script, but Coltrane even­tu­al­ly called them "Acknowl­edge­ment," "Res­o­lu­tion," "Pur­suance" and "Psalm."
In the man­u­script, Coltrane writes that the "A Love Supreme" motif should be "played in all keys togeth­er." In the record­ing of "Acknowl­edge­ment," Coltrane indeed repeats the basic theme near the end in all keys, as if he were con­scious­ly exhaust­ing every path. As jazz his­to­ri­an Lewis Porter, author of John Coltrane: His Life and Music, tells NPR in the piece below:
Coltrane more or less fin­ished his impro­vi­sa­tion, and he just starts play­ing the "Love Supreme" motif, but he changes the key anoth­er time, anoth­er time, anoth­er time. This is some­thing very unusu­al. It's not the way he usu­al­ly impro­vis­es. It's not real­ly impro­vised. It's some­thing that he's doing. And if you actu­al­ly fol­low it through, he ends up play­ing this lit­tle "Love Supreme" theme in all 12 pos­si­ble keys. To me, he's giv­ing you a mes­sage here.
In sec­tion IV of the man­u­script, for the part lat­er named "Psalm," Coltrane writes that the piece is a "musi­cal recita­tion of prayer by horn," and is an "attempt to reach tran­scen­dent lev­el with orches­tra ris­ing har­monies to a lev­el of bliss­ful sta­bil­i­ty at the end." Indeed, in the same NPR piece which you can lis­ten to below, Rev. Fran­zo Wayne King of the Saint John Coltrane African Ortho­dox Church in San Fran­cis­co describes how his con­gre­ga­tion one day dis­cov­ered that Coltrane's play­ing cor­re­sponds direct­ly to his prayer at the bot­tom of the lin­er notes.
In addi­tion to Porter and King, NPR's Eric West­er­velt inter­views pianist McCoy Tyn­er, the last sur­viv­ing mem­ber of Coltrane's quar­tet. The 13-minute piece, "The Sto­ry of 'A Love Supreme,' " is a fas­ci­nat­ing overview of one of the great mon­u­ments of jazz.
Note: This post first appeared on our web­site in 2013.
Relat­ed con­tent:
John Coltrane Draws a Pic­ture Illus­trat­ing the Math­e­mat­ics of Music
The Secret Link Between Jazz and Physics: How Ein­stein & Coltrane Shared Impro­vi­sa­tion and Intu­ition in Com­mon
John Coltrane's Hand­writ­ten Out­line for His Mas­ter­piece A Love Supreme
John Coltrane's 'Giant Steps' Ani­mat­ed