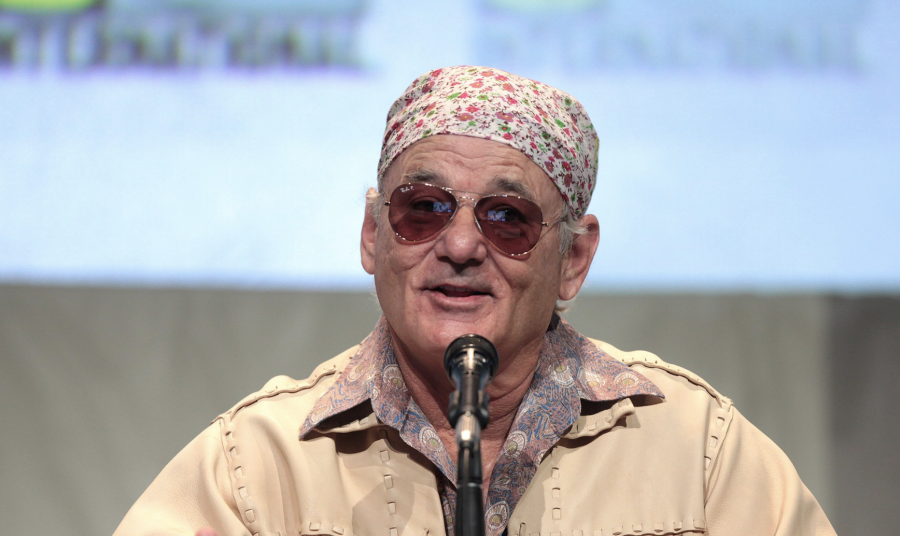 Photo by Gage Skidmore, via Wikimedia Commons
Would you take study tips from Bill Murray? After high school, he did spend some time as a pre-medical student at Regis University in Denver — before dropping out to return to his hometown of Chicago and get his start in comedy with the famed improv group Second City. Still, Regis did eventually award him an honorary Doctor of Humanities a decade ago, and you have to admit that the fame-and-fortune path worked out for him. In fact, it worked out and then some: seeing the massive success of Ghostbusters (and the temptations thereof) looming in 1984, Murray decided to make his return to school, this time to study philosophy, history, and French — and at the Sorbonne, no less.
The Spotify playlist below offers brief selections of spoken-word wisdom related to studying and learning in general, part of the fruit of a project by Murray and German cellist Jan Vogler. (If you don't have Spotify's free software, you can download it here.)
They recently made an album together called New Worlds, where the sounds of Vogler's classical trio accompany Murray's voice, singing and reading classic works of American music and literature from Mark Twain to Van Morrison. They also recorded this selection of memories, galvanizing messages, and "intense study tips" briefly summarized as follows: "Don't cram," "Concentrate," "One problem," "Sleep on it," "Take a bath," "Focus on others," "More is more," "Take a break," and "Build a routine."
Listen to the playlist and you can hear Murray expand on these suggestions, some of which will resonate with material we've previously featured here on Open Culture: the psychological phenomenon that has us do our best thinking in the shower (or indeed the bath), for instance, or the intellectual foundations of Murray's comedic persona. If you find his advice useful, you might also look to the example he sets with how he runs his career, famously taking risks on untested ideas or collaborators (including a certain Wes Anderson) and going to great lengths (up to and including replacing his agent with a voicemail box) to avoid getting caught in the gears of his industry. Whether studying a subject or becoming the most beloved comic actor of your generation, in other words, you've got to find a path that works for you and you alone. As one track of Murray and Vogler's helpful playlist puts it, "Good luck."
Related Content:
The Philosophy of Bill Murray: The Intellectual Foundations of His Comedic Persona
Listen to Bill Murray Lead a Guided Mediation on How It Feels to Be Bill Murray
Richard Feynman's "Notebook Technique" Will Help You Learn Any Subject–at School, at Work, or in Life
Why You Do Your Best Thinking In The Shower: Creativity & the "Incubation Period"
Based in Seoul, Colin Marshall writes and broadcasts on cities and culture. His projects include the book The Stateless City: a Walk through 21st-Century Los Angeles and the video series The City in Cinema. Follow him on Twitter at @colinmarshall or on Facebook.