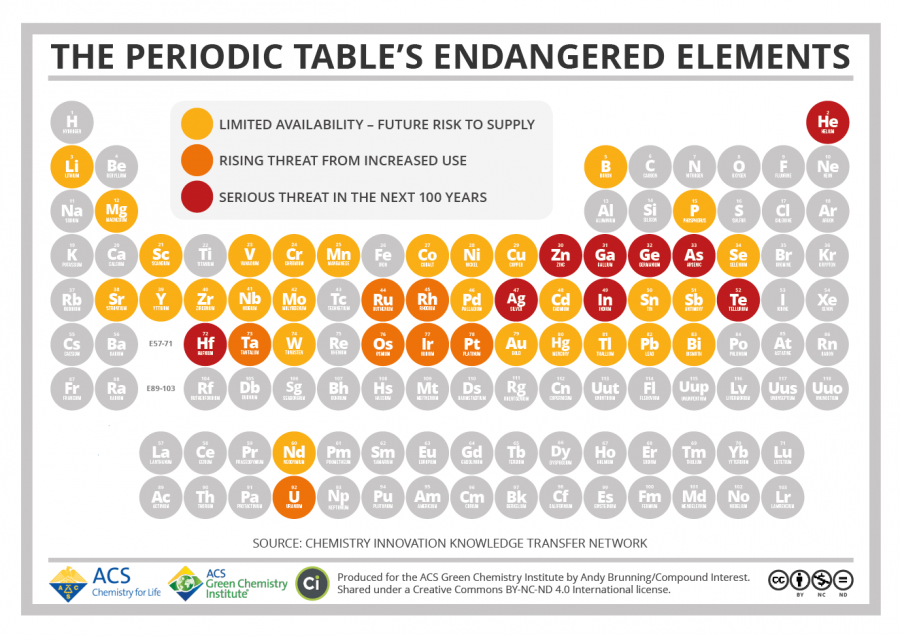 The Periodic Table of Elements lists the 118 chemical elements that make up everything in our world. Some you're familiar with–Hydrogen, Oxygen, Nitrogen, etc. Others maybe less so–Vanadium, Germanium and Yttrium.
According to the American Chemical Society, 44 of those 118 elements might disappear by century's end. Enter the Periodic Table of Endangered Elements (shown above). The most endangered ones, highlighted in red, are Zinc, Gallium, Germanium, Arsenic (is this a good or very bad thing?), Silver, Indium, Tellurium, and Hafnium. Made available under a Creative Commons license, the Periodic Table of Endangered Elements can be viewed in a larger format here.
If you would like to sign up for Open Culture's free email newsletter, please find it here.
If you would like to support the mission of Open Culture, consider making a donation to our site. It's hard to rely 100% on ads, and your contributions will help us continue providing the best free cultural and educational materials to learners everywhere. You can contribute through PayPal, Patreon, Venmo (@openculture) and Crypto. Thanks!
Related Content:
Interactive Periodic Table of Elements Shows How the Elements Actually Get Used in Making Everyday Things
The Periodic Table of Elements Scaled to Show The Elements' Actual Abundance on Earth
Periodic Table Battleship!: A Fun Way To Learn the Elements
"The Periodic Table Table" — All The Elements in Hand-Carved Wood
World's Smallest Periodic Table on a Human Hair
"The Periodic Table of Storytelling" Reveals the Elements of Telling a Good Story
Chemistry on YouTube: "Periodic Table of Videos" Wins SPORE Prize