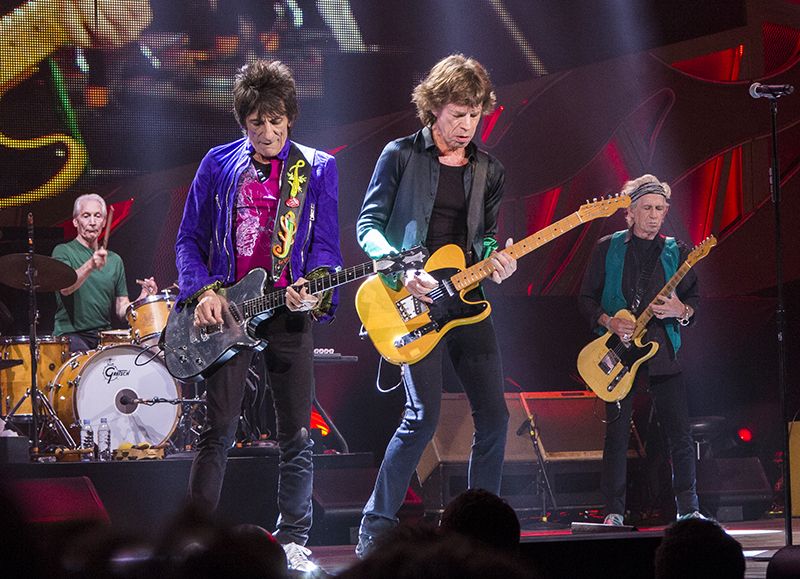 Image by Jim Pietryga, via Wikimedia Commons
"Would you let your daughter marry a Rolling Stone?"
From the start, the Rolling Stones were promoted as the more debauched, dangerous alternative to the Beatles, prompting the above rather-famous tabloid headline from their first years of fame. The Spotify playlist below collects a whopping 613 tracks from this seminal rock band, all placed for the most part in chronological order. (At 44 hours, there's still whole albums–not major one mind you–missing, due to Spotify). The Stones may have been more complex than their bad boy image, but they've never shrugged it off over their five decades in music, and it's probably too late to stop now.
But it was rough going at the start, wasn't it? Their first single was a cover of a Chuck Berry song on the A-side, and a Willie Dixon song on the flip. Their debut album contained only three originals, with only "Tell Me" standing out from the pack as something other than a carbon copy. Their second single was a song the Beatles gave to them–and even then the Fab Four recorded a version of it, unlike the hits they gave to Cilla Black and others. Andrew Loog Oldham was their manager first and a producer second, not used to the studio at all, and instead of the state-of-the-art Abbey Road studios to play in, the band had Regent Sound studios, with egg cartons taped to the ceiling to baffle noise. If this was competition against the Beatles, it certainly didn't look good at first.
But despite–or due to–those challenges, the band gained success and earned respect, starting with "(I Can't Get no) Satisfaction" and appearances on Ed Sullivan and the T.A.M.I. Show, where they actually followed James Brown and weren't forgotten by history.
The Stones spent those first years following fashion, always one step behind the Beatles, going so far as to offer their own "Satanic" version of the psychedelic Sgt. Pepper's. But then, instead of playing devilish dress-up, in May of 1968 they dropped "Jumpin Jack Flash," which for the first time embodies a very real, dangerous energy. It wasn't planned. But 1968 was when the Stones took the rock mantle from their friendly rivals. If any band was ready to be the bridge from the hopeful '60s to the grimy '70s, it was the Stones.
Their earlier mimicry of blues and rock'n'roll was one thing, but their amalgam of rock, blues, and Americana on albums like Sticky Fingers and Exile on Main Street was something else entirely, a special kind of alchemy that also seemed to tax the entire band–which eventually lost one founding member and shuffled through guitarists to find Ron Wood.
The late '70s and early '80s were an odd time for the band, as their biggest hits then were most unlike their previous hits, dallying with disco, channeling Lou Reed, and setting themselves up for a very confused decade. But still! All along the way the Stones kept releasing singles that other bands would give their eye teeth for.
The playlist ends with the release of 2016's Blue and Lonesome, which found them right back where they started: a collection of well loved blues covers from Howlin' Wolf, Little Walter, and Willie Dixon. In the end, they brought it all back home.
Related Content:
The Rolling Stones Introduce Bluesman Howlin' Wolf on US TV, One of the "Greatest Cultural Moments of the 20th Century" (1965)
Mick Jagger Tells the Story Behind 'Gimme Shelter' and Merry Clayton's Haunting Background Vocals
The Rolling Stones Release a Soulful, Never-Heard Acoustic Version of "Wild Horses"
Ted Mills is a freelance writer on the arts who currently hosts the artist interview-based FunkZone Podcast and is the producer of KCRW's Curious Coast. You can also follow him on Twitter at @tedmills, read his other arts writing at tedmills.com and/or watch his films here.