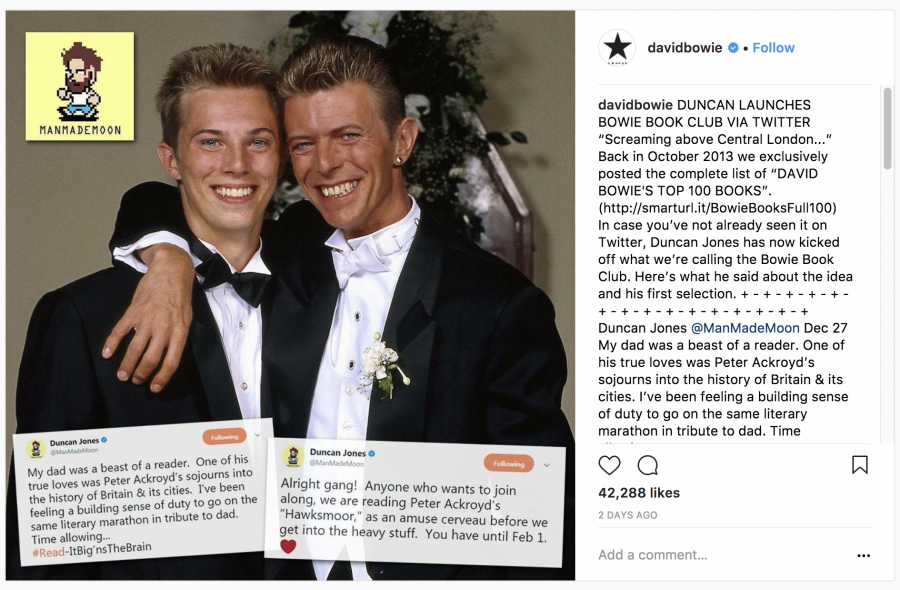 Cast as the star of 1976's The Man Who Fell to Earth, David Bowie traveled to New Mexico for the shoot, meeting with director Nicolas Roeg soon upon arrival. "I took with me hundreds and hundreds of books," Bowie said to The Face magazine a few years later. "And I had these cabinets" — a modernized Jacobean traveling library — "and they were rather like the boxes that amplifiers get packed up in, and I was going through all these books and they were pouring out all over the floor — there were just mountains of books. And Nick was sitting there watching me and he said, 'Your great problem, David, is that you don't read enough.'"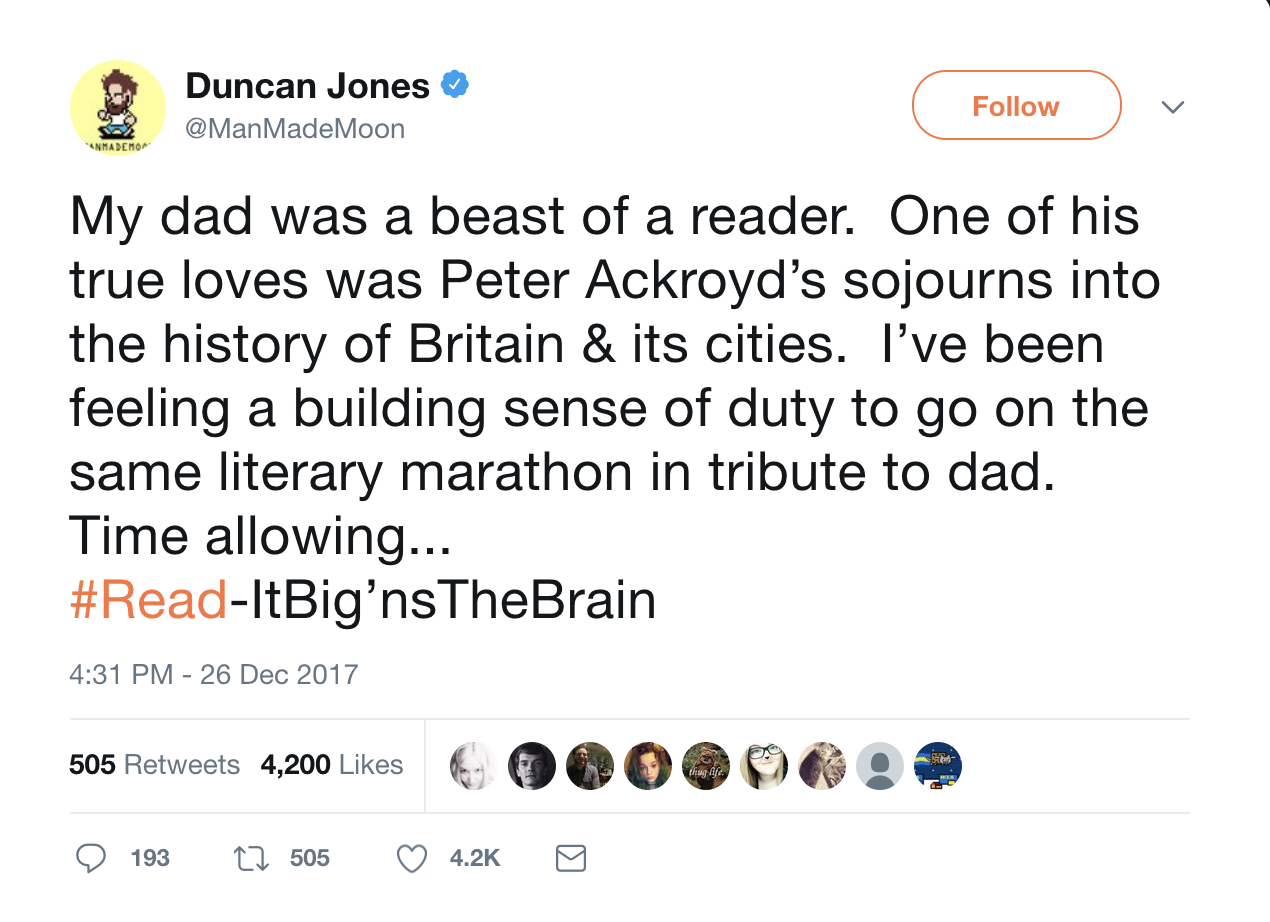 Due to Bowie's hyper-serious state of mind in those days, he went on to recall, "it didn't occur to me at the time that it was a joke." Though he changed his ways of thinking and even dropped the traveling library, Bowie seems to have maintained his formidable reading habits for the rest of his life. (In 1987, he even posed for one of the American Library Association's "READ" posters.) A few years ago we featured his Top 100 Book List, whose variety encompasses everything from The Outsider to Sexual Personae to A Confederacy of Dunces.
"My dad was a beast of a reader," Bowie's son Duncan Jones, an avid Twitter user, tweeted last week. "One of his true loves was Peter Ackroyd's sojourns into the history of Britain & its cities. I've been feeling a building sense of duty to go on the same literary marathon in tribute to dad." And so Jones' informal David Bowie book club begins with Ackroyd's 1985 postmodern novel Hawksmoor, which tells the parallel stories of an early 18th-century London architect and a late 20th-century London detective and which Joyce Carol Oates called "a witty and macabre work of the imagination, intricately plotted, obsessive in its much-reiterated concerns with mankind's fallen nature."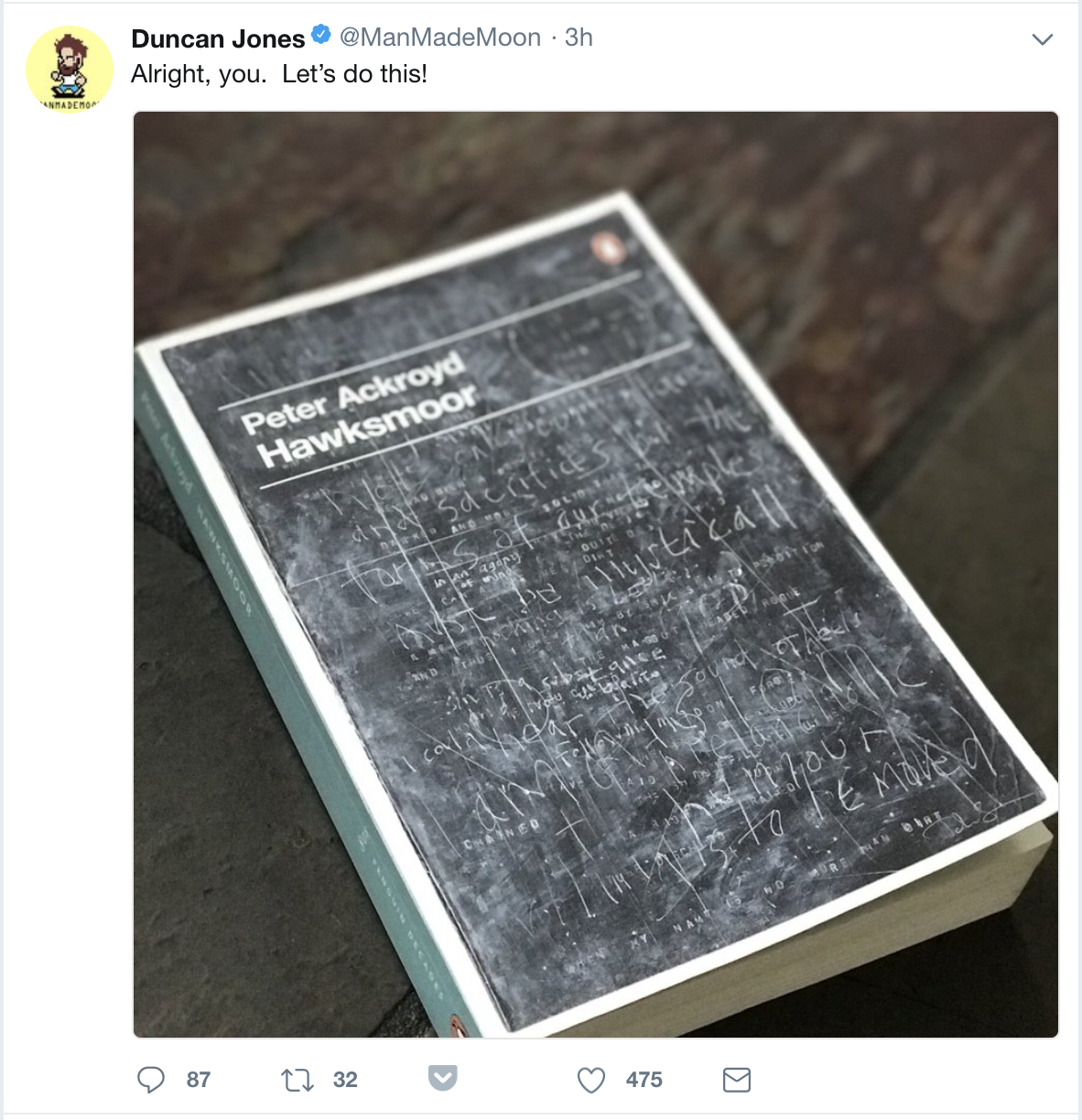 Jones calls the book "an amuse cerveau before we get into the heavy stuff," the "heavy stuff" presumably including other such Bowie picks as White Noise, A Clockwork Orange and Last Exit to Brooklyn. If you'd like to participate in the Jones-led discussion of Hawksmoor on his Twitter page, you've got until the first of February to get it read. If you feel like you don't read enough, consider this the Bowiest possible way to fulfill a new year's resolution to do more of it.
Note: Separately you can also check out The Bowie Book Club Podcast where two friends spend a month reading a book on Bowie's list. Find those episodes here.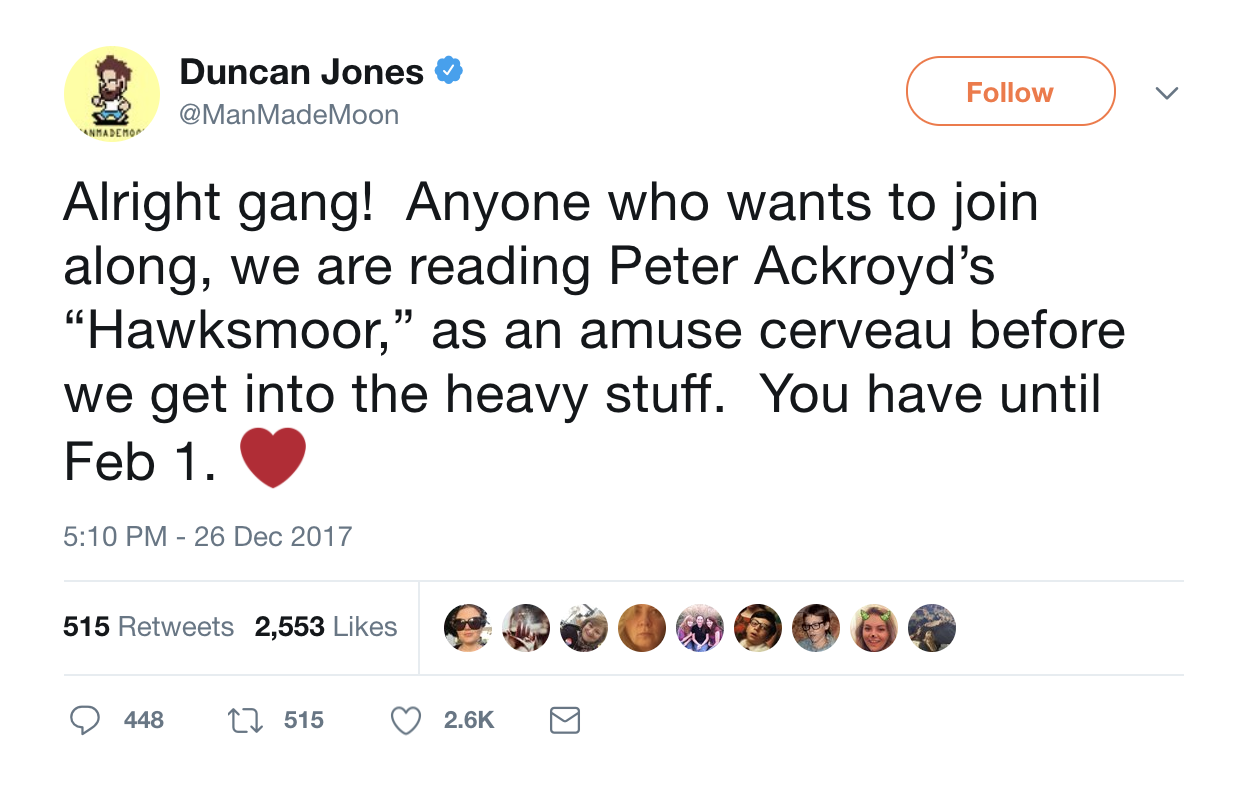 Related Content:
David Bowie Urges Kids to READ in a 1987 Poster Sponsored by the American Library Association
Brian Eno Lists 20 Books for Rebuilding Civilization & 59 Books For Building Your Intellectual World
Discover the Jacobean Traveling Library: The 17th Century Precursor to the Kindle
Based in Seoul, Colin Marshall writes and broadcasts on cities and culture. His projects include the book The Stateless City: a Walk through 21st-Century Los Angeles and the video series The City in Cinema. Follow him on Twitter at @colinmarshall or on Facebook.