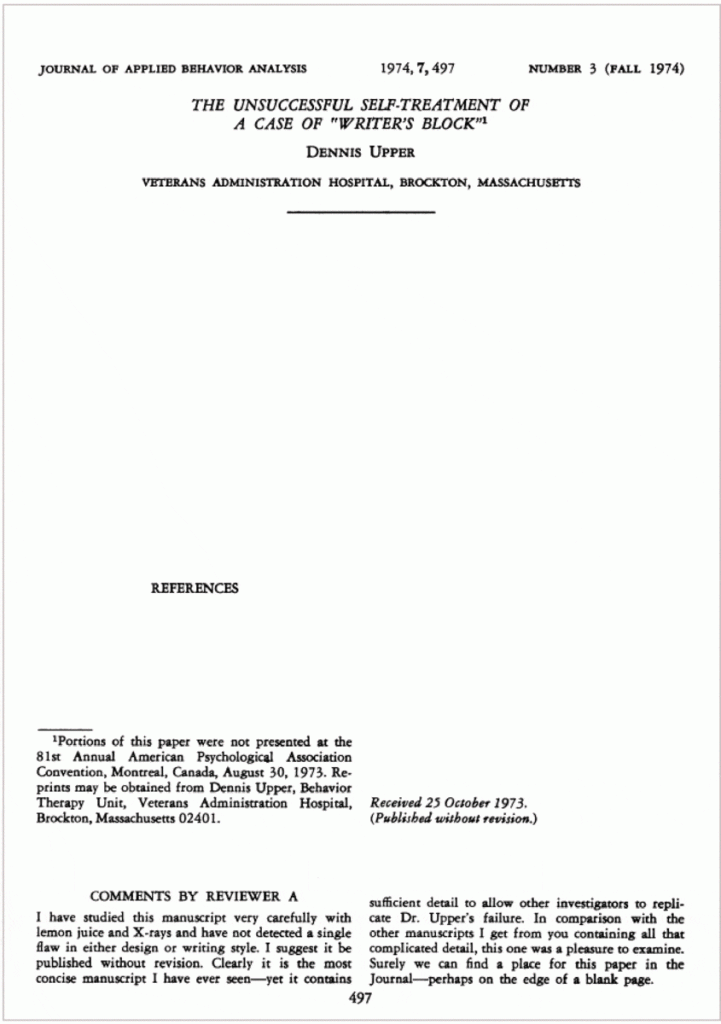 We've featured impressively short academic papers here on Open Culture before, like John Nash's 26-page PhD thesis and this two-sentence "Counterexample to Euler's Conjecture on Sums and Like Powers," but if you've set your sights on writing one shorter still, don't get your hopes up. The almost certainly unbeatable example of a short academic paper appeared more than forty years ago, in the fall 1974 issue of the Journal of Applied Behavior Analyses, its main text coming in at exactly zero words. You can read it, if indeed "read" is the word, above or at the National Center for Biotechnology Information.
Written, or at least thought up, by psychologist Dennis Upper, "The Unsuccessful Self-Treatment of a Case of 'Writer's Block'" has nothing but its title, one footnote (indicating that "portions of this paper were not presented at the 81st annual American Psychological Association Convention"), and the fulsome comments of a reviewer: "I have studied this manuscript very carefully with lemon juice and X-rays and have not detected a single flaw in either design or writing style. I suggest it be published without revision. Clearly it is the most concise manuscript I have ever seen — yet it contains sufficient detail to allow other investigators to replicate Dr. Upper's failure. In comparison with the other manuscripts I get from you containing all that complicated detail, this one was a pleasure to examine."
Some describe writer's block, whether in science or literature or any other field requiring the proper arrangement of words, as a fear of the blank page. If looking at Upper's void-like paper frightens you, consider having a look at the Louisiana Channel series we featured in 2016 wherein writers like Margaret Atwood, Jonathan Franzen, Joyce Carol Oates, and David Mitchell talk about how they deal with the blank page themselves. Atwood finds that it "beckons you in to write something on it," that "it must be filled," but if you don't hear the same call, you'll have to come up with an approach of your own. Just don't try titling, footnoting, and turning in the empty sheet — it's been done.
Related Content:
8 Writers on How to Face Writer's Block and the Blank Page: Margaret Atwood, Jonathan Franzen, Joyce Carol Oates & More
The Shortest-Known Paper Published in a Serious Math Journal: Two Succinct Sentences 
Read John Nash's Super Short PhD Thesis with 26 Pages & 2 Citations: The Beauty of Inventing a Field
When a Cat Co-Authored a Paper in a Leading Physics Journal (1975)
Based in Seoul, Colin Marshall writes and broadcasts on cities and culture. His projects include the book The Stateless City: a Walk through 21st-Century Los Angeles and the video series The City in Cinema. Follow him on Twitter at @colinmarshall or on Facebook.