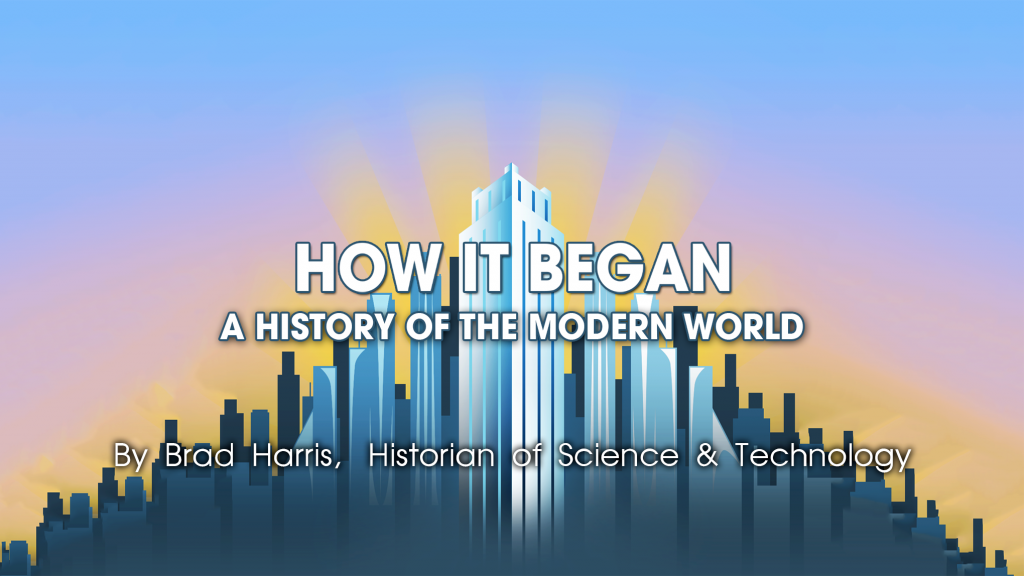 History is dying at U.S. colleges and universities.  Enrollment in undergraduate history courses is way down since 2010, and the number of history degrees awarded annually has likewise been falling faster and faster.  The most recent data show a 9% nationwide drop in history degrees awarded in 2014 compared to 2013, with an even sharper 13% decline at the nation's top universities, including Yale, Harvard, and Stanford. (1,2,3,4)  So, is history just getting old?
On the contrary.  At least outside of academia, history has never been more popular.  Cultural icons including Barack Obama and Bill Gates have cited history books such as Yuval Noah Harari's Sapiens: A Brief History of Mankind and Steven Pinker's Enlightenment Now: The Case for Reason, Science, Humanism and Progress as among their favorite books of all time.  The History Channel has enjoyed a resurgence in viewership since 2013, and judging by the reception of more epic productions, from Steven Spielberg's Oscar-winning movie Lincoln in 2012 to Lin-Manuel Miranda's smash hit musical Hamilton in 2015, it's clear that public hunger for history is only growing.  What, then, accounts for lackluster lecture hall attendance?
"Part of the problem is that much of academic history has become too esoteric," says podcaster Brad Harris, who holds a PhD from Stanford in the history of science and technology.  "Course content has been shifting away from big ideas like the rise of modern science and democracy to narrower studies of things like the politics of emotion and cultural constructions, which many students find less relevant to their interests."  Moreover, Harris contends that college history courses have never been more cynical.  "Too many professors dwell on what humanity has done wrong–who we've oppressed, what we've destroyed–and not enough on what humanity has done right–who we've liberated, what we've invented.  Where's the inspiration?  It's no wonder people are ditching history lectures."  And now, so has Brad Harris.
Since leaving academia in 2015, Harris has been working full-time to offer an attractive alternative for people who want to learn history, providing content that is as informative as a college lecture but as entertaining as a cinematic production: a podcast called How It Began: A History of the Modern World.  Available everywhere podcasts are found, and also from his website, howitbegan.com, How It Began interprets a broad array of the most important scientific, technological, and cultural advancements in history, from dog domestication to the Scientific Revolution.  Here is an excerpt from the show's introductory episode:
In each episode, we will fly through the centuries to follow the seeds of an innovation or discovery as it blossoms into one of the many fruits of modernity.  Far from a catalog of dead men and dates, How It Began offers a cinematic-like immersion into the stories behind some of our species' greatest achievements.  The overall theme?  Celebration!  We are fortunate to be descended from men and women who dared to dream big and even die for the cause of progress.  Their work is unfinished, and some parts of modernity are even worse than before.  But most are better, much better.  And we have more tools than ever to fix what's still broken.  
Brad Harris hopes his show's focus on modern progress will captivate people who crave more inspiring explorations of history, and judging by How It Began's reception so far, he seems well on his way to achieving exactly that.  
Episodes are between 30 and 60 minutes long and released every month or so.  The podcast explores a wide range of topics, from the rise of modern surgery and computers to the development of the English language and the theory of evolution.  "Wolves to Dogs: The Origin of our Alliance" was one of the most popular episodes of Season One.   In a more recent episode, Harris reveals the surprising correlations between the spread of coffee consumption and the establishment of modern institutions:
Sources:
This is a guest post by Morgan Stewart, an educational consultant and founder of Within Reach Educational Consultants.