FYI: If you sign up for a MasterClass course by clicking on the affiliate links in this post, Open Culture will receive a small fee that helps support our operation.
When Spike Lee makes a movie, people talk about it. People talked in 1986 when he made the black-and-white indie comedy She's Gotta Have It; they talked even more when he came out with Do the Right Thing a few years later; they talked, with sharply divided opinion, about his most recent picture, the crime-themed musical Chi-Raq; and they're already talking about his upcoming Black Klansman, and not just because of the title. Lee has managed to remain culturally and artistically relevant throughout a career of more than thirty years and counting, and his new online course at Masterclass just might let us in on how he's done it.
"When you're an independent filmmaker, and making films outside Hollywood, that's hard," says the long Brooklyn-based Lee in the trailer for the course above. "You have to pray on bended knee at the church of cinema." But even as an aspiring auteur with a pocket-change budget — Lee remembers well when he "was a caterer, the producer, the director, the screenwriter, acted in it, and I was the first AD" on his first feature — you already possess "tools that can help you tell a story": heightening dynamic camerawork to heighten the emotions, for instance, or writing characters with strong beliefs to intensify the conflicts of the story. He used such techniques when he started out, and he still uses them today.
Though Lee seems more than willing to talk about his methods, you can't fully understand any filmmaker unless you understand that filmmaker's influences. And so we offer you Lee's list of 95 essential movies every aspiring director should see, expanded from his original list of 87, drawn up to hand out to the graduate-school classes he's taught. Featuring multiple works from directors like Akira Kurosawa, Alfred Hitchcock, Federico Fellini, John Huston, and Stanley Kubrick, the first version of the list runs as follows: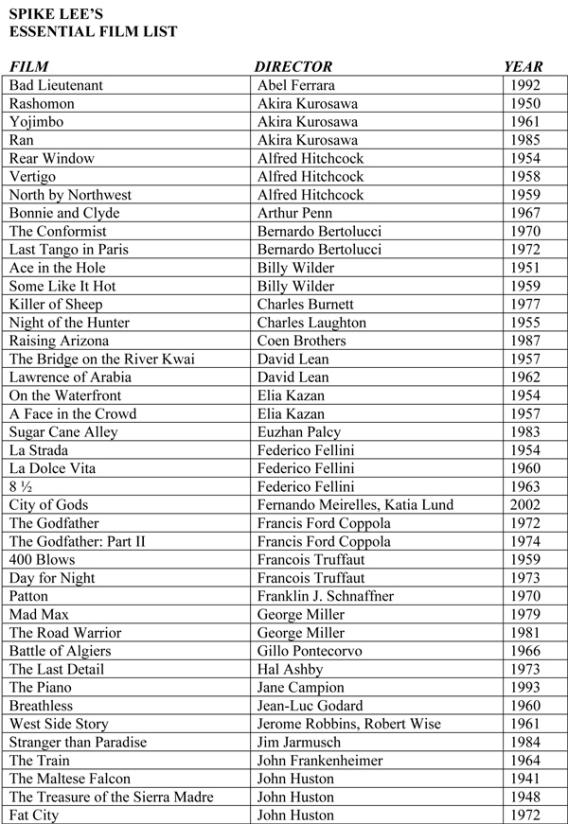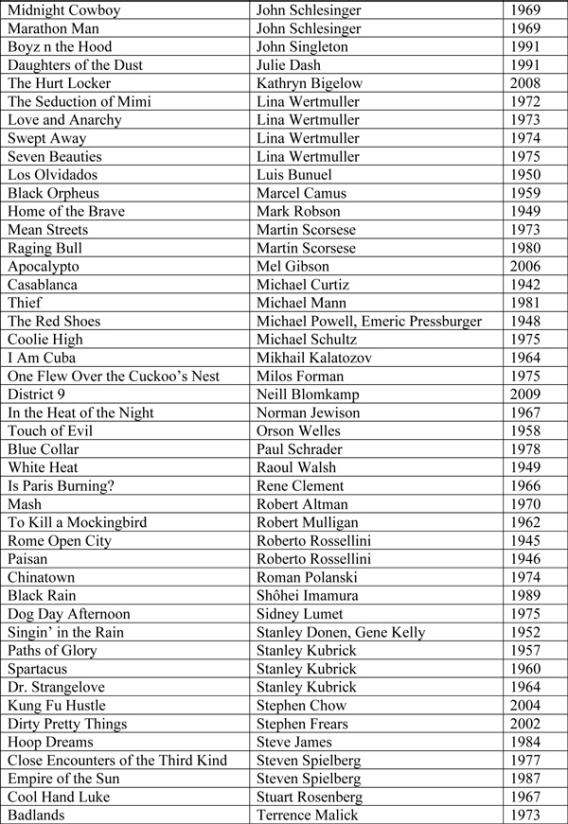 Taken to task for that list's lack of female filmmakers, Lee came up with these additions:
The Piano – Jane Campion (1993)
Daughters of the Dust – Julie Dash (1991)
The Hurt Locker – Kathryn Bigelow (2008)
Sugar Cane Alley – Euzhan Palcy (1983)
The Seduction of Mimi – Lina Wertmuller (1972)
Love and Anarchy – Lina Wertmuller (1973)
Swept Away – Lina Wertmuller (1974)
Seven Beauties – Lina Wertmuller (1975)
Lee's Masterclass on filmmaking joins the site's other offerings on the same subject from auteurs no less distinctive than Martin Scorsese and Werner Herzog. Though all three became major filmmakers at different times and under different circumstances — and ended up with very different cinematic sensibilities — they all, as Lee might put it, pray at the same church.
And just as it takes the perspective of many theologists to get a sense of the ineffable essence of the divine, so it takes the perspective of many filmmakers to get an ineffable essence of cinema. You could take all three courses with Masterclass' $180 all-access pass, or you could pay $90 for just Lee's. Either way, you'll learn how he made She's Gotta Have It for a then-dirt-cheap $175,000, but these days you could surely go out and shoot your own film afterward for not much more than the cost of the Masterclass itself. It's still hard out there for an indie filmmaker, mind you; just not quite as hard as it was.
Related Content:
How Spike Lee Got His First Big Break: From She's Gotta Have It to That Iconic Air Jordan Ad
Spike Lee's List of 95 Essential Movies – Now with Women Filmmakers
Martin Scorsese to Teach His First Online Course on Filmmaking
Werner Herzog Teaches His First Online Course on Filmmaking
Based in Seoul, Colin Marshall writes and broadcasts on cities and culture. His projects include the book The Stateless City: a Walk through 21st-Century Los Angeles and the video series The City in Cinema. Follow him on Twitter at @colinmarshall or on Facebook.