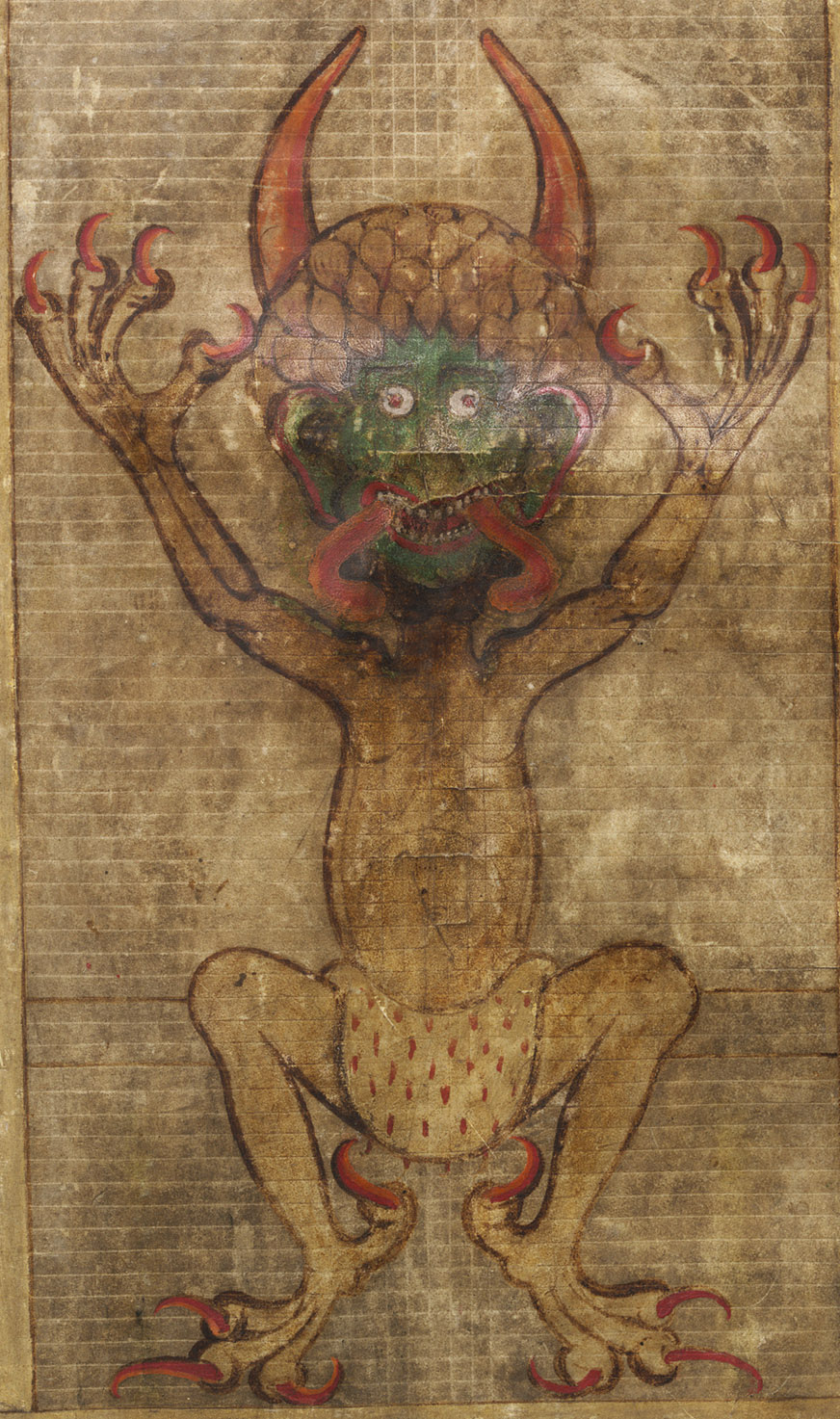 Bargain with the devil and you may wind up with a golden fiddle, supernatural guitar playing ability, or a room full of gleaming alchemized straw.
Whoops, we misattributed that last one. It's actually Rumpelstiltskin's doing, but the by-morning-or-else deadline that drives the Brothers Grimm favorite is not dissimilar to the ultimatum posed to disgraced medieval monk Hermann the Recluse: produce a giant book that glorifies your monastery and includes all human knowledge by sunrise, or we brick you up Cask of Amontillado-style.
Why else would a book as high-minded as the Codex Gigas (Latin for Giant Book) contain a full page glamour portrait of the devil garbed in an ermine loincloth and cherry red claws?
Perhaps it's the 13th-century equivalent of "sex sells." What better way to keep your book out of the remainder bin of history than to include an eye-catching glimpse of the Prince of Darkness? Hedge your bets by positioning a splendid vision of the Heavenly City directly opposite.
Notable illustrations aside, the Codex Gigas holds the distinction of being the largest extant medieval illuminated manuscript in the world.
Weighing in at 165 lbs, this 3-foot tall bound whale required the skins of 160 donkeys, at the rate of two pages per donkey. (Ten pages devoted to St. Benedict's rules for monastic life were literally cut from the manuscript at an unknown date.)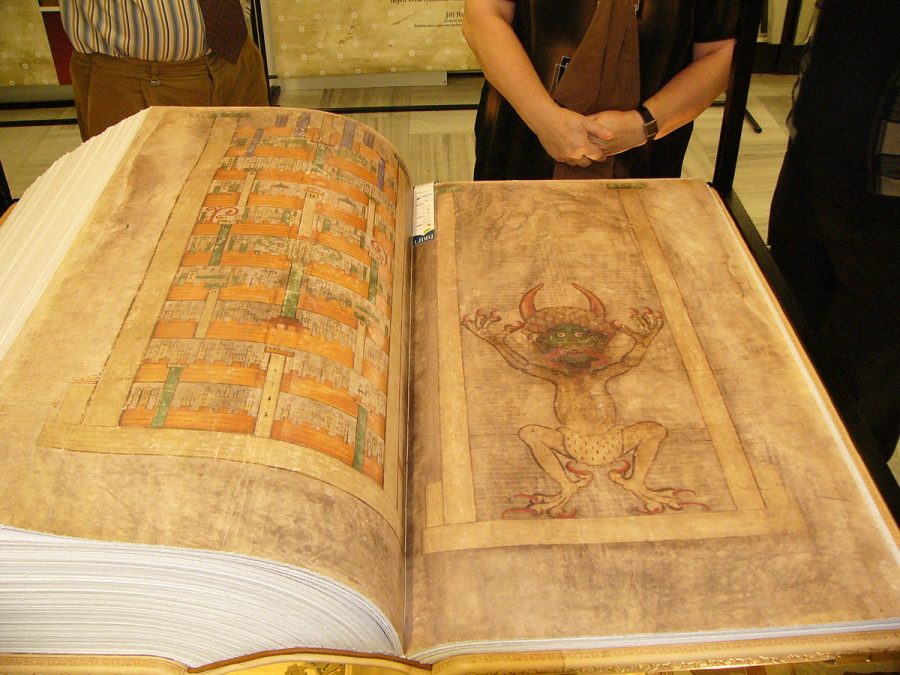 It's a lot.
A National Geographic documentary concluded that the sprawling manuscript would've required a minimum of 5 years of full-time, single-minded labor. More likely, the work was spread out over 25 to 30 years, with various authors contributing to the different sections. In addition to a complete Bible, the "Devil's Bible" includes an encyclopedia, medical information, a calendar of saints' days, Flavius Josephus' histories The Jewish War and Jewish Antiquities and some practical advice on exorcising evil spirits.
The actual lettering does seem to come down to a single scribe with very neat handwriting. Experts at National Library of Sweden, where the Codex Gigas has come to a rest after centuries of adventures and misadventures, identify it as carolingian minuscule, a popular and highly legible style of medieval script. Its uniform size would've required the scribe to rule each page before forming the letters, after which 100 lines a day would have been a reasonable goal.
You can have a look for yourself on the Library's website, where the entire work is viewable in digitized form.
Certainly the devil is a great place to start, though his appearance may strike you as a bit comical, given all the fuss.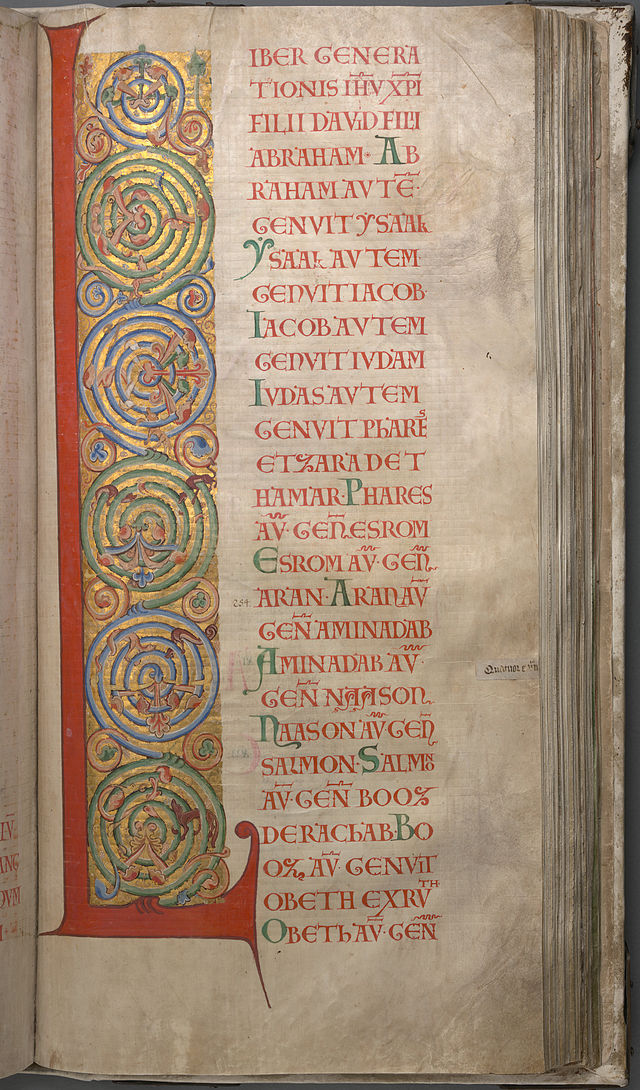 For viewers unsure of where to start, the library has compiled a guide to the highlights.
You'll also find a lot of interesting historical detail: relocations resulting from the Hussite Wars and the Thirty Years' War, a close call with fire, and of course the attendant legends.
Begin your explorations of the Codex Gigas here.
Related Content:
How Illuminated Medieval Manuscripts Were Made: A Step-by-Step Look at this Beautiful, Centuries-Old Craft
Behold the Beautiful Pages from a Medieval Monk's Sketchbook: A Window Into How Illuminated Manuscripts Were Made (1494)
Wonderfully Weird & Ingenious Medieval Books
Ayun Halliday is an author, illustrator, theater maker and Chief Primatologist of the East Village Inky zine.  Join her in NYC on Monday, April 23 for the third installment of her literary-themed variety show, Necromancers of the Public Domain. Follow her @AyunHalliday.