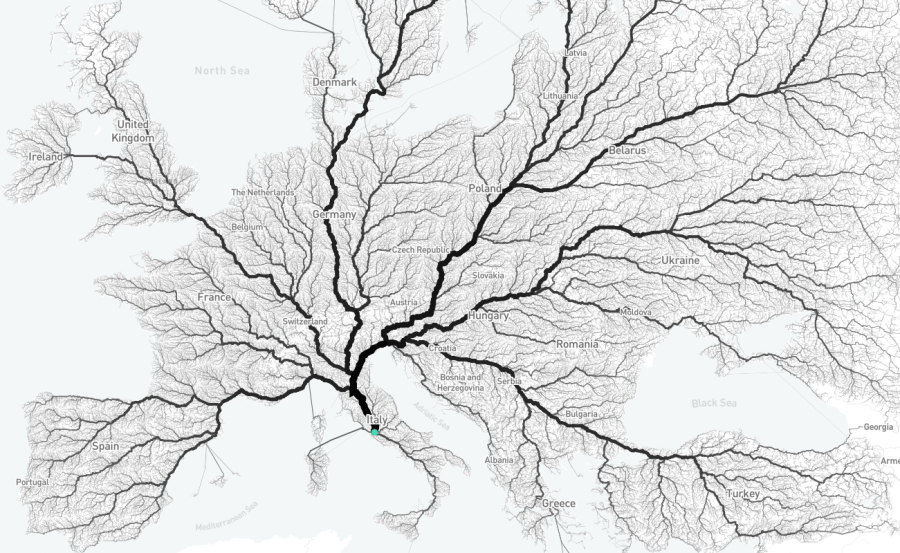 …he went away, and pass­ing through what was called the house of Tiberius, went down into the forum, to where a gild­ed col­umn stood, at which all the roads that inter­sect Italy ter­mi­nate."

- Plutarch, Life of Gal­ba (XXIV.4)
No one can give you exact direc­tions to Mil­liar­i­um Aureum (aka the Gold­en Mile­stone). Just a few carved mar­ble frag­ments of the gild­ed column's base remain in the Roman Forum, where its orig­i­nal loca­tion is some­what dif­fi­cult to pin­point.
But as the image above, from inter­ac­tive map Roads to Rome, shows (view it here), the mot­to Emper­or Cae­sar Augus­tus' mighty mile mark­er inspired still holds true.
All roads lead to Rome.
To illus­trate, design­ers Benedikt Groß and Philipp Schmitt worked with dig­i­tal geo­g­ra­ph­er Raphael Reimann to select 486,713 start­ing points on a 26,503,452 km² grid of Europe.
From there, they cre­at­ed an algo­rithm to cal­cu­late the best route from each point to Rome.
(It beats typ­ing a street address into Google Maps 486,713 times.)
From afar, the result­ing map looks like a del­i­cate piece of sea let­tuce or an ear­ly explo­ration in neu­roanato­my.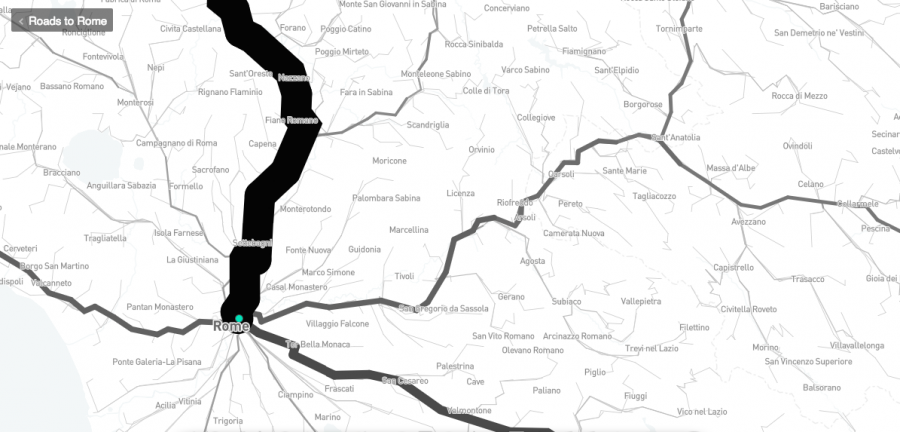 Zoom in as tight as you can and things become more tra­di­tion­al­ly car­to­graph­ic in appear­ance, names and spa­tial rela­tions of cities assert­ing them­selves. A bold line indi­cates a busy route.
In a nod to map lovers out­side of Europe, the mobil­i­ty-obsessed team came up with anoth­er map, this one geared to state­side users.
Do you know which of the Unit­ed States' nine Romes you are clos­est to?
Now you do, from 312,719 dis­tinct start­ing points.
To help them in their labor, the cre­ative team made good use of the Graph­Hop­per route opti­miza­tion tool and the Open Street Map wiki. In their own esti­ma­tion, the project's out­come is "some­where between infor­ma­tion visu­al­iza­tion and data art, unveil­ing mobil­i­ty on a very large scale."
Buy a poster of the All Roads Lead to Rome map here. Or view the inter­ac­tive map here.
Relat­ed Con­tent:
The Lon­don Time Machine: Inter­ac­tive Map Lets You Com­pare Mod­ern Lon­don, to the Lon­don Short­ly After the Great Fire of 1666
Watch the His­to­ry of the World Unfold on an Ani­mat­ed Map: From 200,000 BCE to Today
An Inter­ac­tive Map of Every Record Shop in the World
Ayun Hal­l­i­day is an author, illus­tra­tor, the­ater mak­er and Chief Pri­ma­tol­o­gist of the East Vil­lage Inky zine. Join her in NYC on Wednes­day, May 16 for anoth­er month­ly install­ment of her book-based vari­ety show, Necro­mancers of the Pub­lic Domain. Fol­low her @AyunHalliday.