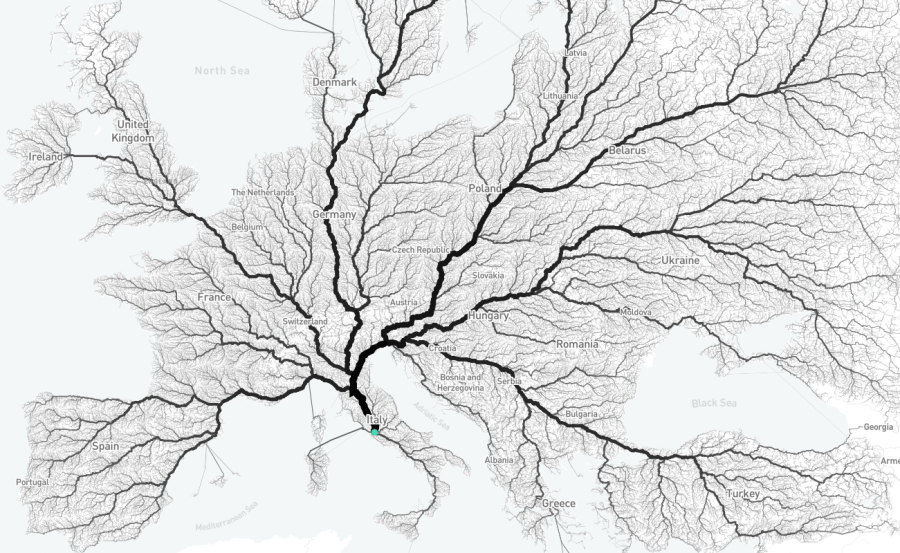 …he went away, and passing through what was called the house of Tiberius, went down into the forum, to where a gilded column stood, at which all the roads that intersect Italy terminate."

– Plutarch, Life of Galba (XXIV.4)
No one can give you exact directions to Milliarium Aureum (aka the Golden Milestone). Just a few carved marble fragments of the gilded column's base remain in the Roman Forum, where its original location is somewhat difficult to pinpoint.
But as the image above, from interactive map Roads to Rome, shows (view it here), the motto Emperor Caesar Augustus' mighty mile marker inspired still holds true.
All roads lead to Rome.
To illustrate, designers Benedikt Groß and Philipp Schmitt worked with digital geographer Raphael Reimann to select 486,713 starting points on a 26,503,452 km² grid of Europe.
From there, they created an algorithm to calculate the best route from each point to Rome.
(It beats typing a street address into Google Maps 486,713 times.)
From afar, the resulting map looks like a delicate piece of sea lettuce or an early exploration in neuroanatomy.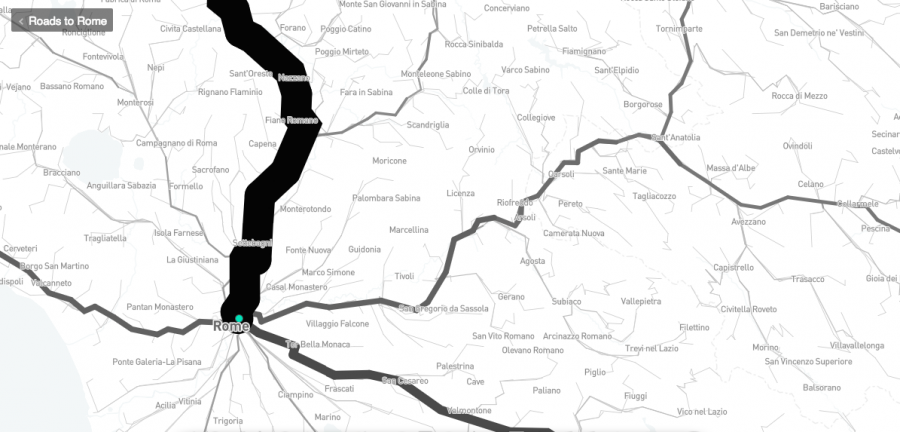 Zoom in as tight as you can and things become more traditionally cartographic in appearance, names and spatial relations of cities asserting themselves. A bold line indicates a busy route.
In a nod to map lovers outside of Europe, the mobility-obsessed team came up with another map, this one geared to stateside users.
Do you know which of the United States' nine Romes you are closest to?
Now you do, from 312,719 distinct starting points.
To help them in their labor, the creative team made good use of the GraphHopper route optimization tool and the Open Street Map wiki. In their own estimation, the project's outcome is "somewhere between information visualization and data art, unveiling mobility on a very large scale."
Buy a poster of the All Roads Lead to Rome map here. Or view the interactive map here.
Related Content:
The London Time Machine: Interactive Map Lets You Compare Modern London, to the London Shortly After the Great Fire of 1666
Watch the History of the World Unfold on an Animated Map: From 200,000 BCE to Today
An Interactive Map of Every Record Shop in the World
Ayun Halliday is an author, illustrator, theater maker and Chief Primatologist of the East Village Inky zine.  Join her in NYC on Wednesday, May 16 for another monthly installment of her book-based variety show, Necromancers of the Public Domain. Follow her @AyunHalliday.