In the introduction to his sweeping History of Western Philosophy, Bertrand Russell wastes no time getting to a definition of his subject. "The conceptions of life and the world which we call 'philosophical,'" he writes in the first sentence, "are a product of two factors: one, inherited religious and ethical conceptions; the other, the sort of investigation which may be called 'scientific,' using the word in its broadest sense. … Philosophy, as I shall understand the word, is something intermediate between theology and science." (Russell makes a similar argument, in slightly different terms, in the essay "Mysticism and Logic.")
Although this distinction between broadly "theological" and broadly "scientific" thinking may not map directly onto the modern schism between "Continental" and "Analytic" philosophy, a comparison still seems highly relevant. Though some continental thinkers may not wish to admit it, their categories and modes of reasoning—or intuiting, reflecting, speculating, etc.—derive from theological thought denuded of its specific religious content or beliefs. Or as philosopher Thomas R. Wells writes at his blog The Philosopher's Beard, the continental proceeds from a "direct concern with the human condition, its ambition, its reflexivity, its concern with the media as well as the message."
The analytic, on the other hand, strives for "universal scope, clarity and public accountability…. It tries to systematize knowledge" and approximate scientific methods of inquiry (which also once mixed freely with the theological). Both approaches can move too close to the poles Russell identifies—can move too far away, that is, from philosophy and toward the obscure and purely mystical or the inhumanely, unreflectively rational. Perhaps one way of thinking about the history of philosophy is as a dance between this play of opposites, with each approach offering a corrective to the other's excesses, sometimes within the same thinker's body of work.
But before applying such abstractions, we should consider the ways philosophy developed as a discipline distinct from the hard sciences and theology—and from art, psychology, anthropology, physics, mathematics, linguistics, economics, etc. "Once upon a time," notes the video at the top—a comprehensive "map of philosophy" made by Carneades.org— "Philosophy was anything you can study. Everything in the realm of study was a type of philosophy." The breaking off of other fields into their own domains happened over the course of several hundred years. Nonetheless, "philosophy still had its fingers in all of those other pies."
One can think philosophically about anything—philosophy can "put different disciplines on the same playing field to talk to each other." It is, the video's introduction declares, "the glue that holds all of academia together" (hence, the top academic degree, the Ph.D., or "doctor of philosophy"). For reasons of his own training, the video's creator, who simply goes by the pseudonym "Carneades," leans more heavily on the analytic side of things, neglecting or only lightly touching on much of the continental thought that flourished in the wake of Heidegger, Hegel, Nietzsche, Kierkegaard, Sartre, and others. (Further up, you can see a video focused on one specific school of moral philosophy—Consequentialism. See more such videos at the Carneades.org YouTube channel.)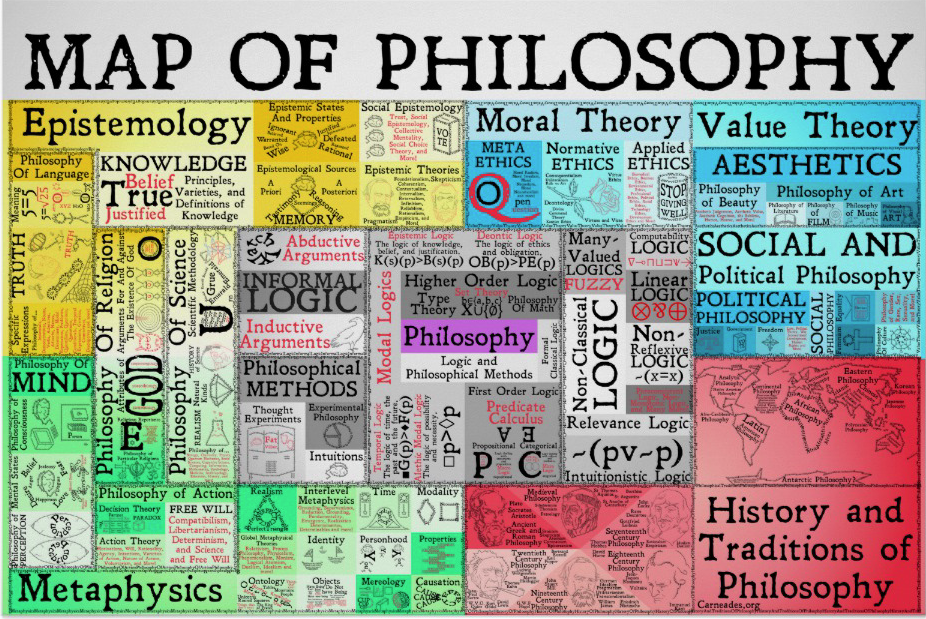 Carneades admits his biases and blind spots and welcomes corrections from those better versed in other traditions. To his credit, he includes Native American, African, Latin American, Afro-Caribbean, Polynesian, Japanese, Islamic, Tibetan, and many other global philosophical traditions in his extensive map—traditions that are usually completely ignored or deemed "unphilosophical" in other such surveys. His sensitivity to global thought may have something to do with the fact that he is not based in a Western academic department, but in West Africa, where he does humanitarian work.
See a complete table of contents, with links to specific sections, for the lengthy "Map of Philosophy" just below, and an image of the full map just above (purchase a hard copy here). Carneades' intention to bring "these ideas back to the modern agora from the Ivory Tower" is a noble one. If you agree, and find these videos informative and intellectually stimulating, you can donate to or become a patron of his efforts at the Carneades.org Patreon page.
Table of Contents:

00:00 Introduction
01:44 Logic and Philosophical Methods
02:14 Formal Classical Logic
04:55 Non-Classical Logic
06:35 Informal Logic
08:00 Philosophical Methods
10:20 The History of Philosophy
13:30 Philosophical Traditions Around the World
20:55 Aesthetics
22:35 Political Philosophy
23:34 Social Philosophy
25:00 Moral Theory & Ethics
28:08 Epistemology
30:34 Metaphysics
34:13 Philosophy of Science
37:35 Philosophy of Religion
40:17 Philosophy of Language
41:58 Philosophy of Mind
43:49 Philosophy of Action
44:57 Full Map
Related Content:
Free Online Philosophy Courses
The History of Philosophy … Without Any Gaps
350 Animated Videos That Will Teach You Philosophy, from Ancient to Post-Modern
Eminent Philosophers Name the 43 Most Important Philosophy Books Written Between 1950-2000: Wittgenstein, Foucault, Rawls & More
A History of Philosophy in 81 Video Lectures: From Ancient Greece to Modern Times
Josh Jones is a writer and musician based in Durham, NC. Follow him at @jdmagness