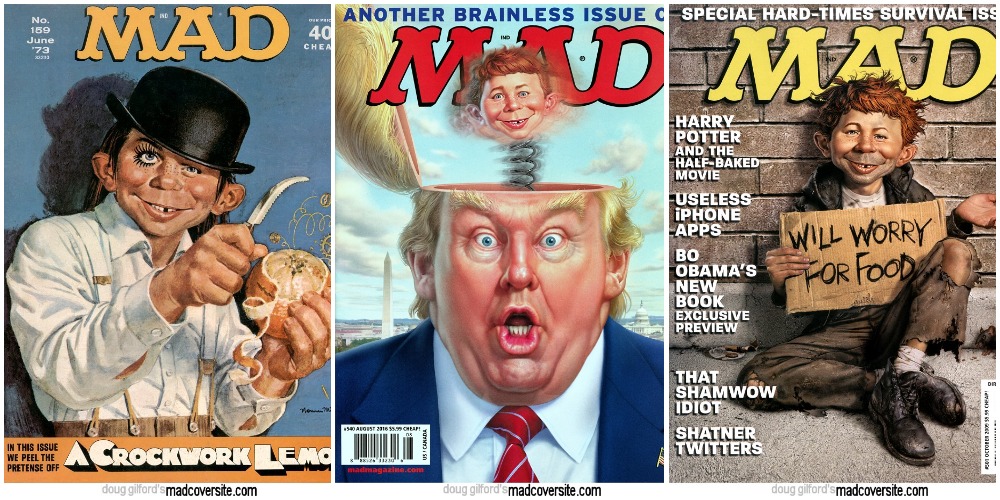 For 65 years and counting, the pages of Mad magazine have entertained readers by satirizing all the cultural items, social fads, news items, and political issues of the moment. Throughout that span of time the covers of Mad magazine have done the same, except that they've entertained everyone, even those who've never opened an issue, whether they want it or not. Though on one level designed purely as disposable visual gags, Mad's covers collectively provide a satirical history of America, and one you can easily browse at Doug Gilford's Mad Cover Site, "a resource for collectors and fans of the world's most important (ecch!) humor publication."
Gilford started the site back in 1997, a year that saw Mad's covers take on such phenomena as The X-Files, the Spice Girls, the Tamagotchi, and Seinfeld. That last seizes the presumably irresistible opportunity to draw Jerry Seinfeld scowling in irritation at "Neuman" — not his nemesis-neighbor Newman, but Mad's mascot Alfred E. Neuman, who appears in one form or another on almost all of the magazine's covers.
These sort of antics had already been going on for quite some time, as evidenced, for instance, by the June 1973 cover above in which Neuman dons a Droog outfit to take the place of Malcolm McDowell in A Clockwork Orange — or, in Mad's, view, A Crockwork Lemon.
To see the archive's covers in a large format, you need only scroll to the desired year, click on the issue number, and then click on the image that appears. (Alternatively, those with advanced Mad knowledge can simply pick an issue number from the pull-down "Select-a-Mad" menu at the top of the page.) Gilford keeps the site updated with covers right up to the latest issue: number three, as of this writing, since the magazine "rebooted" this past June as it relocated its offices from New York to California. Recent targets have included Donald Trump, Donald Trump, Donald Trump, and, of course, Donald Trump. Mad's longevity may be surprising, but it certainly doesn't look like America will stop providing the ridiculousness on which it has always survived any time soon.
Related Content:
A Gallery of Mad Magazine's Rollicking Fake Advertisements from the 1960s
Al Jaffee, the Longest Working Cartoonist in History, Shows How He Invented the Iconic "Folds-Ins" for Mad Magazine
Mad Magazine's Al Jaffee & Other Cartoonists Create Animations to End Distracted Driving
Enter "The Magazine Rack," the Internet Archive's Collection of 34,000 Digitized Magazines
Based in Seoul, Colin Marshall writes and broadcasts on cities and culture. His projects include the book The Stateless City: a Walk through 21st-Century Los Angeles and the video series The City in Cinema. Follow him on Twitter at @colinmarshall or on Facebook.