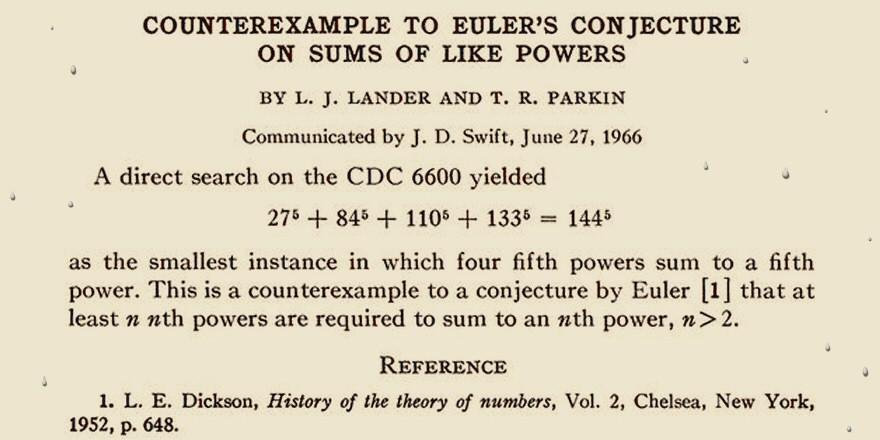 Euler's conjecture, a theory proposed by Leonhard Euler in 1769, hung in there for 200 years. Then L.J. Lander and T.R. Parkin came along in 1966, and debunked the conjecture in two swift sentences. Their article — which is now open access and can be downloaded here — appeared in the Bulletin of the American Mathematical Society. If you're wondering what the conjecture and its refutation are all about, you might want to ask Cliff Pickover, the author of 45 books on math and science. He brought this curious document to the web a couple of years back…
Would you like to support the mission of Open Culture? Please consider making a donation to our site. It's hard to rely 100% on ads, and your contributions will help us continue providing the best free cultural and educational materials to learners everywhere.
Also consider following Open Culture on Facebook and Twitter and sharing intelligent media with your friends. Or sign up for our daily email and get a daily dose of Open Culture in your inbox. 
Note: An earlier version of this post appeared on our site in April, 2015.
Related Content:
When a Cat Co-Authored a Paper in a Leading Physics Journal (1975)
Read John Nash's Super Short PhD Thesis with 26 Pages & 2 Citations: The Beauty of Inventing a Field
The World Record for the Shortest Math Article: 2 Words
Does Math Objectively Exist, or Is It a Human Creation? A New PBS Video Explores a Timeless Question