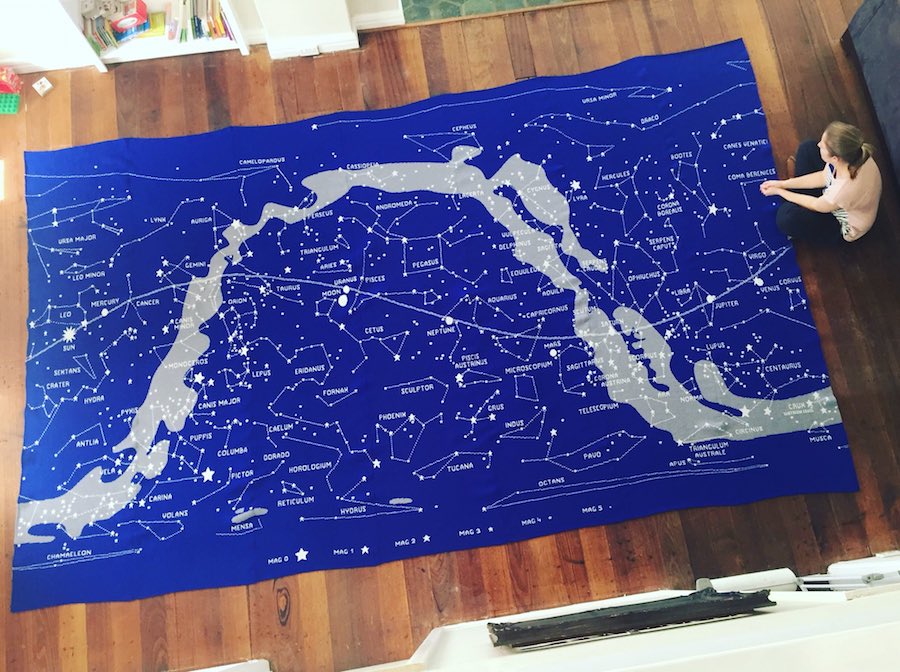 The next time some non-crafty type disparages your hobby as a frumpy pursuit, show them software engineer Sarah Spencer's "Stargazing."
The 9'x 15' knitted tapestry is an accurate equatorial star map featuring all 88 constellations as viewed by the naked eye, including the Milky Way and the Southern Cross, the best known star group in Spencer's native Australia.
The project ate up 33 pounds of Australian wool in three shades, including the same ultramarine blue sported by a number of accomplished Australian women whose portraits are on display as part of the 2018 Archibald Prize.
While "Stargazing" is machine knit, its creation took longer than most hand-knitted projects.
What started as a lark, hacking and programming a 40-year-old, secondhand Empisal knitting machine, grew into something much larger when Spencer developed a computer algorithm that allowed one tri-colored knit stitch per pixel.
Years later, she was ready to start knitting her star map, a reflection of her interest in STEM—science, technology, engineering, and mathematics.
"Stargazing" is actually comprised of seven panels, each the result of dusk-to-dawn labor on the part of the hacked machine. Stitching them together required many more human hours.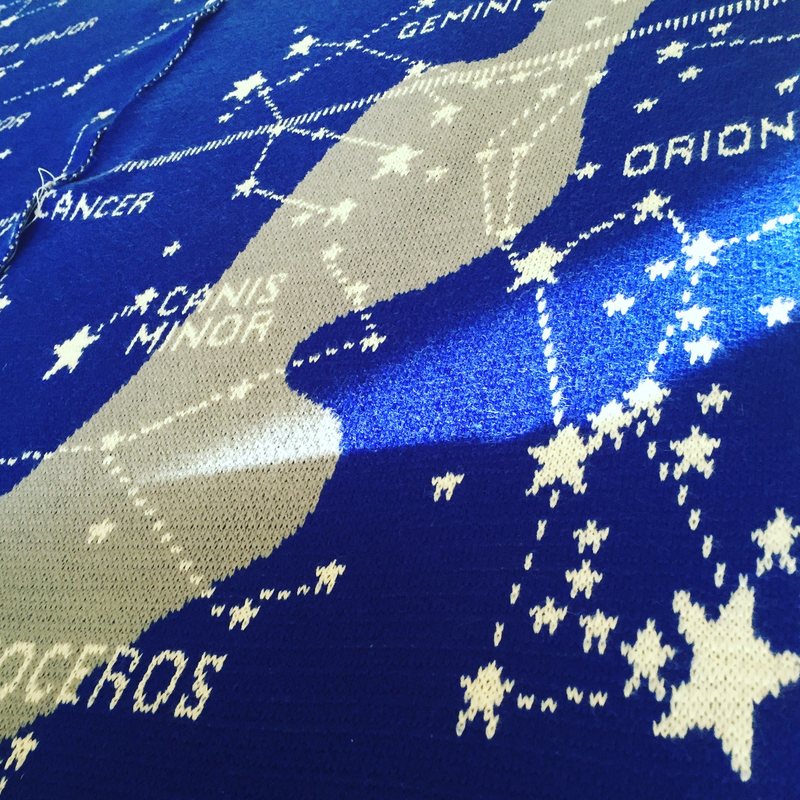 The piece was unveiled at the UK's tech-and-arts festival, Electromagnetic Field, on August 31. Spencer had calibrated the placement of the tapestry's planets to correspond with their celestial counterparts' locations that night.
For now, the tapestry is one-of-a-kind, but given its industrial origins, it's not hard to foresee a future in which couples can cuddle under astronomically correct afghans, while gazing up at the stars.
Related Content:
The Ancient Astronomy of Stonehenge Decoded
The History of Cartography, "the Most Ambitious Overview of Map Making Ever Undertaken," Is Free Online
Ayun Halliday is an author, illustrator, theater maker and Chief Primatologist of the East Village Inky zine.  Join her in NYC on Monday, September 24 for another monthly installment of her book-based variety show, Necromancers of the Public Domain. Follow her @AyunHalliday.