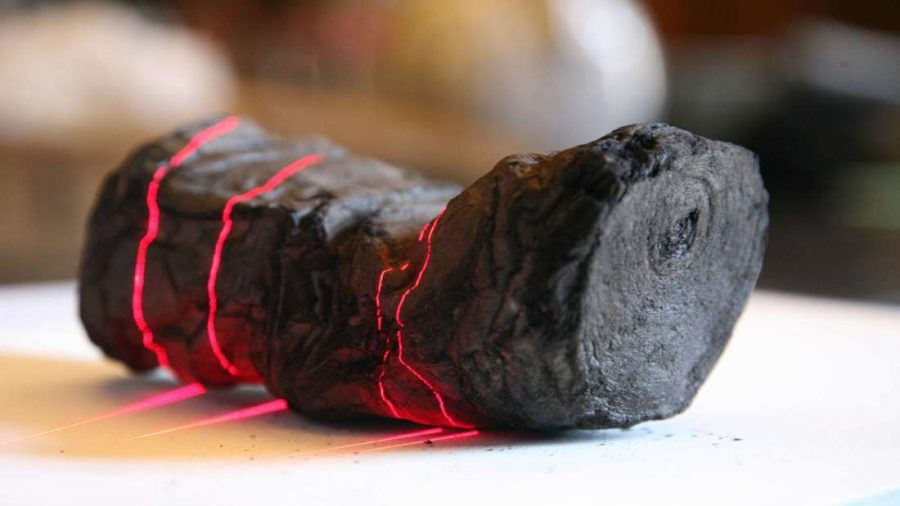 Everyone knows that Mount Vesuvius erupted in 79 AD, entombing the Roman town of Pompeii in ash. Almost everyone knows that it also did the same to several other towns, including wealthy Herculaneum on the Bay of Naples. Countless scholars have dedicated their lives to studying these unusually well-preserved first-century ruins and the historical treasures found within. We now understand a great deal about the layout, the structures, the social life of Herculaneum, but some aspects remain unknowable, such as the contents of the scrolls, charred beyond recognition, that fill its libraries — or at least that remained unknowable until now.
"In the 18th century, workmen employed by King Charles III of Spain, then in charge of much of southern Italy, discovered the remains of a magnificent villa, thought to have belonged to Lucius Calpurnius Piso Caesoninus (known as Piso), a wealthy statesman and the father-in-law of Julius Caesar," writes Smithsonian's Jo Marchant. There, "in what was to become one of the most frustrating archaeological discoveries ever, the workmen also found approximately 2,000 papyrus scrolls." But since the heat and gases of Vesuvius had turned them "black and hard like lumps of coal"  — and indeed, some of Charles III's workmen mistook them for coal and threw them away — attempts to open them "created a mess of fragile flakes that yielded only brief snippets of text."
The time of Charles III barely had sufficient know-how to avoid destroying the scrolls of Herculaneum, let alone to read them. That task turns out to demand even the most cutting-edge technology we have today, including custom-made 3D modeling software, artificial intelligence, and the most advanced x-ray facilities in existence. Marchant's article focuses on an American computer scientist named Brent Seales (Professor and Chair of Computer Science at the University of Kentucky), whose quest to read the Herculaneum scrolls has become a quest to develop a method to virtually "unroll" them. This requires not just the computing power and logic to determine how these blackened lumps (Seales calls two of them "Fat Bastard" and "Banana Boy") might originally have opened up, but the most advanced particle accelerators in the world to scan them in the first place.
You can read more about Seales' work with the Herculaneum scrolls, which after twenty years has shown real promise, at Mental Floss and Newsweek. Though quite expensive (demand for "beam time" on a particle accelerator being what it is), hugely time-consuming, and occasionally, in Seales' words, "excruciatingly frustrating," the invention of a reliable method for reading these and other seemingly lost texts from antiquity could make substantial additions to what we think of as the canon. (The texts revealed so far have had to do with the ideas of Epicurus, a primer on whose philosophy we've previously featured on Open Culture.) But gaining the fullest possible understanding of what our ancestors knew in the first century may first require a few more 21st-century developments in physics and computer science yet.
via Mental Floss
Related Content:
Hidden Ancient Greek Medical Text Read for the First Time in a Thousand Years — with a Particle Accelerator
Watch the Destruction of Pompeii by Mount Vesuvius, Re-Created with Computer Animation (79 AD)
See the Expansive Ruins of Pompeii Like You've Never Seen Them Before: Through the Eyes of a Drone
2,000-Year-Old Manuscript of the Ten Commandments Gets Digitized: See/Download "Nash Papyrus" in High Resolution
Google Puts The Dead Sea Scrolls Online (in Super High Resolution)
Based in Seoul, Colin Marshall writes and broadcasts on cities and culture. His projects include the book The Stateless City: a Walk through 21st-Century Los Angeles and the video series The City in Cinema. Follow him on Twitter at @colinmarshall or on Facebook.