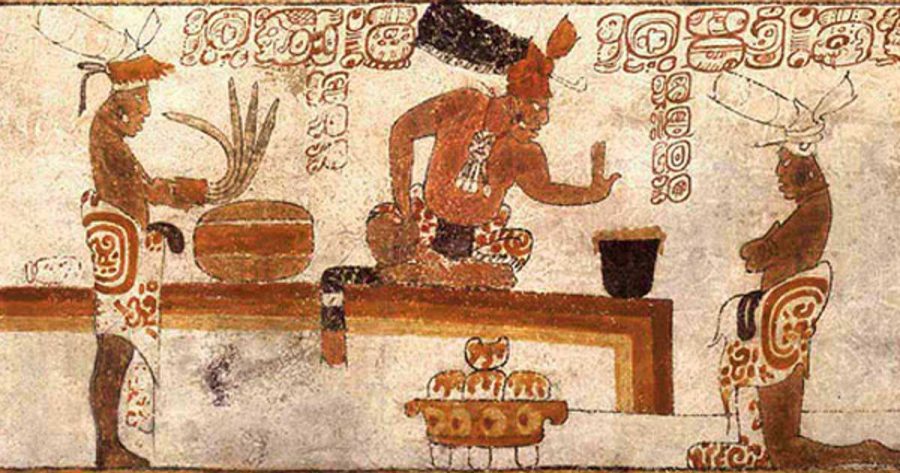 We've had hundreds and hundreds of years to get used to money in the form of coins and bills, though exactly how long we've used them varies quite a bit from region to region. Of course, some spots on the globe have yet to adopt them at all, as anyone who's heard the much-told story of the Yap islanders and their huge limestone discs knows. But the history of money is, in essence, the history of bartering — trading something you have for something you want — becoming more and more abstract; now, with digital crypto-currencies like Bitcoin, it looks like money will ascend one level of abstraction higher. But to imagine what a truly non-abstract currency looks like, just look at the ancient Mayan civilization, the members of which paid their debts with chocolate.
"The ancient Maya never used coins as money," writes Science's Joshua Rapp Learn. "Instead, like many early civilizations, they were thought to mostly barter, trading items such as tobacco, maize, and clothing." Thanks to the work of archaeologist Joanne Baron, a scholar of murals, ceramic paintings, carvings and other objects depicting life in the Classic Maya period which ran from around 250 BC to 900 AD, we've now begun to learn how chocolate took on a major, money-like role in the Maya's economy.
Some images depict cups of chocolate itself, which the Mayans usually enjoyed in the form of a hot drink, being accepted as payment, and others show chocolate traded in the coin-like form of "fermented and dried cacao beans." In many scenes, Maya leaders receive their tributes (or taxes) most often in the form of "pieces of woven cloth and bags labeled with the quantity of dried cacao beans they contain."
Cacao beans eventually became such a valuable currency "that it was evidently worth the trouble to counterfeit them," writes Smithsonian's Josie Garthwaite in an article about the early history of chocolate (a subject about which you can learn more in the TED-ed video above). "At multiple archaeological sites in Mexico and Guatemala," she quotes anthropologist Joel Palka as saying, "researchers have come across remarkably well-preserved 'cacao beans'" that turn out to be made of clay. "Some scholars believe drought led to the downfall of the Classic Maya civilization," Learn notes, and according to Baron, "the disruption of the cacao supply which fueled political power may have led to an economic breakdown in some cases." That may sound strangely familiar to those of us who — even here in the 21st century, among the many who have gone nearly cashless and may soon not even need a credit card — have breakdowns of our own when we can't get our chocolate.
Related Content:
The Marvelous Health Benefits of Chocolate: A Curious Medical Essay from 1631
Making Chocolate the Traditional Way, From Bean to Bar: A Short French Film
The Ups & Downs of Ancient Rome's Economy–All 1,900 Years of It–Get Documented by Pollution Traces Found in Greenland's Ice
Modern Artists Show How the Ancient Greeks & Romans Made Coins, Vases & Artisanal Glass
Bitcoin, the New Decentralized Digital Currency, Demystified in a Three Minute Video
Based in Seoul, Colin Marshall writes and broadcasts on cities, language, and culture. His projects include the book The Stateless City: a Walk through 21st-Century Los Angeles and the video series The City in Cinema. Follow him on Twitter at @colinmarshall or on Facebook.