"The Little Free Library: Billions and billions read."
In the 2013 Ted-X talk above, Todd Bol, founder of the Little Free Library movement, expressed the desire that one day, he might be able to boast that his labor of love had surpassed McDonalds with regard to the number of customers' served.
It's closing in…
Bol, who passed away earlier this month, was inspired by Andrew Carnegie's mission of repaying his own good fortune by establishing 2,509 free public libraries.
The Little Free Libraries are vastly more numerous if less imposing than Carnegie's stately edifices.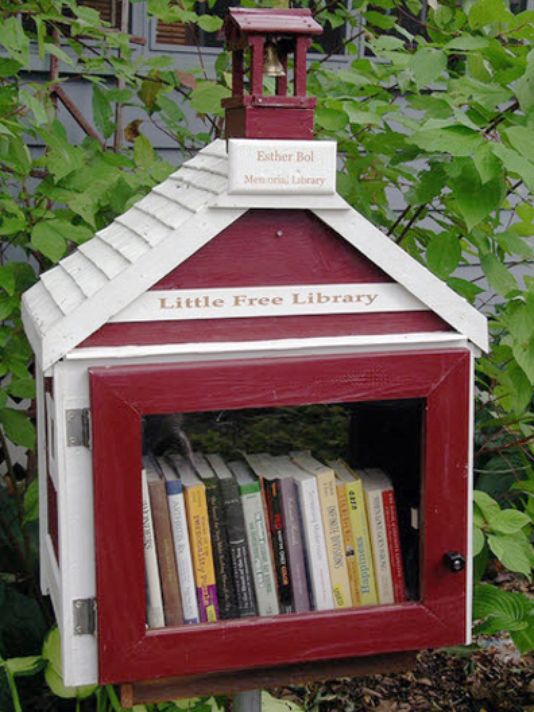 Some, like the prototype Bol crafted with lumber salvaged from a garage door in his late mother's honor, resemble doll houses.
One in Detroit is a dead ringer for Doctor Who's TARDIS.
There's a bright yellow one emblazoned with characters from The Simpsons, autographed by series creator Matt Groening.
Others are housed in repurposed suitcases, storage cabinets, or newspaper honor boxes.
While the non-profit Little Free Library store sells several sturdy, weatherproof models and its website hosts a healthy collection of blueprints and tips for DIYers, Bol was never doctrinaire about the aesthetics, preferring to leave that up to each volunteer steward.
He seemed proudest of the libraries' community building effect (though he was also pretty chuffed when Reader's Digest ranked the project above Bruce Springsteen in its 2013 feature "50 Surprising Reasons We Love America." )
While not entirely devoid of naysayers, the goodwill surrounding the Little Free Library movement cannot be underestimated.
A steward who posted news of his dog's death on the side of his library received sympathy cards from neighbors both known and unknown to him.
A steward who specializes in giving away cookbooks, and invites patrons to snip herbs from an adjacent garden, frequently wakes to find homemade quiche and other goodies on the doorstep.
And when an arsonist torched a Little Free Library in Indianapolis, the community rallied, vowing to get enough donations to replace it with 100 more.
To date, stewards have registered over 75,000, in 85 countries, in service of Bol's "Take a book, Leave a book" philosophy.
Find a Little Free Library near you, learn how to become a steward, or make a donation on the project's website.
Related Content:
The New York Public Library Lets Patrons Check Out Ties, Briefcases & Handbags for Job Interviews
The Rise and Fall of the Great Library of Alexandria: An Animated Introduction
Download 150 Free Coloring Books from Great Libraries, Museums & Cultural Institutions: The British Library, Smithsonian, Carnegie Hall & More
Ayun Halliday is an author, illustrator, theater maker and Chief Primatologist of the East Village Inky zine.  Join her in NYC on Monday, November 12 for another monthly installment of her book-based variety show, Necromancers of the Public Domain. Follow her @AyunHalliday.