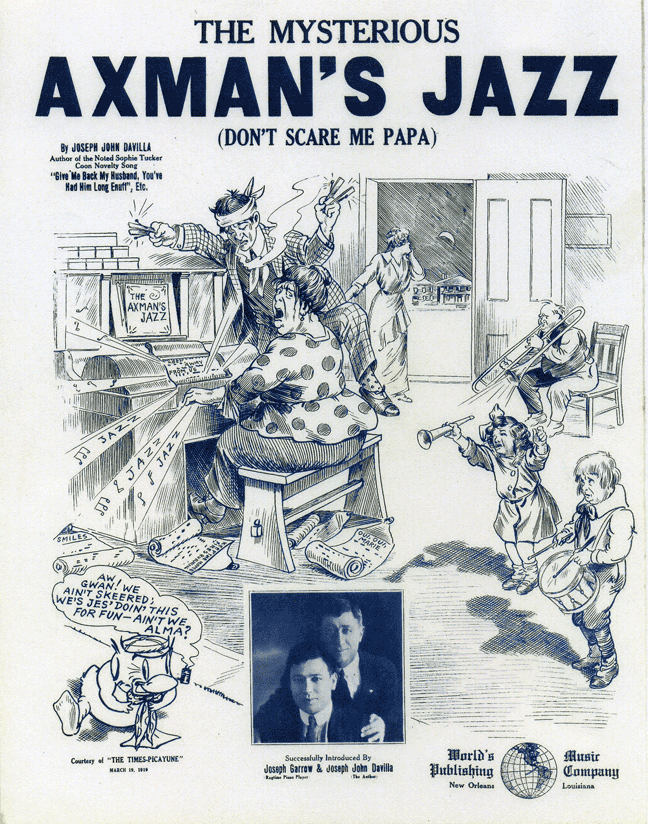 If you are a fan of "American Horror Story" you might remember a character in Season Three ("Coven") played by Danny Huston, brother of actress Anjelica, son of director John. He was called The Axeman, and if you were not particularly steeped in New Orleans lore or serial killer history, that particular reference might have flown right past.
But denizens of the city know him full well, because of his brutal killing methods, his weapon of choice, his random attacks…and his love of jazz. Oh, and the fact that he was never caught.
Let's talk about that jazz, though. At the time of his attacks, between 1918 and 1919, jazz was in its infancy and rapidly evolving in this southern port city, which was newly unsegregated in the years after the Civil War. It was a mix of African-Americans, Jews, Creole, whites, and everybody else, and jazz was the sound of a young generation ready to party. (Needless to say, older generations hated this music.)
At first the killer was not known as the Axeman, but a mysterious intruder who had chiseled open front doors, hacked owners (and their wives) to death with his axe, and disappeared, leaving behind his signature weapon (which, it turned out, usually belonged to the home owner). The newspapers at the time reported on every lurid detail and sent the city into a state of fear during the summer of 1918.
His victims were all Italian shopkeepers, but that wasn't enough to add his name to the history books. But on March 14, 1919, that changed, when the New Orleans Times-Picayune published an infamous letter from the hand of the killer himself:
Esteemed Mortal of New Orleans:

They have never caught me and they never will. They have never seen me, for I am invisible, even as the ether that surrounds your earth. I am not a human being, but a spirit and a demon from the hottest hell. I am what you Orleanians and your foolish police call the Axeman.

When I see fit, I shall come and claim other victims. I alone know whom they shall be. I shall leave no clue except my bloody axe, besmeared with blood and brains of he whom I have sent below to keep me company.

If you wish you may tell the police to be careful not to rile me. Of course, I am a reasonable spirit. I take no offense at the way they have conducted their investigations in the past. In fact, they have been so utterly stupid as to not only amuse me, but His Satanic Majesty, Francis Josef, etc. But tell them to beware. Let them not try to discover what I am, for it were better that they were never born than to incur the wrath of the Axeman. I don't think there is any need of such a warning, for I feel sure the police will always dodge me, as they have in the past. They are wise and know how to keep away from all harm.

Undoubtedly, you Orleanians think of me as a most horrible murderer, which I am, but I could be much worse if I wanted to. If I wished, I could pay a visit to your city every night. At will I could slay thousands of your best citizens (and the worst), for I am in close relationship with the Angel of Death.

Now, to be exact, at 12:15 (earthly time) on next Tuesday night, I am going to pass over New Orleans. In my infinite mercy, I am going to make a little proposition to you people. Here it is: I am very fond of jazz music, and I swear by all the devils in the nether regions that every person shall be spared in whose home a jazz band is in full swing at the time I have just mentioned. If everyone has a jazz band going, well, then, so much the better for you people. One thing is certain and that is that some of your people who do not jazz it out on that specific Tuesday night (if there be any) will get the axe.

Well, as I am cold and crave the warmth of my native Tartarus, and it is about time I leave your earthly home, I will cease my discourse. Hoping that thou wilt publish this, that it may go well with thee, I have been, am and will be the worst spirit that ever existed either in fact or realm of fancy.

–The Axeman
Did you note the part in bold (our emphasis)? Readers in 1919 certainly did.
That Tuesday, the musical city was even more lively than usual. If you had a record player, it played all night and loudly. If you had a piano, you were banging away at the keys. And if you had a jazz club nearby, it was standing room only. It might have been the biggest night of jazz in history. And indeed, nobody got the chop that evening.
The Axeman struck four more times that year, with only one victim succumbing to his wounds. And after that The Axeman disappeared. With no fingerprints, suspects, or descriptions of the killer, the case was never solved.
Historians haven't done well in uncovering his identity either, but one thing they agree on: the killer probably didn't write the letter.
Historian Miriam Davis has a theory that it was one John Joseph Dávila, a musician and a jazz composer. Right after the publication of the Axeman letter, he published a sheet-music tie-in called "The Mysterious Axeman's Jazz (Don't Scare Me Papa)", and made a bundle of money from it.
Cashing in on a murderous event and public hysteria? Now that's quintessentially American, my friends, just like jazz.
For more on this story, read Miriam Davis' book, The Axeman of New Orleans: The True Story.
Related Content:
A New Series About A Young Crime-Fighting Sigmund Freud Is Coming to Netflix
Some Joy for Your Ears: New Orleans Brass Band Plays Life-Affirming Cover of Marvin Gaye's "Sexual Healing"
Guns N' Roses "Sweet Child O' Mine" Retooled as 1920s New Orleans Jazz
Ted Mills is a freelance writer on the arts who currently hosts the artist interview-based FunkZone Podcast and is the producer of KCRW's Curious Coast. You can also follow him on Twitter at @tedmills, read his other arts writing at tedmills.com and/or watch his films here.