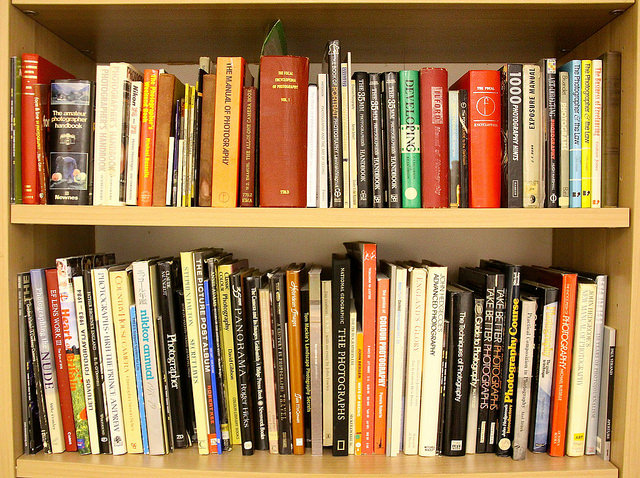 Image by George Redgrave, via Flickr Commons
Somewhere in the annals of the internet–if this sprawling, near-sentient thing we call the internet actually has annals–there is a fine, fine quote by filmmaker John Waters:
We need to make books cool again. If you go home with somebody and they don't have books, don't fuck them. Don't let them explore you until they've explored the secret universes of books. Don't let them connect with you until they've walked between the lines on the pages.
Books are cool, if you have to withhold yourself from someone for a bit in order for them to realize this then do so.
I like to think all of us here on Open Culture are on the same page as Mr. Waters and there's reason to celebrate: researchers at the Australian National University have reported that growing up in a household filled with books can lead to proficiency in literacy, numeracy, and information communication technology, even if you don't go on to university.
Basically, being around books is good for you.
You can read the full study by Joanna Sikora here at Social Science Research, which used data from 160,000 adults from 31 countries. The data came from a survey that asked people ages 25 to 65 to think back on being 16 years old. How many books were they surrounded by at home during that time?
The average number at home was 115 books, though in Norway the average size was 212 books and in Turkey it was 27. Needless to say, no matter the size of the library, having books in the home was a good thing. The researches also found that literacy rates climbed as the number of books climbed, but at some point–350 books to be exact–these rates plateau'd.
In comparison, a person who had not grown up around books but had earned a university degree wound up being just as literate as someone with a large home library and only nine years of schooling.
According to Sikora, "Early exposure to books in [the] parental home matters because books are an integral part of routines and practices that enhance lifelong cognitive competencies."
What does that bode for a more digital future? The study seems to suggest that while books are not going away any time soon, it is indeed this book-based literacy that leads many of us to online sites like Open Culture, where we spend our time reading articles like this one. (Instead of, you know, watching cat videos or playing Fortnite.)
So the next time you fret that your stack of unread books is a bad thing, don't worry. It's doing wonders for your mental health, whether you know it or not.
Related Content:
RIP Todd Bol, Founder of the Little Free Library Movement: He Leaves Behind 75,000 Small Libraries That Promote Reading Worldwide
Boston Public Library Launches a Crowdsourced Project to Transcribe 40,000 Documents from Its Anti-Slavery Collection: You Can Now Help
China's New Luminous White Library: A Striking Visual Introduction
Ted Mills is a freelance writer on the arts who currently hosts the artist interview-based FunkZone Podcast and is the producer of KCRW's Curious Coast. You can also follow him on Twitter at @tedmills, read his other arts writing at tedmills.com and/or watch his films here.