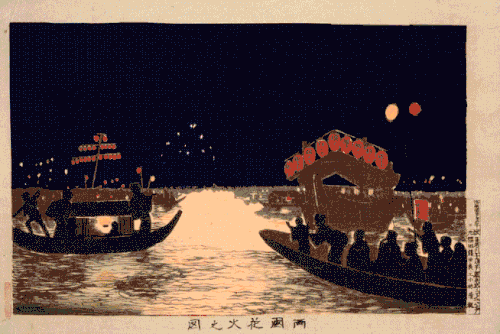 Much of the image we have of life in Japan in the 17th through the 19th century, we have because of woodblock prints, or specifically ukiyo-e, or "pictures of the floating world," which vividly capture a great variety of scenes and the people who inhabited them. The once-closed-off Japan has changed a great deal since that era, on most levels even more so than other countries, and the artistic portrayals of Japanese life have also multiplied enormously. Yet even in the 21st century, ukiyo-e continue to provide a compelling image of Japan in its essence.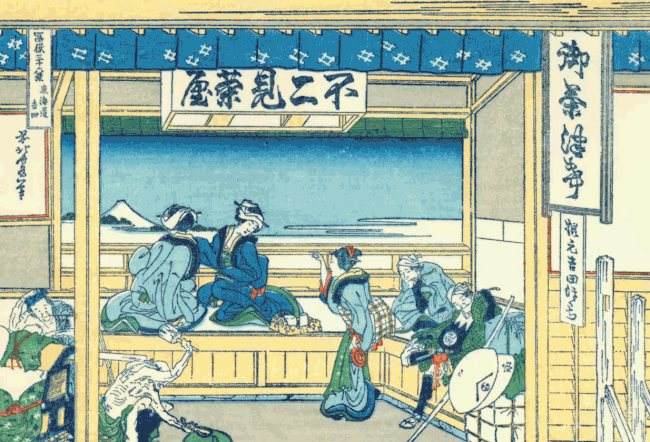 But that doesn't mean that ukiyo-e prints can't be updated to reflect the present day. Filmmaker and animator Atsuki Segawa, writes Spoon & Tamago's Johnny Waldman, "takes traditional Japanese Ukiyo-e woodblock prints and sets them into motion through digital animation. He began his collection of 'moving ukiyo-e' in 2015 and has been slowly adding to his collection." At those two linked Spoon & Tamago posts you can see a selection of ten of Segawa's creations, which hybridize not just art forms but eras.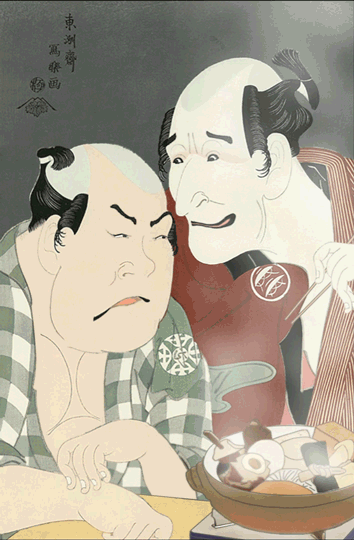 Here you can see Segawa's take on, from top to bottom, Kiyochika Kobayashi's Firework Show at Ryogoku, Katsushika Hokusai's Yoshida at Tōkaidō, Toshusai Sharaku's Nakamura Konozo and Nakajima Wadayemon ("If anyone has ever eaten oden you'll know how this man feels," adds Waldman), Hokusai's Ejiri in Suruga Province, Hokusai's Great Wave, and Utagawa Hiroshige's Fujikawa. Keep your eye on that last and you'll notice Doc Brown and Marty McFly cruising through the scene, only the most obvious of the anachronistic touches (though as time travelers, what really counts as anachronism?) Segawa has added to these classic ukiyo-e and set into motion.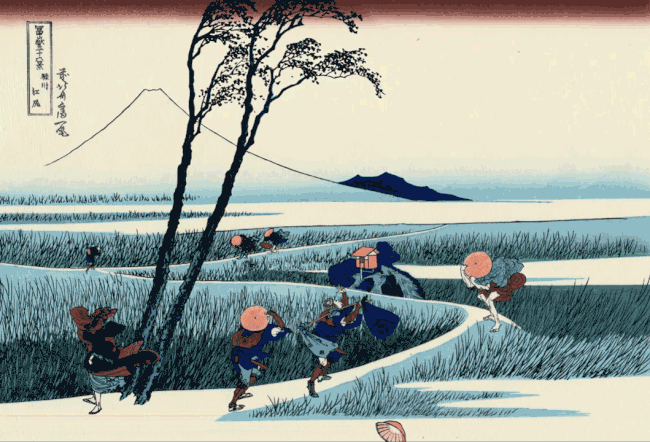 Segawa's other "moving ukiyo" introduce flying drones into an Osaka marketplace, the multicolored lights of speeding cars down a quiet seaside road, a Shinkansen bullet train passing a resting place full of weary foot travelers, and violent motion to the waves and boats in Hokusai's Great Wave off Kanazawa, quite possibly the most famous ukiyo-e print of them all.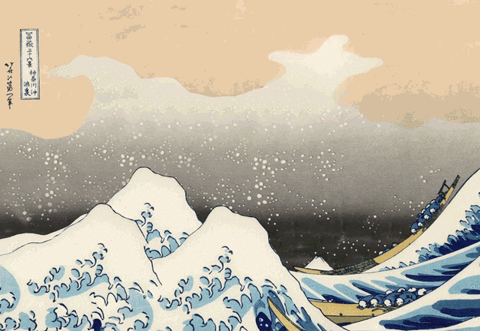 Sheer incongruity — incongruity between the times of the elements depicted and referenced, between the aesthetics of the past and the aesthetics of the present, and between the technologies used to create and display the originals and these light-hearted revisions — has much to do with the appeal of these images, but somehow it all makes them feel much more, not less, like Japan itself.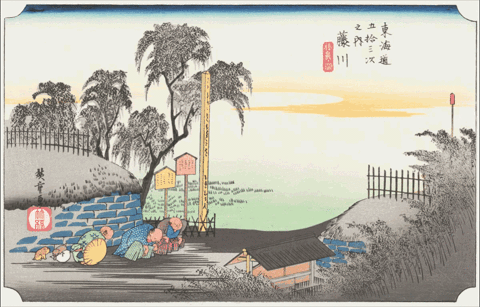 Related Content:
Download 2,500 Beautiful Woodblock Prints and Drawings by Japanese Masters (1600-1915)
The Evolution of The Great Wave off Kanazawa: See Four Versions That Hokusai Painted Over Nearly 40 Years
Download Hundreds of 19th-Century Japanese Woodblock Prints by Masters of the Tradition
What Happens When a Japanese Woodblock Artist Depicts Life in London in 1866, Despite Never Having Set Foot There
Mesmerizing GIFs Illustrate the Art of Traditional Japanese Wood Joinery — All Done Without Screws, Nails, or Glue
Based in Seoul, Colin Marshall writes and broadcasts on cities, language, and culture. His projects include the book The Stateless City: a Walk through 21st-Century Los Angeles and the video series The City in Cinema. Follow him on Twitter at @colinmarshall or on Facebook.