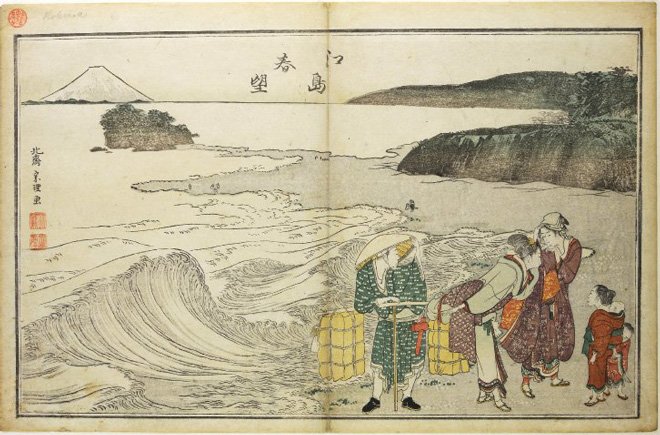 Has any Japanese woodblock print — or for that matter, any piece of Japanese art — endured as well across place and time as The Great Wave off Kanagawa? Even those of us who have never known its name, let alone those of us unsure of who made it and when, can bring it to mind it with some clarity, as sure a sign as any (along with the numerous parodies) that it taps into something deep within all of us. But though the artist behind it, 18th- and 19th-century ukiyo-e painter Katsushika Hokusai, was undoubtedly a master of his tradition, even he didn't conjure up The Great Wave off Kanagawa in the form we know it on the first try.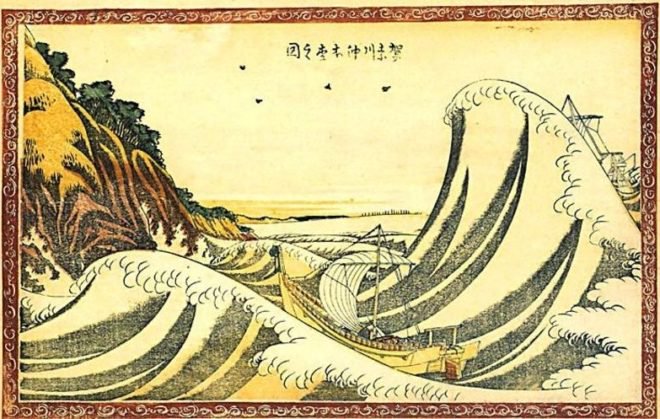 In fact, he'd been producing different versions of it for nearly forty years. On Twitter Tarin tkasasagi recently posted four versions of the Great Wave that Hokusai painted over that period. Here you see them arranged from top to bottom: the first from 1792, when he was 33; the second from 1803, when he was 44; the third from 1805, when he was 46; and the famous fourth from 1831, when he was 72.
Each time, Hokusai de-emphasizes the human presence and emphasizes the natural elements, bringing out drama from the water itself rather than from the people who regard or navigate it. In each version, too, the colors grow bolder and the lines stronger.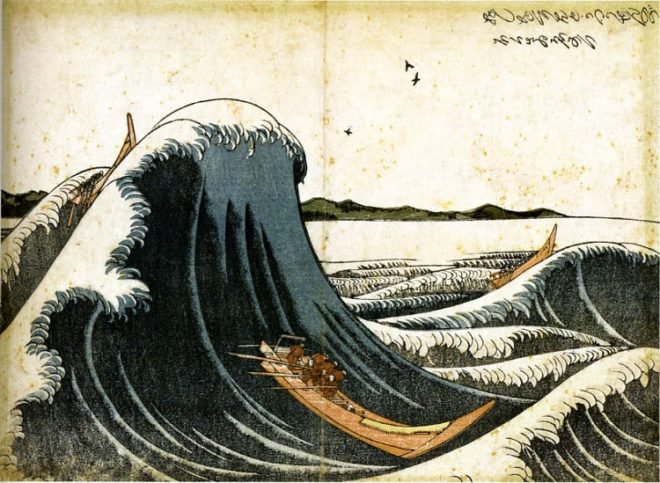 The skill level of a working artist — especially an artist working as hard as Hokusai — almost inevitably increases over time, and that must have something to do with these changes, though it also looks like the process of an artistic personality settling into its subject matter. "From the time I was six, I was in the habit of sketching things I saw around me," says Hokusai himself in a widely circulated quotation. "Around the age of 50, I began to work in earnest, producing numerous designs. It was not until my 70th year, however, that I produced anything of significance."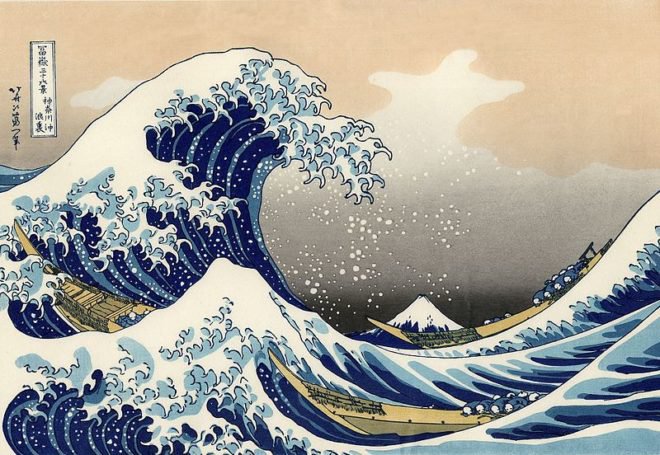 In the artist's telling, only at the age of 73, after the final Great Wave, did he begin to grasp "the underlying structure of birds and animals, insects and fish, and the way trees and plants grow. Thus if I keep up my efforts, I will have even a better understanding when I was 80 and by 90 will have penetrated to the heart of things. At 100, I may reach a level of divine understanding, and if I live decades beyond that, everything I paint — dot and line — will be alive." The fact that he didn't make it to 100 will forever keep enthusiasts wondering what magnificence an even older Hokusai might have achieved, but even so, the body of work he managed to produce in his 88 years contains works that, like the ultimate form of The Great Wave off Kanagawa, outlived him and will outlive all of us.
Related Content:
Get Free Drawing Lessons from Katsushika Hokusai, Who Famously Painted The Great Wave off Kanagawa: Read His How-To Book, Quick Lessons in Simplified Drawings
Enter a Digital Archive of 213,000+ Beautiful Japanese Woodblock Prints
Download 2,500 Beautiful Woodblock Prints and Drawings by Japanese Masters (1600-1915)
Download Classic Japanese Wave and Ripple Designs: A Go-to Guide for Japanese Artists from 1903
Download Hundreds of 19th-Century Japanese Woodblock Prints by Masters of the Tradition
Based in Seoul, Colin Marshall writes and broadcasts on cities, language, and culture. His projects include the book The Stateless City: a Walk through 21st-Century Los Angeles and the video series The City in Cinema. Follow him on Twitter at @colinmarshall or on Facebook.