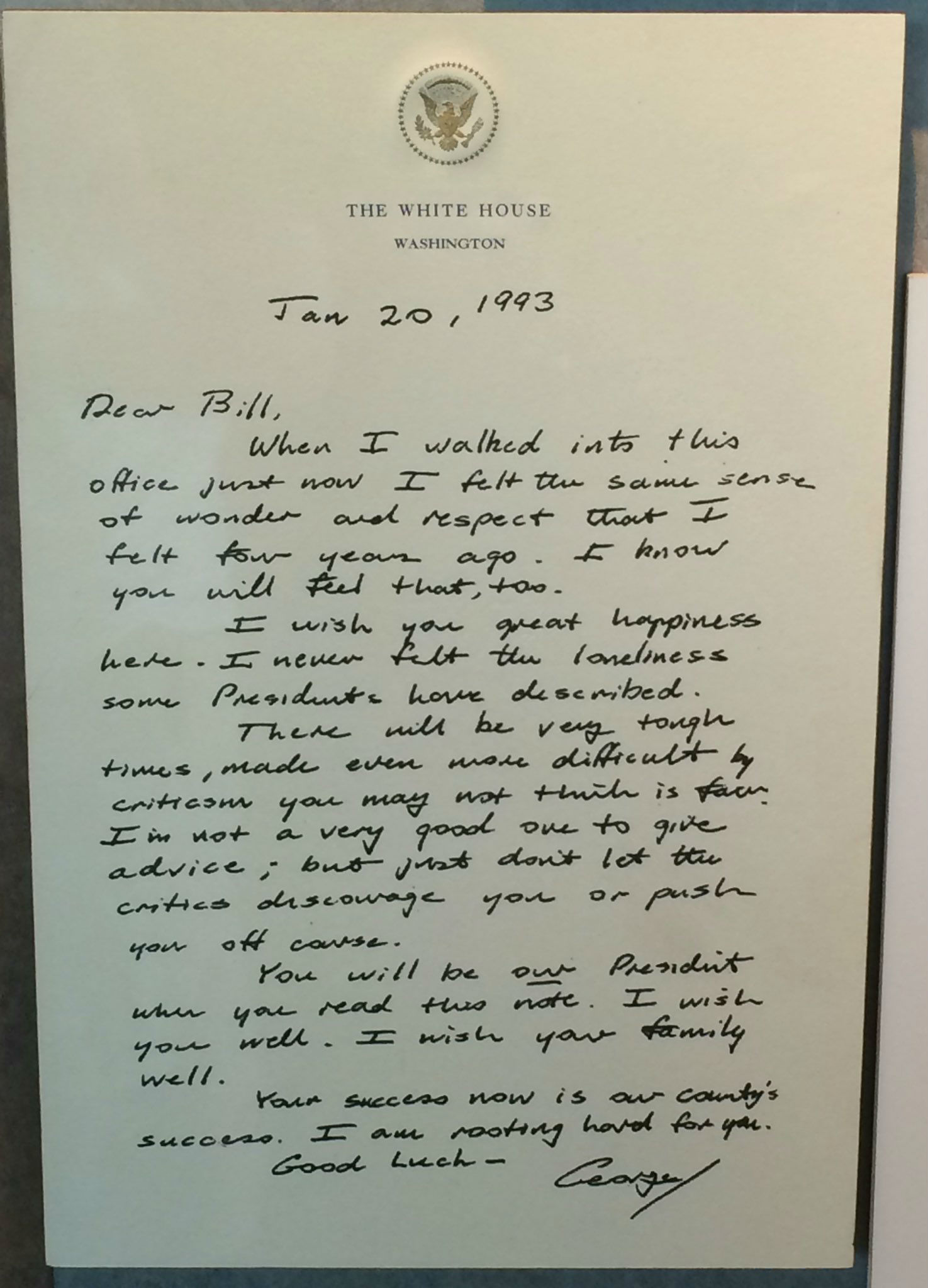 With the passing of George H.W. Bush, Bill Clinton reflected on the life and legacy of his political predecessor, and particularly the thoughtful note that Bush 41 left on his desk, right before leaving the White House. Dated January 20, 1993, it read:
Dear Bill,

When I walked into this office just now I felt the same sense of wonder and respect that I felt four years ago. I know you will feel that, too.

I wish you great happiness here. I never felt the loneliness some Presidents have described.

There will be very tough times, made even more difficult by criticism you may not think is fair. I'm not a very good one to give advice; but just don't let the critics discourage you or push you off course.

You will be our President when you read this note. I wish you well. I wish your family well.

Your success now is our country's success. I am rooting hard for you.

Good luck—

George
It's hard not to see this letter as a relic of an irretrievable age in American politics. But Clinton won't quite buy that. He writes today in the Washington Post: "Given what politics looks like in America and around the world today, it's easy to sigh and say George H.W. Bush belonged to an era that is gone and never coming back — where our opponents are not our enemies, where we are open to different ideas and changing our minds, where facts matter and where our devotion to our children's future leads to honest compromise and shared progress. I know what he would say: 'Nonsense. It's your duty to get that America back.'" Soon enough, after enough sturm and drang, the majority of Americans (Electoral College included) may be ready to sign up for that.
If you would like to sign up for Open Culture's free email newsletter, please find it here.
If you would like to support the mission of Open Culture, consider making a donation to our site. It's hard to rely 100% on ads, and your contributions will help us continue providing the best free cultural and educational materials to learners everywhere. You can contribute through PayPal, Patreon, and Venmo (@openculture). Thanks!
Related Content:
The 2,000+ Films Watched by Presidents Nixon, Carter & Reagan in the White House
Gonzo Illustrator Ralph Steadman Draws the American Presidents, from Nixon to Trump
Barack Obama Shares a List of Enlightening Books Worth Reading