Thanks for watching history. I hope I mentioned everything. – Bill Wurtz
Here at Open Culture, we happily acknowledge that learning is not a one-size-fits-all proposition.
The internet may be doing a number on our attention spans, but as the world has grown smaller, the educational buffet has grown richer, more varied, and vastly more affordable.
Take for example the History of the World.
Geography fans can approach the subject via Ollie Bye's year-by-year animated map.
John Green's playful Crash Course series offers a wonderful respite for any kid grinding their way through AP World History.
Those of a more traditional mindset, who prefer a statelier pace can lose themselves in 46 lectures by Richard Bulliet, professor of history at Columbia University.
And then there's world history according Bill Wurtz, above, a creator of short, anachronistic-looking videos, whose YouTube fame was kindled by Vine, a now defunct app for sharing short-form videos.
Chafing at Vine's 7-second time constraints, Wurtz undertook a more ambitious project, a condensed History of Japan that would employ the same techniques he brought to bear in his shorter works: graphic text, clip art, and Microsoft Paint drawings. He zeroed in on the subject because he knew precious little about Japan, and looked forward to doing some virgin research.
Wurtz followed up the 9-minute History of Japan, above, with History of the Entire World, I guess.
The nonchalance of the title is reflected in Wurtz's offhanded narration. Any word or phrase over two syllables runs a risk of being transformed into an infomercial-worthy musical jingle: space dust, the moon, Egypt…
You may bridle at first, but stick it out. Its charms sneak up on you.
Time is not particularly relative in Wurtz's compressed universe. Whether it's 10 minutes passing before some major development or 500 million years, their passage is accorded equal heft.
Humans show up around the four minute mark, grabbing stuff, banging rocks, figuring out agriculture…
(Mesopotamia's characterization as a "sweet dank valley" between the Tigris and Euphrates is a particular highlight.)
This is the rare history video where science plays a major role. It takes time out for weather updates—the floor is no longer lava, the entire world is now an ocean… it's sobering to remember that ozone is what made it safe for multi-celled life forms to venture forth on land.
Empires rise and fall, unconquerable rulers are unseated and forgotten.
(That's the Tamil Kings. Nobody conquers the Tamil Kings. Who are the Tamil Kings? Merchants probably and they've got spices…)
Of course the problem with a great overview such as this is the back end's shelf life can prove rather short. It's been a little over a year and a half since Wurtz posted the video, and thus far, his parting shots still feel pretty relevant: armed drones, 3d printing, plastic-choked oceans, and a seemingly unbridgeable gap between the desire to save the world and an actual plan for doing so.
Fried by 11 months of intensive research and labor on History of the Entire World, I guess, Wurtz is currently taking a leave of absence from history. These days, he's pouring his energies into original music videos like "At the Airport Terminal." He also devotes a bit of every day to  answering fans' questions, routinely turning in upwards of a dozen succinct humble, all-lowercase replies:
1.18.19  7:00 pm   what inspired you to make "the entire world, i guess"? was it a project you already had in mind from before or did you start it when you saw you could do more than just japan

it's always a nice idea to try to explain the whole world in one video. it's surely something i've always wanted to do, but wasn't confident/experienced/stupid enough to believe i could do it until after i had done japan which worked so well

1.18.19  12:53 am   are you ever going to make anything else as in depth as history of japan or the world?

that would take so much time that by the time it was done you probably wouldn't care anymore, but someone else will so i still might do it
Unsurprisingly, he's the subject of a lively sub-reddit. One fan, reddit user n44m, was inspired to plot the timeline of History of the Entire World, I Guess, below.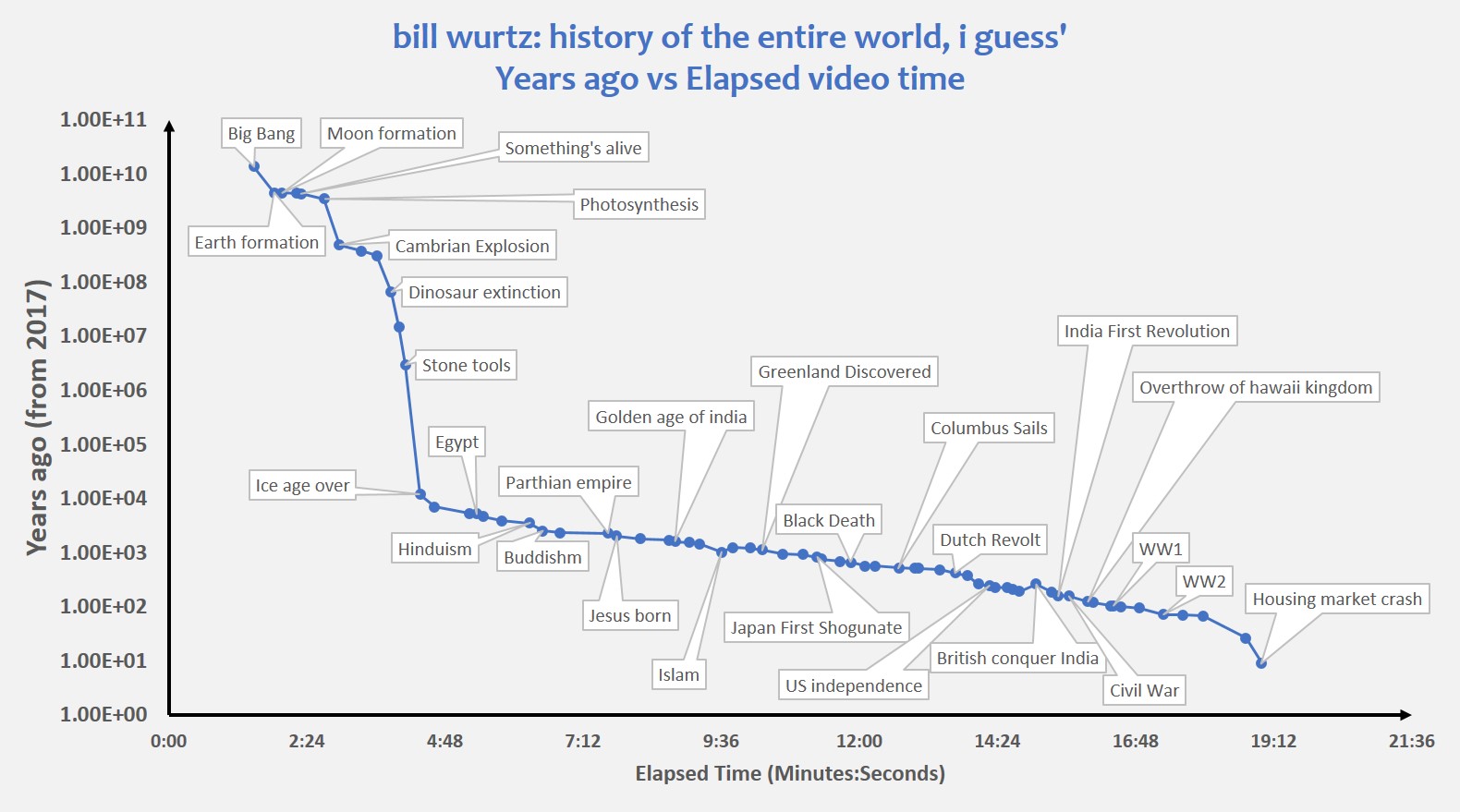 To learn more about some of the civilizations, events and persons featured in History of the Entire World, I Guess, check out another fan's annotated transcription here.
And rather than nitpick about certain critical bits of history that were left on the cutting room floor, try writing a script for your own history based animation:
The more you learn, the more you find out how much you're gonna have to leave out. It's like 99%. That was painful. – Bill Wurtz
Related Content:
The Entire History of Japan in 9 Quirky Minutes
A Crash Course in World History
The History of the World in 46 Lectures From Columbia University
Ayun Halliday is an author, illustrator, theater maker and Chief Primatologist of the East Village Inky zine.  See her onstage in New York City in February as host of  Theater of the Apes book-based variety show, Necromancers of the Public Domain. Follow her @AyunHalliday.