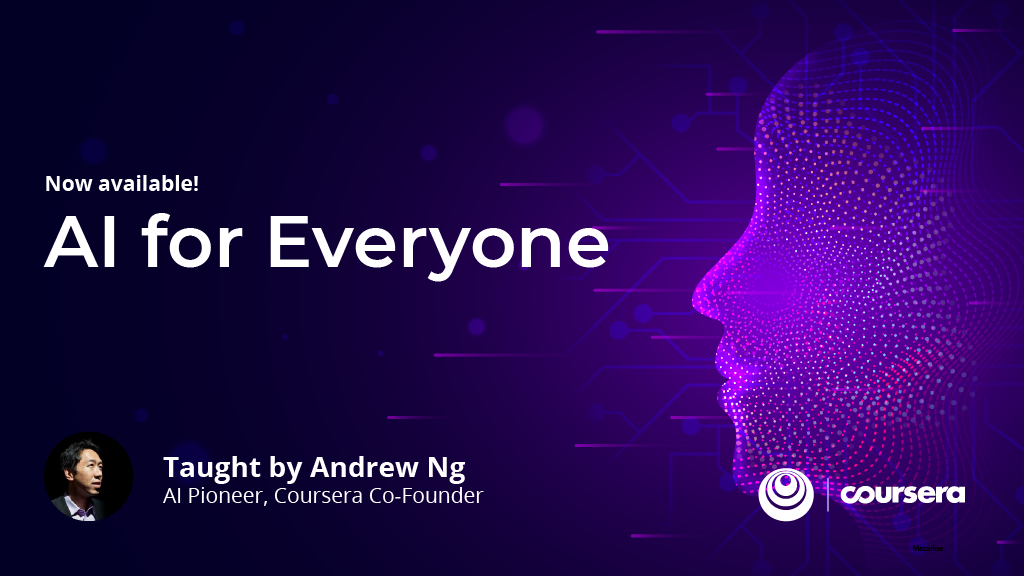 If you follow edtech, you know the name Andrew Ng. He's the Stanford computer science professor who co-founded MOOC-provider Coursera and later became chief scientist at Baidu. Since leaving Baidu, he's been working on several artificial intelligence projects, including a series of Deep Learning courses that he unveiled in 2017. And now comes AI for Everyone–an online course that makes artificial intelligence intelligible to a broad audience.
In this largely non-technical course, students will learn:
The meaning behind common AI terminology, including neural networks, machine learning, deep learning, and data science.
What AI realistically can–and cannot–do.
How to spot opportunities to apply AI to problems in your own organization.
What it feels like to build machine learning and data science projects.
How to work with an AI team and build an AI strategy in an organization.
How to navigate ethical and societal discussions surrounding AI.
The four-week course takes about eight hours to complete. You can audit it for free. However if you want to earn a certificate–which you can then share on your LinkedIn profile, printed resumes and CVs–the course will run $49.
AI for Everyone will be added to our list of Free Computer Science courses, a subset of our larger collection, 1,700 Free Online Courses from Top Universities.
Related Content:
Nick Cave Answers the Hotly Debated Question: Will Artificial Intelligence Ever Be Able to Write a Great Song?
Artificial Intelligence Brings Salvador Dalí Back to Life: "Greetings, I Am Back"
Artificial Intelligence Identifies the Six Main Arcs in Storytelling: Welcome to the Brave New World of Literary Criticism
New Deep Learning Courses Released on Coursera, with Hope of Teaching Millions the Basics of Artificial Intelligence