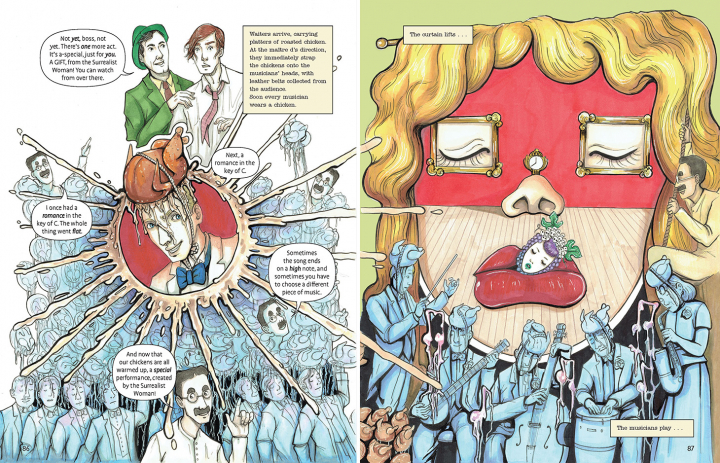 History remembers Salvador Dalí as one of the most individualistic artists ever to live, but he also had a knack for collaboration: with Luis Buñuel, Alfred Hitchcock, Walt Disney, even, in a sense, with Lewis Carroll and William Shakespeare. But would you believe the list also includes one of the Marx Brothers? Though the film on which they collaborated in the 1930s never entered production, its story has been told by Giraffes on Horseback Salad, a hybrid of illustrated text and graphic novel published just this month, itself a collaboration between pop-culture scholar Josh Frank, artist Manuela Pertega, and comedian Tim Heidecker.
When Dalí went to Hollywood, he wrote the following to fellow Surrealist André Breton: "I've made contact with the three American surrealists: Harpo Marx, Disney and Cecil B. DeMille." He seems to have been especially taken with Marx.
"They painted each other, and Dalí sent his new friend a full-size harp strung with barbed wire," writes NPR's Etelka Lehoczky. "So overcome was Dalí with Harpo's genius that he wrote a treatment, and later an abbreviated screenplay, for a Marx Brothers movie to be called Giraffes on Horseback Salad." (It also had at least one alternate title, The Surrealist Woman.)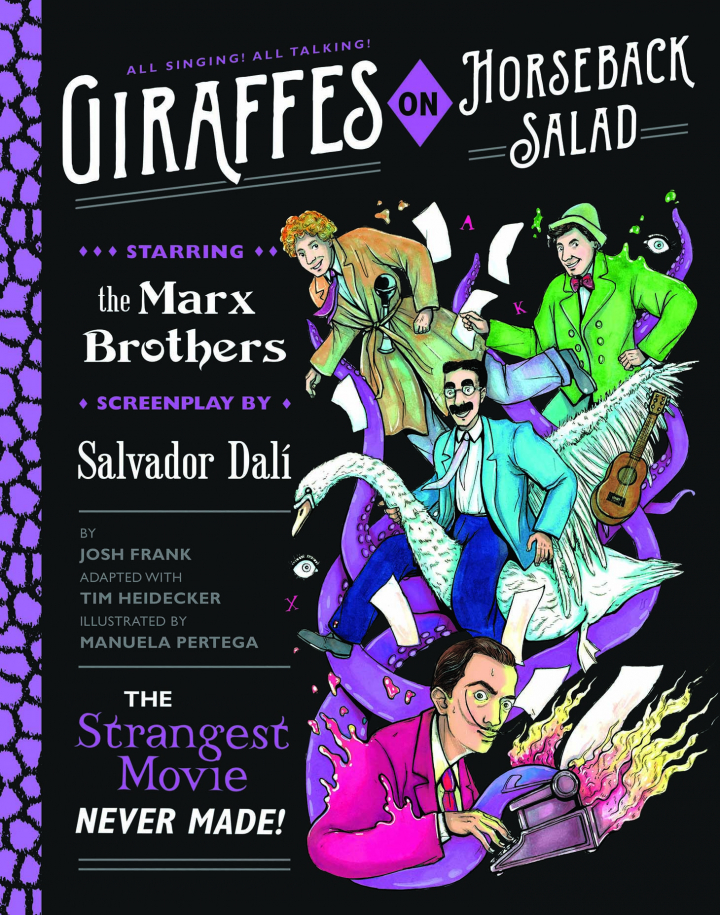 The project made it as far as a meeting with MGM head Louis B. Mayer, to whom Frank describes Dalí and Marx as pitching such scenes as "Harpo opens an umbrella and a chicken explodes on all the onlookers. He … puts each piece [of chicken] carefully on a saddle that he uses as a plate, a saddle not for a horse, but for a giraffe!" Unsurprisingly, the business-minded Mayer didn't go for it, but Giraffes on Horseback Salad has had a long afterlife as one of the most intriguing films never made. In the early 1990s, the New York theater collective Elevator Repair Service put on a production based on the sparse materials then known, just a few years before the entire screenplay turned up among Dalí's personal papers.
"Harpo will be Jimmy, a young Spanish aristocrat who lives in the U.S. as a consequence of political circumstances in his country," Dalí wrote. Jimmy was to encounter a "beautiful surrealist woman, whose face is never seen by the audience" in a story dramatizing "the continuous struggle between the imaginative life as depicted in the old myths and the practical and rational life of contemporary society." Dalí probably used the term "story" loosely: "Even jazzed up with jokes by Tim Heidecker (a modern Marx Brother if there ever was one), Giraffes on Horseback Salad — the movie, not the book — is a baffling mess," writes Lehoczky. "Neither Dalí nor Harpo seems to have realized that their approaches to humor were vastly different."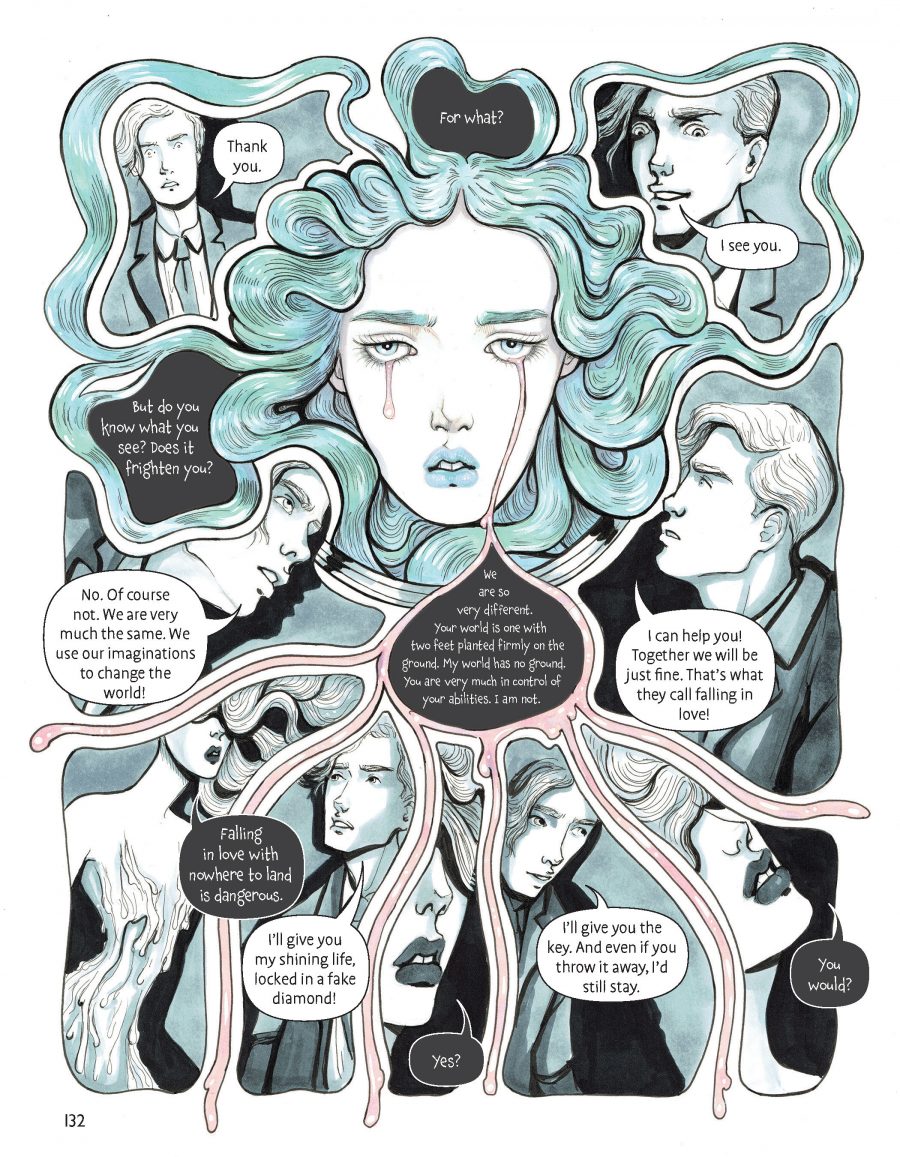 The Marx Brothers, as every one of their fans knows, were "acutely conscious of, and responsive to, established structures: They subverted the social order using its own rules." Dalí, in film and every other medium in which he tried his hand (and mustache) besides, usually headed off "in a direction orthogonal to accepted reality." To what extent Dalí and Marx were aware of that clash — and to what extent they deliberately emphasized it — during their work on Giraffes on Horseback Salad remains a mystery, but you can read more about that work, and the work Frank, Pertega, and Heidecker put in to bring it to graphic fruition more than eighty years later, at NPR, Indiewire, and Hyperallergic. The more you learn, the more you'll wonder how even Dalí and Marx could really imagine their project produced by a studio in the Golden Age of Hollywood. But as Tate Modern curator Matthew Gale plausibly theorizes, actually making the film may have been beside the point.
Pick up a copy of Giraffes on Horseback Salad here.
via Hyperallergic
Related Content:
Two Vintage Films by Salvador Dalí and Luis Buñuel: Un Chien Andalou and L'Age d'Or
Alfred Hitchcock Recalls Working with Salvador Dali on Spellbound
Salvador Dalí & Walt Disney's Short Animated Film, Destino, Set to the Music of Pink Floyd
The 14-Hour Epic Film, Dune, That Alejandro Jodorowsky, Pink Floyd, Salvador Dalí, Moebius, Orson Welles & Mick Jagger Never Made
The 55 Strangest, Greatest Films Never Made (Chosen by John Green)
Groucho Marx and T.S. Eliot Become Unexpected Pen Pals, Exchanging Portraits & Compliments (1961)
Based in Seoul, Colin Marshall writes and broadcasts on cities, language, and culture. His projects include the book The Stateless City: a Walk through 21st-Century Los Angeles and the video series The City in Cinema. Follow him on Twitter at @colinmarshall or on Facebook.