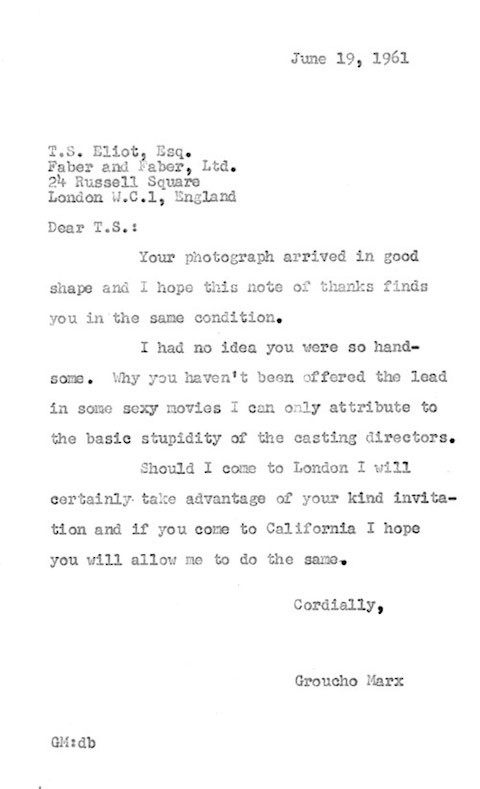 Groucho Marx and T.S. Eliot: they've got to rank as one of the twentieth century's most surprising pair of pen pals. More intriguingly still, they first got in touch — as luminaries seem to do — out of the spirit of mutual admiration. Marx took the praise beyond Eliot's poetry to his looks: "Why you haven't been offered the lead in some sexy movies I can only attribute to the basic stupidity of the casting directors." This he wrote in the letter of June 19, 1961 above, after having received a portrait of the poet, from the poet, in exchange for a portrait of the comedian, from the comedian. This constitutes only part of what The Economist calls "among the strangest and most delightful epistles ever created." That same article quotes a darker observation on Eliot from Anthony Julius' T.S. Eliot, Anti-Semitism, and Literary Form: "Anti-Semitism supplied part of the material out of which he created poetry."
There we have only one of the reasons to believe that the author of The Waste Land counted as no friend of the Jewish people. Yet at least in correspondence, between 1961 and 1964, he did befriend one particular Jewish person. "Enter Groucho," the Economist article continues, "whose wit was as uniquely Jewish as it was universally comic. Where Eliot was the famous defender of tradition, order and civilised taste, the crux of Groucho's humour was flouting tradition, fomenting chaos and outraging taste. 'I have had a perfectly wonderful evening,' he once said to a host, 'but this wasn't it.'" The famous quip could well have come at the end of Marx and Eliot's first, and last, meeting in person, a dinner at the Eliot house. "There were awkward lulls in the conversation," according to Anna Knoebel at The Outlet. "Neither man was inclined to discuss his own work, while the other was eager to praise it. They stopped writing shortly thereafter."
Related Content:
Ray Bradbury Gabs with Groucho Marx on You Bet Your Life (1955)
T.S. Eliot, as Faber & Faber Editor, Rejects George Orwell's "Trotskyite" Novel Animal Farm (1944)
T.S. Eliot Reads His Modernist Masterpieces "The Waste Land" and "The Love Song of J. Alfred Prufrock"
Colin Marshall hosts and produces Notebook on Cities and Culture and writes essays on cities, Asia, film, literature, and aesthetics. He's at work on a book about Los Angeles, A Los Angeles Primer. Follow him on Twitter at @colinmarshall or on his brand new Facebook page.