More than 350 years after he paint­ed them, the paint­ings of Rem­brandt van Rijn still look real enough to step right into. Now, thanks to a new aug­ment­ed real­i­ty app from the Mau­rit­shuis muse­um, you can do just that through the screen of your phone, start­ing with Rem­brandt's famed ear­ly can­vas The Anato­my Les­son of Dr. Nico­laes Tulp. "The aug­ment­ed real­i­ty expe­ri­ence, a first for a muse­um, allows the user to expe­ri­ence the anatom­i­cal the­atre of 1632 dig­i­tal­ly," says the Mau­rit­shuis' press release, "and to observe Dr. Tulp and his fel­low physi­cians, as well as the sub­ject of their exam­i­na­tion, the corpse of Aris Kindt."
"I entered it and was sur­round­ed by its envelop­ing dark­ness, its piece­meal illu­mi­na­tions," writes Hyper­al­ler­gic's Seph Rod­ney on his aug­ment­ed-real­i­ty expe­ri­ence of The Anato­my Les­son. "I walked in front of and some­times faced each of the char­ac­ters arrayed around a cen­tral fig­ure, a corpse, with its left arm miss­ing its skin below the elbow. One man, rather over­dressed in a black dou­blet with a white shirt col­lar and white sleeves accent­ing his head and hands uses a pair of for­ceps to hold the corpse's exposed arm mus­cles and ten­dons stretched away from the bones beneath."
As Rod­ney approach­es the fig­ure, "a small text box pops out telling me pre­cise­ly this: that he is gaz­ing at the book to make sense of what the body beneath him is say­ing in all its vas­cu­lar and mus­cu­lar com­plex­i­ty."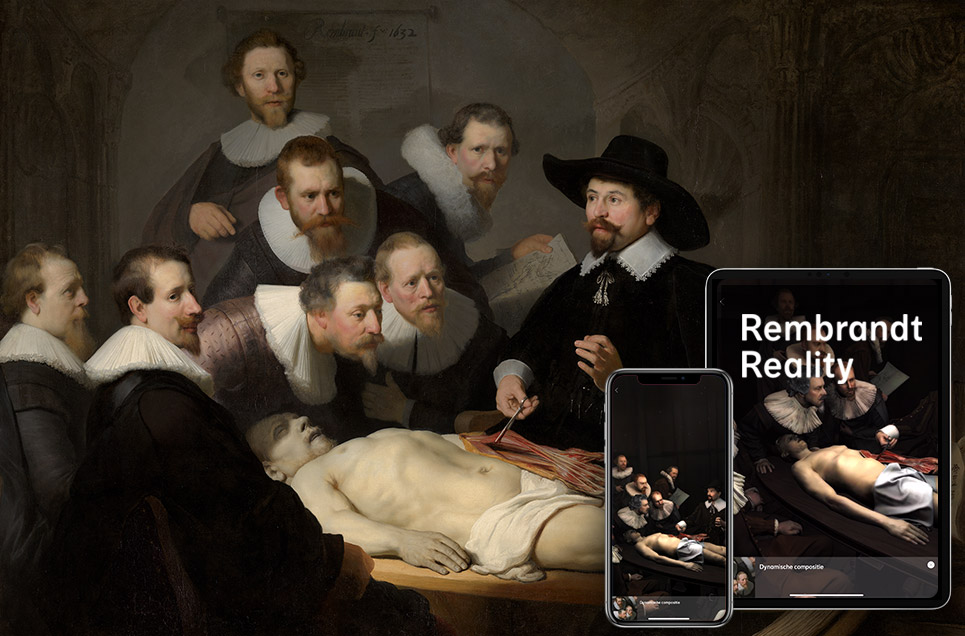 Sans text box­es, the scene will sound famil­iar to Rem­brandt enthu­si­asts, but not even the most enthu­si­as­tic of them will have seen it in quite this way before. To build an aug­ment­ed-real­i­ty ver­sion of the scene Rem­brandt paint­ed 387 years ago, "looka­likes of the main fig­ures in the paint­ing dressed up in sev­en­teenth-cen­tu­ry out­fits and were then scanned with a 3D scan­ner made up of 600 reflex cam­eras. The orig­i­nal the­atre in the Waag where Dr. Tulp gave his anato­my les­son in 1632 was then cap­tured with the 3D scan­ner. These scans were then com­bined, after which 3D mod­el­ers gave the fig­ures and the space the cor­rect col­ors, tex­tures and light."
You can get a glimpse of the process in the short video at the top of the post, then down­load the Rem­brandt Real­i­ty app in either its Google or Apple ver­sion and step into The Anato­my Les­son your­self. It may feel some­what odd at first to sim­ply stroll around the scene of an ongo­ing dis­sec­tion of a human body, but in a way, the Mau­rit­shuis' dig­i­tal open­ing of this immor­tal les­son to the world re-empha­sizes the true nature of the orig­i­nal scene. When a physi­cian of Tulp's stature dis­sect­ed a corpse, peo­ple from all around — med­ical pro­fes­sion­als and oth­er­wise — would come to watch the spec­ta­cle that could last for days. But could even Tulp, then Ams­ter­dam's city anatomist and lat­er the city's may­or, have imag­ined that this par­tic­u­lar spec­ta­cle would last 387 years and count­ing?
via Hyper­al­ler­gic
Relat­ed Con­tent:
Enter an Online Inter­ac­tive Doc­u­men­tary on Rembrandt's The Night Watch and Learn About the Painting's Many Hid­den Secrets
Sci­en­tists Cre­ate a New Rem­brandt Paint­ing, Using a 3D Print­er & Data Analy­sis of Rembrandt's Body of Work
See the Com­plete Works of Ver­meer in Aug­ment­ed Real­i­ty: Google Makes Them Avail­able on Your Smart­phone
13 of Van Gogh's Paint­ings Painstak­ing­ly Brought to Life with 3D Ani­ma­tion & Visu­al Map­ping
Van Gogh's 1888 Paint­ing, "The Night Cafe," Ani­mat­ed with Ocu­lus Vir­tu­al Real­i­ty Soft­ware
Walk Inside a Sur­re­al­ist Sal­vador Dalí Paint­ing with This 360º Vir­tu­al Real­i­ty Video
Based in Seoul, Col­in Mar­shall writes and broad­casts on cities, lan­guage, and cul­ture. His projects include the book The State­less City: a Walk through 21st-Cen­tu­ry Los Ange­les and the video series The City in Cin­e­ma. Fol­low him on Twit­ter at @colinmarshall or on Face­book.