More than 350 years after he painted them, the paintings of Rembrandt van Rijn still look real enough to step right into. Now, thanks to a new augmented reality app from the Mauritshuis museum, you can do just that through the screen of your phone, starting with Rembrandt's famed early canvas The Anatomy Lesson of Dr. Nicolaes Tulp. "The augmented reality experience, a first for a museum, allows the user to experience the anatomical theatre of 1632 digitally," says the Mauritshuis' press release, "and to observe Dr. Tulp and his fellow physicians, as well as the subject of their examination, the corpse of Aris Kindt."
"I entered it and was surrounded by its enveloping darkness, its piecemeal illuminations," writes Hyperallergic's Seph Rodney on his augmented-reality experience of The Anatomy Lesson. "I walked in front of and sometimes faced each of the characters arrayed around a central figure, a corpse, with its left arm missing its skin below the elbow. One man, rather overdressed in a black doublet with a white shirt collar and white sleeves accenting his head and hands uses a pair of forceps to hold the corpse's exposed arm muscles and tendons stretched away from the bones beneath."
As Rodney approaches the figure, "a small text box pops out telling me precisely this: that he is gazing at the book to make sense of what the body beneath him is saying in all its vascular and muscular complexity."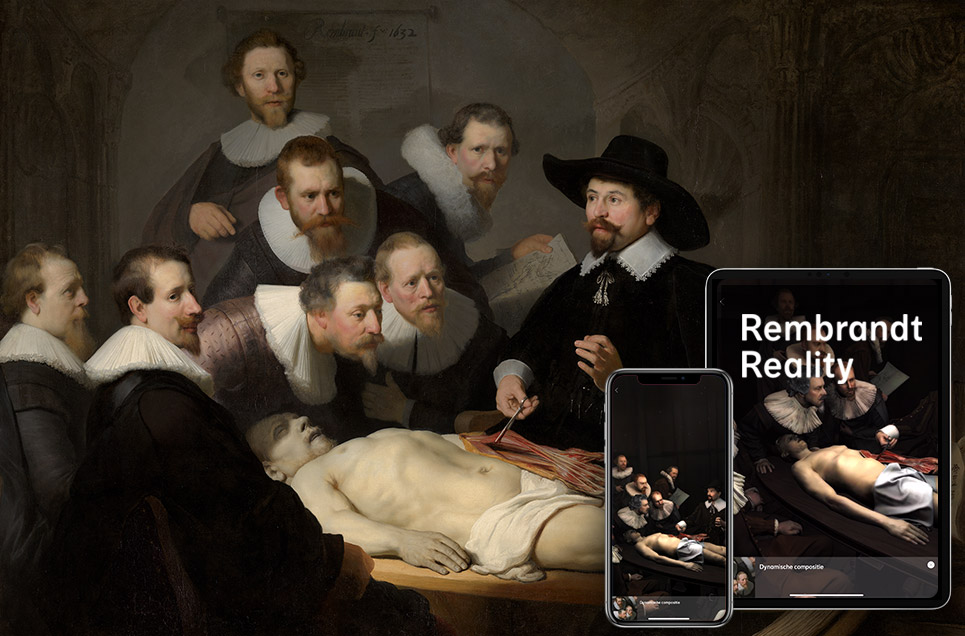 Sans text boxes, the scene will sound familiar to Rembrandt enthusiasts, but not even the most enthusiastic of them will have seen it in quite this way before. To build an augmented-reality version of the scene Rembrandt painted 387 years ago, "lookalikes of the main figures in the painting dressed up in seventeenth-century outfits and were then scanned with a 3D scanner made up of 600 reflex cameras. The original theatre in the Waag where Dr. Tulp gave his anatomy lesson in 1632 was then captured with the 3D scanner. These scans were then combined, after which 3D modelers gave the figures and the space the correct colors, textures and light."
You can get a glimpse of the process in the short video at the top of the post, then download the Rembrandt Reality app in either its Google or Apple version and step into The Anatomy Lesson yourself. It may feel somewhat odd at first to simply stroll around the scene of an ongoing dissection of a human body, but in a way, the Mauritshuis' digital opening of this immortal lesson to the world re-emphasizes the true nature of the original scene. When a physician of Tulp's stature dissected a corpse, people from all around — medical professionals and otherwise — would come to watch the spectacle that could last for days. But could even Tulp, then Amsterdam's city anatomist and later the city's mayor, have imagined that this particular spectacle would last 387 years and counting?
via Hyperallergic
Related Content:
Enter an Online Interactive Documentary on Rembrandt's The Night Watch and Learn About the Painting's Many Hidden Secrets
Scientists Create a New Rembrandt Painting, Using a 3D Printer & Data Analysis of Rembrandt's Body of Work
See the Complete Works of Vermeer in Augmented Reality: Google Makes Them Available on Your Smartphone
13 of Van Gogh's Paintings Painstakingly Brought to Life with 3D Animation & Visual Mapping
Van Gogh's 1888 Painting, "The Night Cafe," Animated with Oculus Virtual Reality Software
Walk Inside a Surrealist Salvador Dalí Painting with This 360º Virtual Reality Video
Based in Seoul, Colin Marshall writes and broadcasts on cities, language, and culture. His projects include the book The Stateless City: a Walk through 21st-Century Los Angeles and the video series The City in Cinema. Follow him on Twitter at @colinmarshall or on Facebook.