"East­ern med­i­cine" and "West­ern medicine"—the dis­tinc­tion is a crude one, often used to mis­in­form, mis­lead, or grind cul­tur­al axes rather than make sub­stan­tive claims about dif­fer­ent the­o­ries of the human organ­ism. Thank­ful­ly, the med­ical estab­lish­ment has large­ly giv­en up demo­niz­ing or ignor­ing yog­ic and med­i­ta­tive mind-body prac­tices, incor­po­rat­ing many of them into con­tem­po­rary pain relief, men­tal health care, and pre­ven­ta­tive and reha­bil­i­ta­tive treat­ments.
Hin­du and Bud­dhist crit­ics may find much not to like in the sec­u­lar appro­pri­a­tion of prac­tices like mind­ful­ness and yoga, and they may find it odd that such a fun­da­men­tal insight as the rela­tion­ship between mind and body should ever have been in doubt. But we know from even a slight famil­iar­i­ty with Euro­pean phi­los­o­phy ("I think, there­fore I am") that it was from the Enlight­en­ment into the 20th cen­tu­ry.
Now, says Riit­ta Hari, co-author of a 2014 Fin­ish study on the bod­i­ly loca­tions of emo­tion, "We have obtained sol­id evi­dence that shows the body is involved in all types of cog­ni­tive and emo­tion­al func­tions. In oth­er words, the human mind is strong­ly embod­ied." We are not brains in vats. All those col­or­ful old expressions—"cold feet," "but­ter­flies in the stom­ach," "chill up my spine"—named qual­i­ta­tive data, just a hand­ful of the embod­ied emo­tions mapped by neu­ro­sci­en­tist Lau­ri Num­men­maa and co-authors Riit­ta Hari, Enri­co Glere­an, and Jari K. Hieta­nen.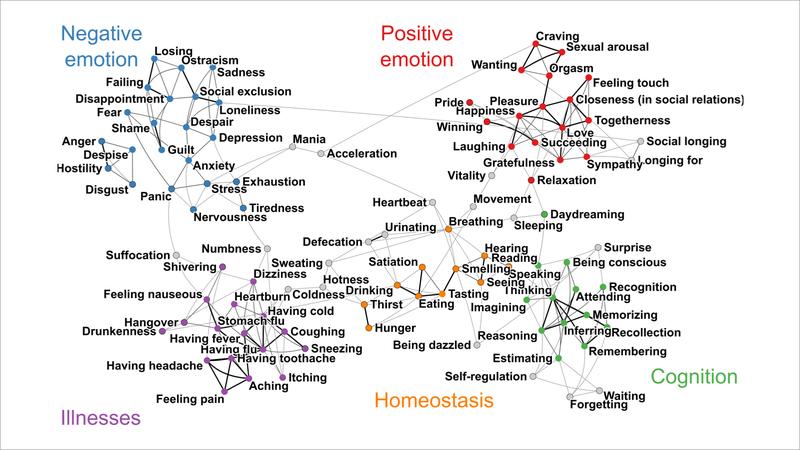 In their study, the researchers "recruit­ed more than 1,000 par­tic­i­pants" for three exper­i­ments, reports Ash­ley Hamer at Curios­i­ty. These includ­ed hav­ing peo­ple "rate how much they expe­ri­ence each feel­ing in their body vs. in their mind, how good each one feels, and how much they can con­trol it." Par­tic­i­pants were also asked to sort their feel­ings, pro­duc­ing "five clus­ters: pos­i­tive feel­ings, neg­a­tive feel­ings, cog­ni­tive process­es, somat­ic (or bod­i­ly) states and ill­ness­es, and home­o­sta­t­ic states (bod­i­ly func­tions)."
After mak­ing care­ful dis­tinc­tions between not only emo­tion­al states, but also between think­ing and sen­sa­tion, the study par­tic­i­pants col­ored blank out­lines of the human body on a com­put­er when asked where they felt spe­cif­ic feel­ings. As the video above from the Amer­i­can Muse­um of Nat­ur­al His­to­ry explains, the researchers "used sto­ries, video, and pic­tures to pro­voke emo­tion­al respons­es," which reg­is­tered onscreen as warmer or cool­er col­ors.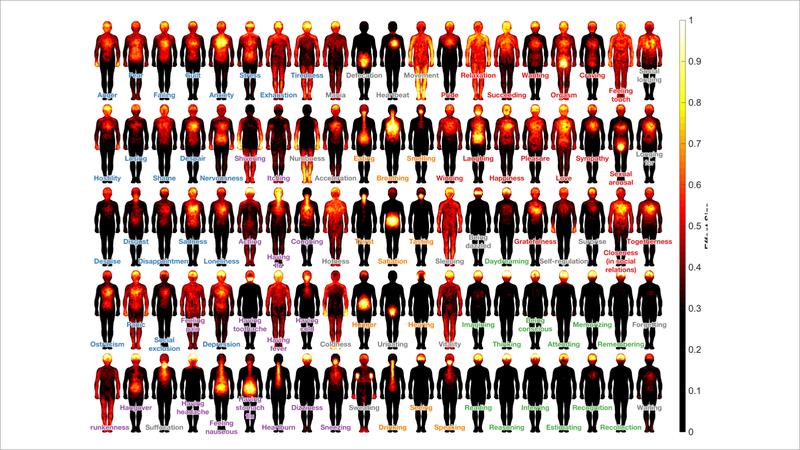 Sim­i­lar kinds of emo­tions clus­tered in sim­i­lar places, with anger, fear, and dis­gust con­cen­trat­ing in the upper body, around the organs and mus­cles that most react to such feel­ings. But "oth­ers were far more sur­pris­ing, even if they made sense intu­itive­ly," writes Hamer "The pos­i­tive emo­tions of grate­ful­ness and togeth­er­ness and the neg­a­tive emo­tions of guilt and despair all looked remark­ably sim­i­lar, with feel­ings mapped pri­mar­i­ly in the heart, fol­lowed by the head and stom­ach. Mania and exhaus­tion, anoth­er two oppos­ing emo­tions, were both felt all over the body."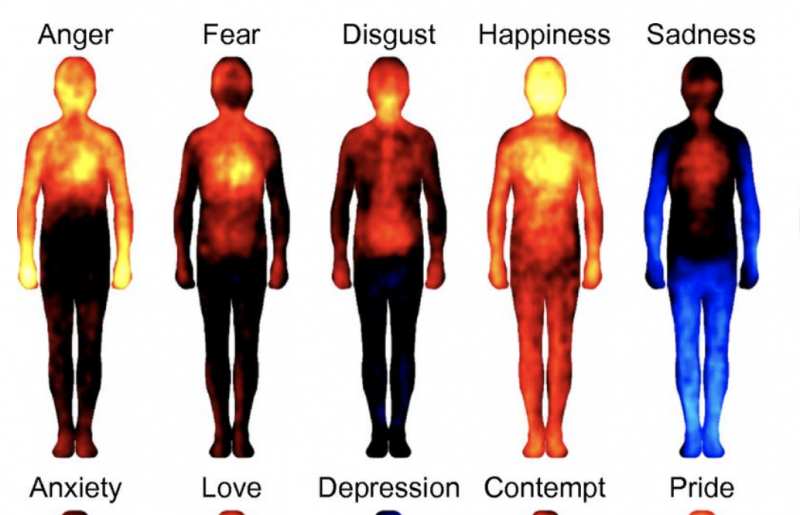 The researchers con­trolled for dif­fer­ences in fig­u­ra­tive expres­sions (i.e. "heartache") across two lan­guages, Swedish and Finnish. They also make ref­er­ence to oth­er mind-body the­o­ries, such as using "somatosen­so­ry feed­back… to trig­ger con­scious emo­tion­al expe­ri­ences" and the idea that "we under­stand oth­ers' emo­tions by sim­u­lat­ing them in our own bod­ies." Read the full, and ful­ly illus­trat­ed, study results in "Bod­i­ly Maps of Emo­tions," pub­lished by the Nation­al Acad­e­my of Sci­ences.
Relat­ed Con­tent:
An Inter­ac­tive Map of the 2,000+ Sounds Humans Use to Com­mu­ni­cate With­out Words: Grunts, Sobs, Sighs, Laughs & More
How Med­i­ta­tion Can Change Your Brain: The Neu­ro­science of Bud­dhist Prac­tice
A Dic­tio­nary of Words Invent­ed to Name Emo­tions We All Feel, But Don't Yet Have a Name For: Vemö­dalen, Son­der, Chrysal­ism & Much More
Josh Jones is a writer and musi­cian based in Durham, NC. Fol­low him at @jdmagness