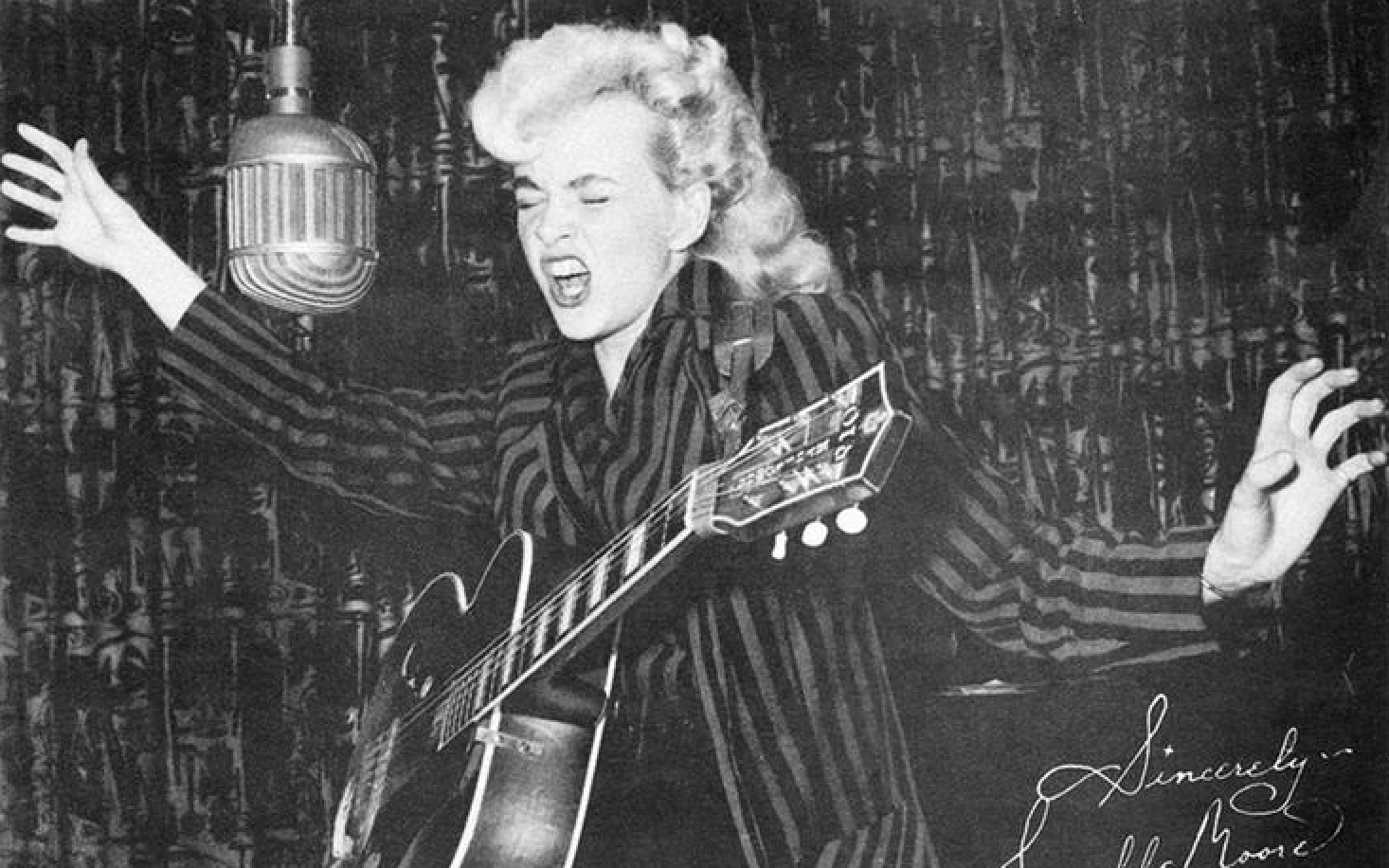 "For sixty years, conventional wisdom has told us that women generally did not perform rock and roll during the 1950s," writes Leah Branstetter, Ph.D. candidate in musicology at Case Western Reserve University. Like so many cultural forms into which we are initiated, through education, personal interest, and general osmosis, this popular form of Western music—now a genre with seventy years under its belt—has functioned as an almost ideal example of the great man theory of history.
It can seem like settled fact that Chuck Berry, Elvis Presley, Jerry Lee Lewis, Little Richard, Buddy Holly, and their celebrated male contemporaries invented the music; and that women played passive roles as fans, studio audience members, groupies, personifications of cars and guitars….
The recognition of rare exceptions, like Sister Rosetta Tharpe, does not challenge the rule. But Branstetter's Women in Rock and Roll's First Wave project almost single-handedly does.
The reality is, however, that hundreds—or maybe thousands—of women and girls performed and recorded rock and roll in its early years. And many more participated in other ways: writing songs, owning or working for record labels, working as session or touring musicians,designing stage wear, dancing, or managing talent…. [W]omen's careers didn't always resemble those of their more famous male counterparts. Some female performers were well known and performed nationally as stars, while others had more influence regionally or only in one tiny club. Some made the pop charts, but even more had impact through live performance. Some women exhibited the kind of wild onstage behavior that had come to be expected from figures Jerry Lee Lewis or Little Richard—but that wasn't the only way to be rebellious, and others found their own methods of being revolutionary.
Branstetter's project, a digital dissertation, covers dozens of musicians from the period, just a fraction of the names she has uncovered in her research. Some of the women profiled were never particularly well-known. Many more were accomplished stars before the 60's girl group phenomenon, and continued performing into the 21st century.
Meet rockers like Sparkle Moore (see up top), born in Omaha, Nebraska and inspired by Bill Haley in the mid-fifties to play rockabilly in her hometown. She went on to tour the country, putting out record after record. "By 1957," writes Branstetter, "she had about forty songwriting credits to her name." Teen magazine Dig wrote that Moore had "an amazing resemblance to the late James Dean… Presley's style and Dean's looks." She is still a "favorite with rockabilly fans," notes her biography. Moore "has been inducted into the Iowa Rock and Roll Hall of Fame and also made a new album in 2010 entitled Spark-a-Billy."
Meet Lillie Bryant, one half of duo Billie & Lillie, whose breezier R&B sounds and more wholesome image resonated with early rock and roll fans, promoters, and stars. Bryant began performing in New York City clubs as a teenager. Then producers Bob Crewe and Frank Slay turned her and singer Billie Ford into a duo who went on to star in legendary DJ Alan Freed's stage shows, "including a six-week tour with Chuck Berry and Frankie Lymon" and an appearance on American Bandstand. Bryant still performs in her hometown of Newburgh, New York.
Meet The Chantels. "Formed in the Bronx, New York in the early 1950s," they were "among the first African-American female vocal groups to gain national attention." They also toured with Alan Freed and appeared on American Bandstand and The Dick Clark Show. In 1961, their hit "Look in My Eyes" went to number 14 on the pop charts and 6 on the R&B charts. (Thirty years later, it appeared on the Goodfellas soundtrack.)
Most people who grew up on the music of the 50s and 60s have likely heard of many of these women rockers, or have at least heard their music if they didn't know the names and faces. But Branstetter's project does more than tell the stories of individuals—in biographies, interviews (with, for one, Jerry Lee Lewis's sister, singer and piano player Linda Gail Lewis), blog posts, playlists (hear one below), song analyses, and essays.
She also substantiates her larger claim that women's "contributions shaped the culture and sound of rock and roll," in numerous well-documented ways. This despite the fact that women in early rock were told versions of the same thing Joan Jett heard 20 years later—"girls don't play rock and roll." They sometimes heard it from other women in the music business. Pop singer Connie Frances, for example, offered her opinion in a 1958 issue of Billboard: "A girl can't sing rock and roll. It's basically too savage for a girl singer to handle."
Attitudes like these persisted so long, and became so unconscious, that one of the largest guitar makers in the world, Fender, and several other musical instrument makers, may have lost millions in sales before they finally realized that women make up half of new guitar players. Women in Rock and Roll's First Wave will inspire and enlighten many of those young musicians who didn't grow up knowing anything about Sparkle Moore or The Chantels, but should have. Unless rock historians willingly ignore the work of scholars like Branstetter, subsequent accounts should reflect a more expansive, inclusive, view of the territory. Start here.
Related Content:
Watch the Hot Guitar Solos of Sister Rosetta Tharpe, "America's First Gospel Rock Star"
How Joan Jett Started the Runaways at 15 and Faced Down Every Barrier for Women in Rock and Roll
33 Songs That Document the History of Feminist Punk (1975-2015): A Playlist Curated by Pitchfork
Chrissie Hynde's 10 Pieces of Advice for "Chick Rockers" (1994)
Four Female Punk Bands That Changed Women's Role in Rock
Josh Jones is a writer and musician based in Durham, NC. Follow him at @jdmagness