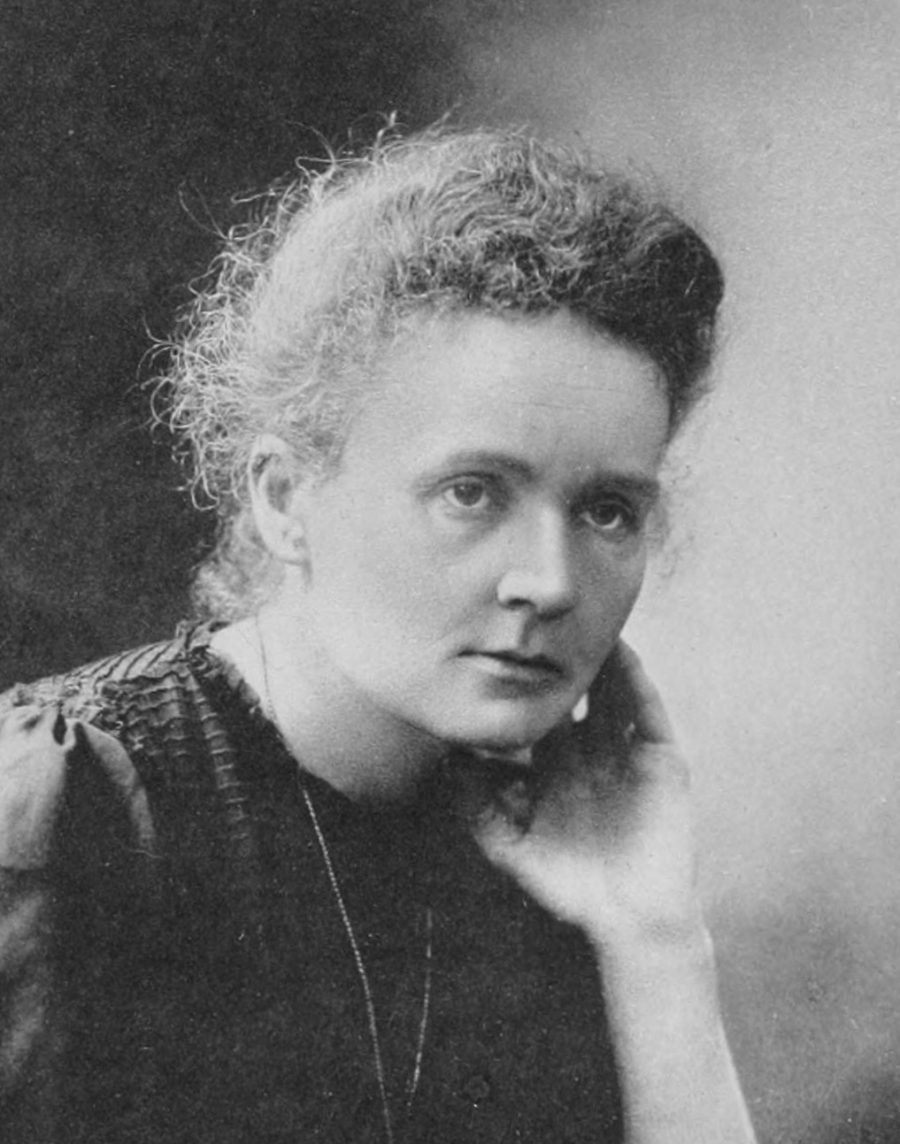 For most of sci­en­tif­ic his­to­ry, women who made con­tri­bu­tions to var­i­ous fields have been side­lined or ignored in favor of male col­leagues, who reaped fame, pro­fes­sion­al recog­ni­tion, and cash rewards that come with pres­ti­gious prizes like the Nobel. Cor­nell his­to­ri­an of sci­ence Mar­garet Rossiter coined the term "The Matil­da Effect" to describe sex­ist bias in the sci­ences. Rossiter's work and pop­u­lar reap­praisals like book-turned-film Hid­den Fig­ures have inspired oth­er women in acad­e­mia to search for for­got­ten female sci­en­tists, and to find them, lit­er­al­ly, in foot­notes.
When sys­tem­at­ic dis­crim­i­na­tion lim­its oppor­tu­ni­ties for any group, those who do receive recog­ni­tion, the excep­tions to the rule, must often be tru­ly excep­tion­al to suc­ceed. There has been lit­tle doubt, both in her life­time and in the many decades after­ward, that Marie Curie was such a per­son. Although forced to study sci­ence in secret at a clan­des­tine "Float­ing Uni­ver­si­ty" in her native Poland—since the uni­ver­si­ties refused to admit women—Curie (born Marie Salomea Sklodows­ka in 1867) would achieve such renown in her field that she was award­ed not one, but two Nobel Prizes.
Curie and her hus­band Pierre shared the Nobel Prize in Physics with Antoine Hen­ri Bec­quer­el, dis­cov­er­er of radioac­tiv­i­ty, in 1903. The sec­ond prize, in Chem­istry, was hers alone in 1911, "in recog­ni­tion of her ser­vices to the advance­ment of chem­istry by the dis­cov­ery of the ele­ments radi­um and polo­ni­um, by the iso­la­tion of radi­um and the study of the nature and com­pounds of this remark­able ele­ment." Curie was not only the first woman to win a Nobel, but she was also the first per­son to win twice, and the only per­son to win in two dif­fer­ent sci­ences.
These are but a hand­ful of achieve­ments in a string of firsts for Curie: denied posi­tions in Poland, she earned a Ph.D. in France, award­ed the degree in 1903 by the Sor­bonne, the same year she won her first Nobel. "Her exam­in­ers," notes the site Famous Sci­en­tists, "were of the view that she had made the great­est con­tri­bu­tion to sci­ence ever found in a Ph.D. the­sis." Three years lat­er, after Pierre was killed in an acci­dent, Marie was offered his pro­fes­sor­ship and became the first female pro­fes­sor at the Uni­ver­si­ty of Paris.
Curie suc­ceed­ed not in the absence of, but in spite of the sex­ist obsta­cles placed in her path at near­ly every stage in her career. After she received her doc­tor­ate, the Curies were invit­ed to the Roy­al Insti­tu­tion in Lon­don. Only Pierre was per­mit­ted to speak. That same year, the Nobel Com­mit­tee decid­ed to hon­or only her hus­band and Bec­quer­el. The Acad­e­my relent­ed when Pierre protest­ed. Curie fell vic­tim to a wave of xeno­pho­bia and anti-Semi­tism (though she was not Jew­ish) that swept through France in the 1900s, most famous­ly in the so-called "Drey­fus Affair."
In 1911, the year of her sec­ond Nobel, Curie was passed over for mem­ber­ship in the French Acad­e­my of Sci­ences. It would take anoth­er 51 years before the first woman, Mar­guerite Perey, a for­mer doc­tor­al stu­dent of Curie, would be elect­ed to that body. That same year, Curie was per­se­cut­ed relent­less­ly by the French press, the pub­lic, and her sci­en­tif­ic rivals after it was revealed that she had had a brief affair with physi­cist Paul Langevin, one of Pierre Curie's for­mer stu­dents.
But no mat­ter how many men in posi­tions of pow­er want­ed to deter Curie, there always seemed to be more influ­en­tial sci­en­tists and politi­cians who rec­og­nized the supreme val­ue of her work and the need to help her con­tin­ue it. After her sec­ond Nobel Prize, her native coun­try final­ly rec­og­nized her with the offer to direct her own lab­o­ra­to­ry in War­saw. Curie turned it down to focus on direct­ing the Curie Lab­o­ra­to­ry in the Radi­um Insti­tute of the Uni­ver­si­ty of Paris, which she found­ed in 1914, a major achieve­ment and, again, only a small part of her lega­cy.
Curie is known, of course, fore­most for her excep­tion­al sci­en­tif­ic work, but also for open­ing doors for women in sci­ence all over the world, though much of that door-open­ing may only have hap­pened decades after her death in 1934, and much of it hasn't hap­pened at all yet. Inci­den­tal­ly, in the fol­low­ing year, the Curies' daugh­ter Irène Joliot-Curie and her hus­band Frédéric Joliot-Curie were joint­ly award­ed the Nobel Prize in Chem­istry. Since then, only two oth­er women have claimed that hon­or, and only two women, includ­ing Marie Curie, have won the Prize in physics, out of 203 win­ners total.
There may be noth­ing yet like gen­der par­i­ty in the sci­ences, but those who know where to look can find the names of dozens of women sci­en­tists run­ning women-owned com­pa­nies, women-found­ed research insti­tutes and aca­d­e­m­ic depart­ments, and, like the famous Curies, mak­ing major con­tri­bu­tions to chem­istry. Per­haps not long from now, many of those excep­tion­al sci­en­tists will be as well-known and wide­ly cel­e­brat­ed as Marie Curie.
Relat­ed Con­tent:

Marie Curie Attend­ed a Secret, Under­ground "Fly­ing Uni­ver­si­ty" When Women Were Banned from Pol­ish Uni­ver­si­ties
Read the Uplift­ing Let­ter That Albert Ein­stein Sent to Marie Curie Dur­ing a Time of Per­son­al Cri­sis (1911)
How Amer­i­can Women "Kick­start­ed" a Cam­paign to Give Marie Curie a Gram of Radi­um, Rais­ing $120,000 in 1921
Josh Jones is a writer and musi­cian based in Durham, NC. Fol­low him at @jdmagness