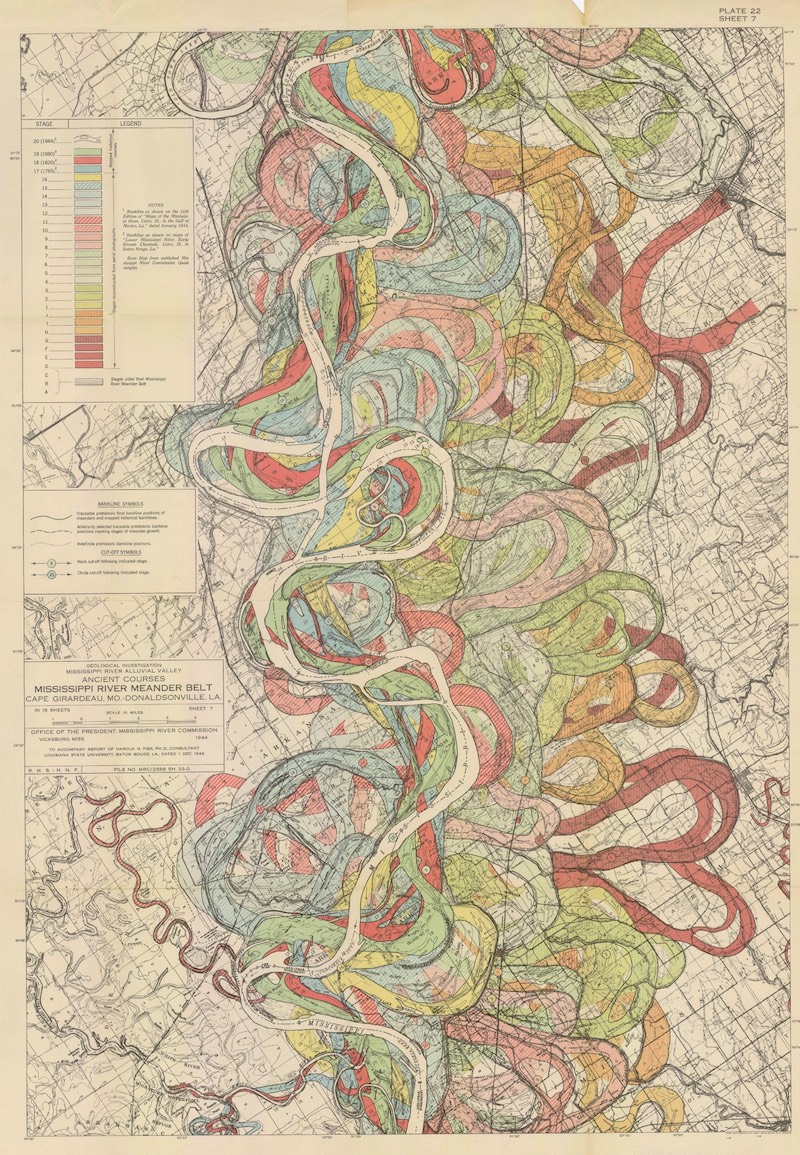 Given that Turkey's Büyük Menderes River was historically known as the Meander, you might well imagine how un-straightforward a path it takes through the country. But the English adjective descended from its name describes a fair few other twisting, turning rivers as well, and also a form of river mapping that suits them. "I have long admired the Mississippi River meander maps designed by Army Corps of Engineers cartographer Harold Fisk," writes Jason Kottke at Kottke.org by way of an introduction to his short essay on them at the site of printmaker 20×200.
"In their relentless flow to lower ground, rivers like to roam over the landscape, cutting through solid rock and loamy soil alike, gaining advantage here and there where they can," goes Kottke's explanation of how meandering rivers come to be.
"The best and easiest course for a river to take downhill is its current course… right up until the moment when it's not." Each color in Fisk's meander maps of the longest river in North America "represents a new course, a marker of each time a bend had become too bendy and the river 'decided' to take a more direct path." Kottke summarizes these maps' appeal succinctly: "They are time machines."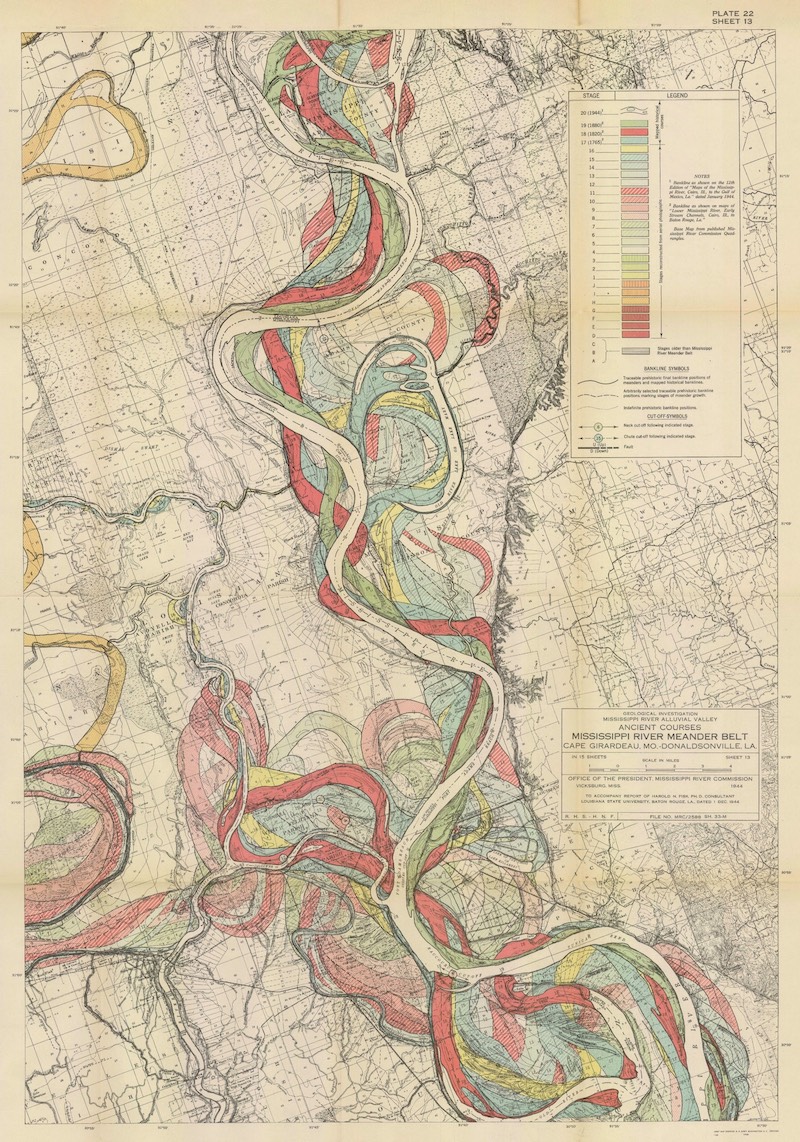 "Standing before a painting by Hilma af Klint, a sculpture by Bernini, or a cave painting in Chauvet, France draws you back in time in a powerful way: you know you're standing precisely where those artists stood hundreds or even thousands of years ago, laying paint to surface or chisel to stone." Here, thanks to a "clever mapmaker with an artistic eye," we can imagine the Mississippi "as it was during the European exploration of the Americas in the 1500s, during the Cahokia civilization in the 1200s (when this city's population matched London's), when the first humans came upon the river more than 12,000 years ago, and even back to before humans, when mammoths, camels, dire wolves, and giant beavers roamed the land and gazed upon the river."
You can buy prints of three different Mississippi meander maps from 20×200, all of them originally part of Fisk's report "Geological Investigation of the Alluvial Valley of the Lower Mississippi River completed in 1944. The study was made to learn about the formation of the valley over time, and about the major factors that dictate its flow and flooding in the modern era." Fisk drew upon data collected through approximately 16,000 borings, and "also found the river's heart in this jumble of loops and purls," producing a reflection of the river's distinctive personality in "this explosive, autumn-colored palette." Regarding these maps, we can't help but wonder in what shape some future team of intrepid surveyors will find the Mississippi a few thousand years hence — and what new words, in what languages, that shape might inspire.
via Kottke
Related Content:
The Mother of All Maps of the "Father of Waters": Behold the 11-Foot Traveler's Map of the Mississippi River (1866)
All the Rivers & Streams in the U.S. Shown in Rainbow Colours: A Data Visualization to Behold
William Faulkner Draws Maps of Yoknapatawpha County, the Fictional Home of His Great Novels
Learn the Untold History of the Chinese Community in the Mississippi Delta
View and Download Nearly 60,000 Maps from the U.S. Geological Survey (USGS)
Download 67,000 Historic Maps (in High Resolution) from the Wonderful David Rumsey Map Collection
Based in Seoul, Colin Marshall writes and broadcasts on cities, language, and culture. His projects include the book The Stateless City: a Walk through 21st-Century Los Angeles and the video series The City in Cinema. Follow him on Twitter at @colinmarshall, on Facebook, or on Instagram.