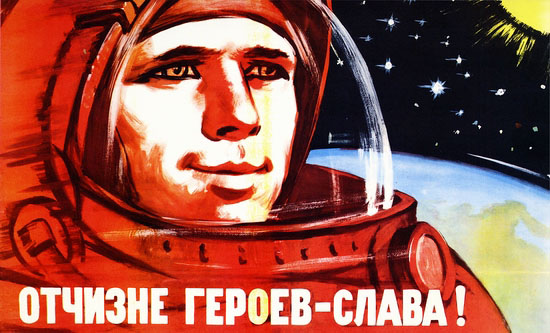 How do you sell a gov­ern­ment pro­gram that spends tens of mil­lions of dol­lars on research and devel­op­ment for space trav­el? While the aver­age tax­pay­er may love the idea of brav­ing new fron­tiers, far few­er are apt to vote for fund­ing sci­en­tif­ic research, the space program's osten­si­ble rea­son for being.
Dur­ing the Cold War, how­ev­er, when the biggest break­throughs in space flight occurred, sell­ing the pro­gram didn't involve sophis­ti­cat­ed meth­ods, only the broad­est themes of hero­ism, patri­o­tism, futur­ism, and, in more or less sub­tle ways, mil­i­tarism. The appeal to sci­ence always went hand-in-hand with an appeal to the sub­lime­ly aus­tere beau­ty of the heav­ens (which we'd hate to lose to the oth­er guys.)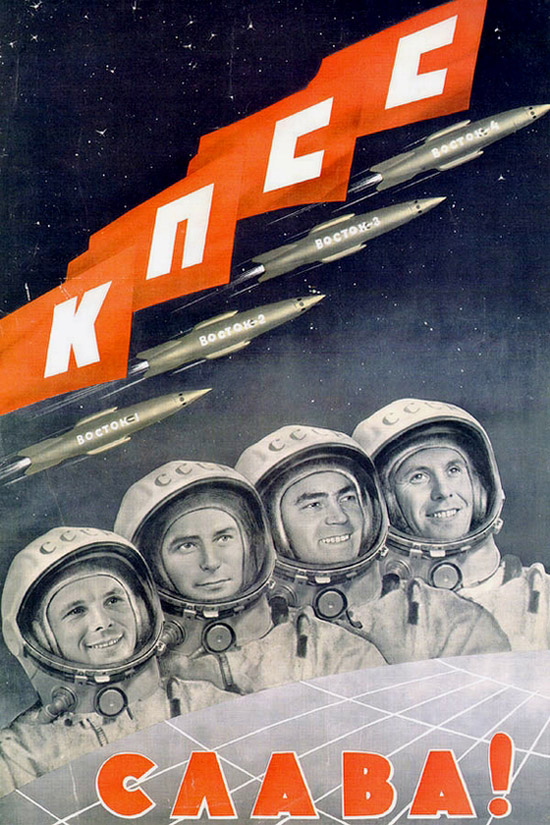 All of these were strate­gies NASA uti­lized, and then some. In addi­tion to plant­i­ng a U.S. flag on the moon, they deliv­ered the first col­or image of Earth from space. On the ground, they enlist­ed artists like Andy Warhol, Nor­man Rock­well, and Lau­rie Ander­son and actors like Star Trek's Nichelle Nichols to sell the pro­gram.
Recent­ly, NASA has seemed to be in a reflec­tive mood, from its anti­quar­i­an prepa­ra­tions for the 50th anniver­sary of the moon land­ing to its ad cam­paign of retro posters that resem­ble not only vin­tage sci-fi book jack­ets and movie ads, but also the futur­is­tic social real­ism of their for­mer Sovi­et rivals.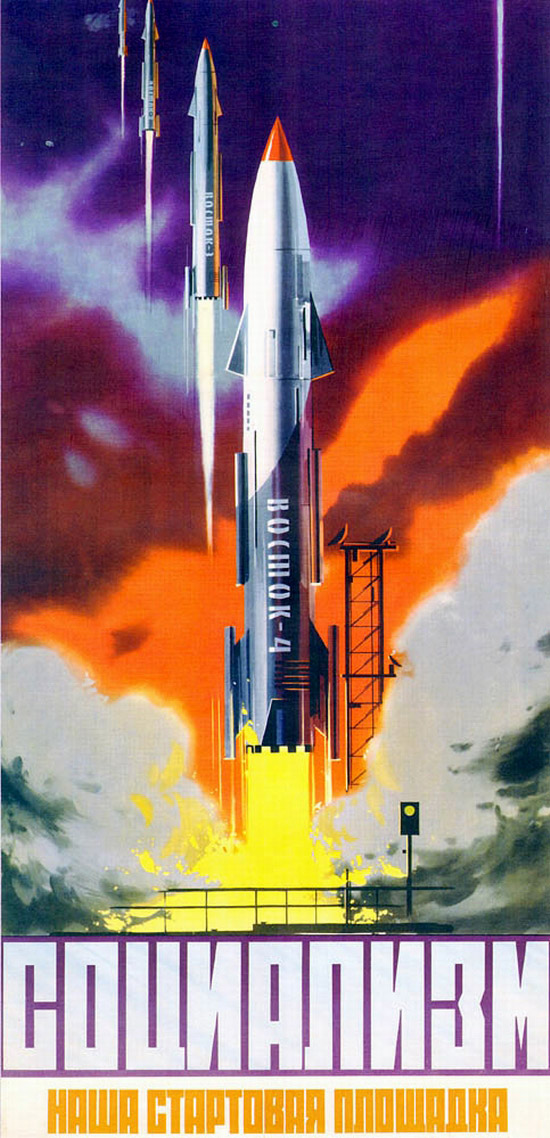 There's almost some­thing of an admis­sion in NASA's retro posters: we may have won the "space race," but it wasn't win­ner take all. There were some things the Sovi­ets just did better—and when it came to mak­ing space trav­el look like the most mon­u­men­tal­ly hero­ic and excit­ing thing ever, they excelled, as you can see in this ear­ly col­lec­tion of Sovi­et space posters from 1958–1963.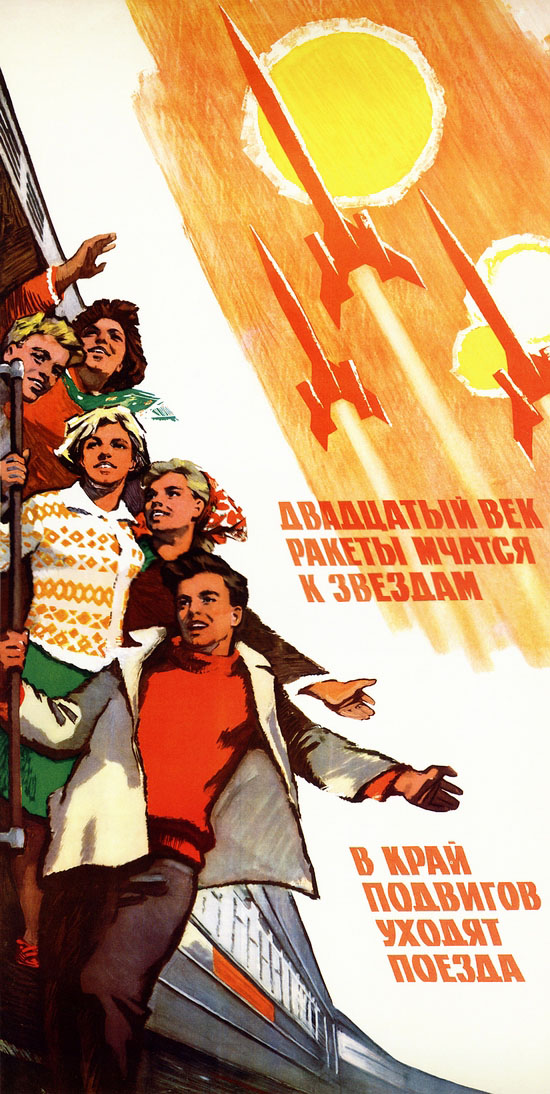 There's some­thing for, well, not every­one, but for men, women, young, old, young adults. Sci-fi geeks and mod­el builders, peo­ple cel­e­brat­ing the new year, chil­dren cel­e­brat­ing the new year, a gag­gle of young stu­dents who some­how all look just like Mary Tyler Moore. The artists are not celebri­ties, they're fel­low work­ers who "fore­saw a Utopia in space," writes Flash­bak.
The Com­mu­nists would bring peace and pros­per­i­ty not only to the peo­ple of Earth but also to the tech­nol­o­gy-enabled, God-free Great Beyond. The artists cre­at­ed Sovi­et Space posters, vivid, ener­gis­ing and inspir­ing visions of the rosy-fin­gered dawn of tomor­row. They're ter­rif­ic.
They're maybe even more ter­rif­ic when we con­sid­er that ordi­nary cit­i­zens didn't have much say, at all, in the fund­ing and direc­tion of the U.S.S.R.'s space pro­gram. (Whether Amer­i­can cit­i­zens did is anoth­er ques­tion.) It was impor­tant that Sovi­ets know, how­ev­er, that "We will open the dis­tant worlds!" as one poster reads, and, as the six­ties teenage cig­a­rette ad on a train above pro­claims, "In the 20th cen­tu­ry, the rock­ets race to the stars, the trains are going to the lands of achieve­ments!"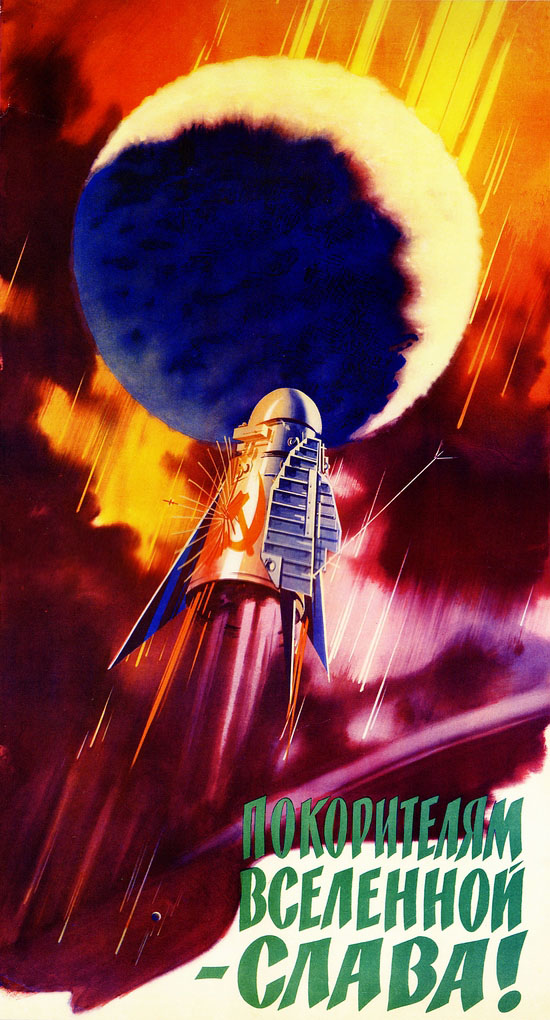 The num­ber of posters here is but a smat­ter­ing of those post­ed on All about Rus­sia (here and here) and Flash­bak. Each poster has its own enchant­i­ng qual­i­ty: emu­lat­ing the pro­pa­gan­da of the 1930s; turn­ing indus­tri­al labor­ers into anony­mous tow­er­ing heroes; and reach­ing some very heavy met­al heights of bom­bast, as in the ad above, which declares, "Glo­ry to the con­querors of the uni­verse!"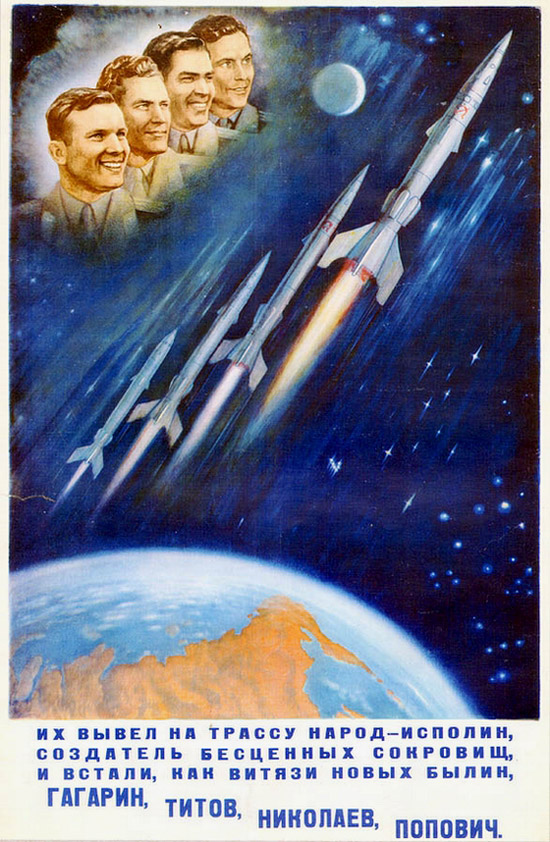 One poster super­im­pos­es the beam­ing faces of four cos­mo­nauts, lined up like Kraftwerk, over a scene of four rock­ets leav­ing the earth. "Gagarin, Titov, Niko­laev, Popoviich—the mighty knights of our days." (I'm not sure how that pun works in Russ­ian.) The Sovi­ets could also pro­claim "Glo­ry to the first woman cos­mo­naut!," Valenti­na Tereshko­va, who became the first woman to fly in space in 1963.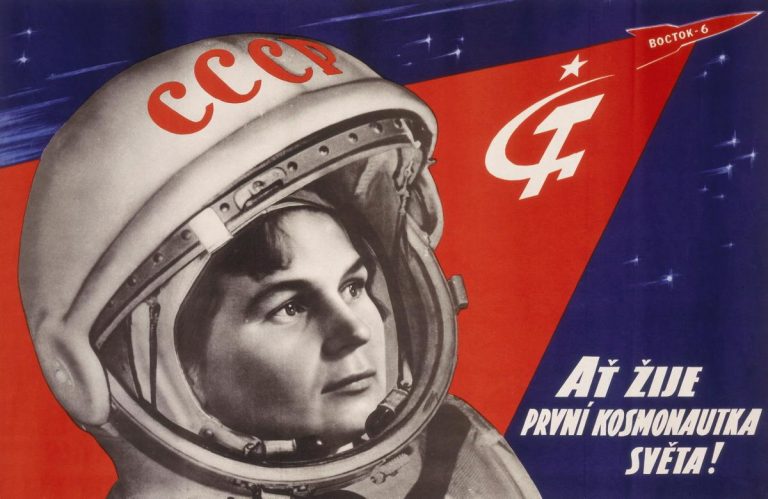 The Sovi­et space pro­gram deserves plen­ty of recog­ni­tion for its many his­toric firsts, and also for the wild­ly enthu­si­as­tic opti­mism of its ad cam­paigns. They sold grand ideas about the explo­ration and, yes, con­quest of space (and "the uni­verse") with the same verve and pop­ulist appeal as U.S. com­pa­nies sold cars, cig­a­rettes, and wash­ing machines. Glo­ry to the unsung Mad Men of the Sovi­et space poster!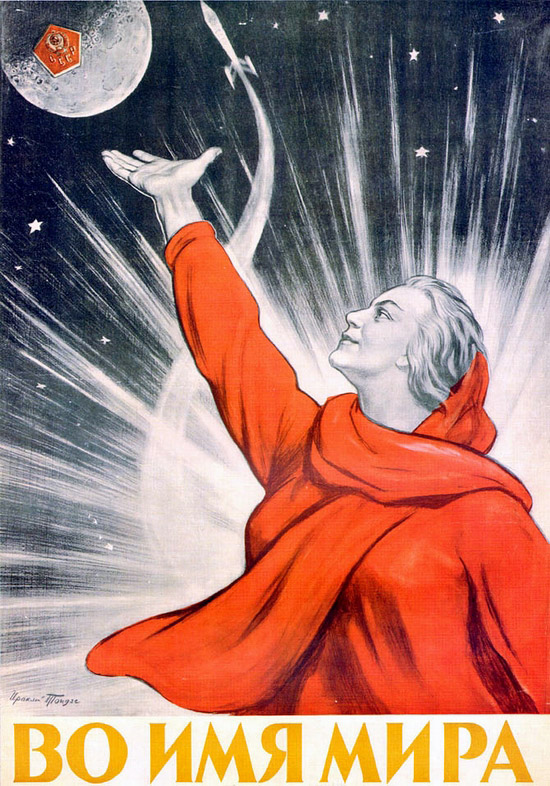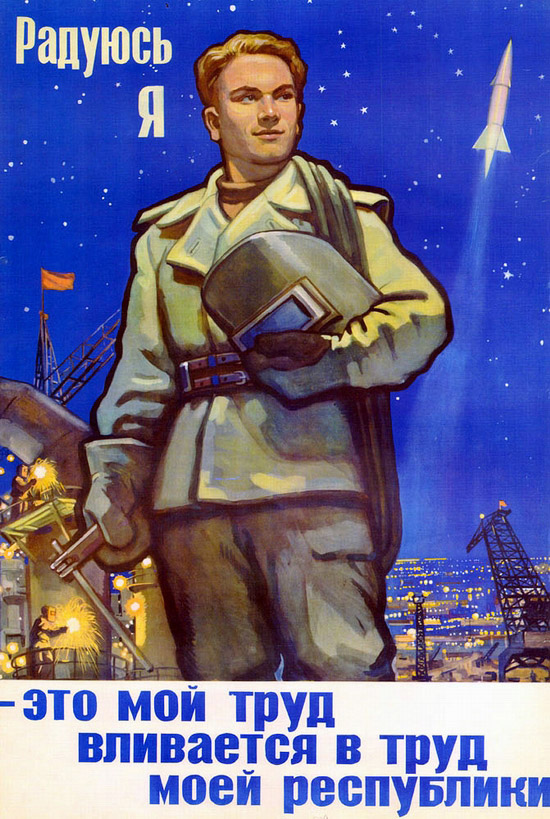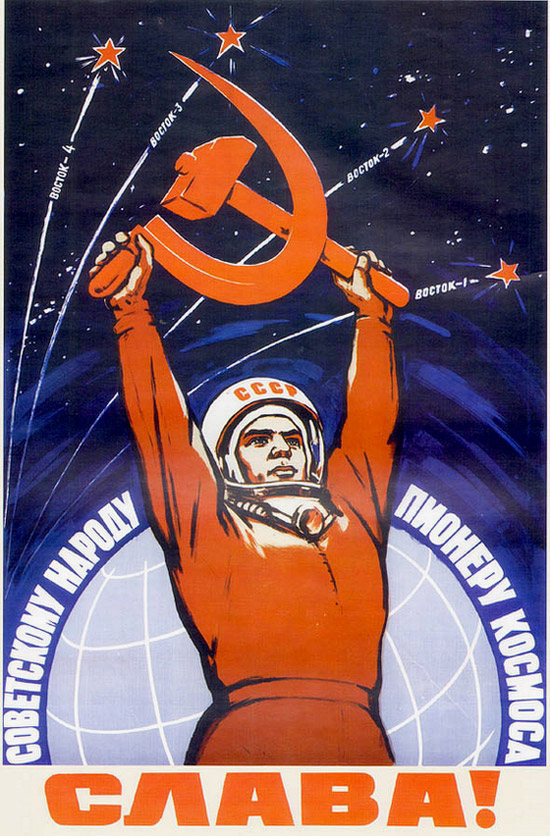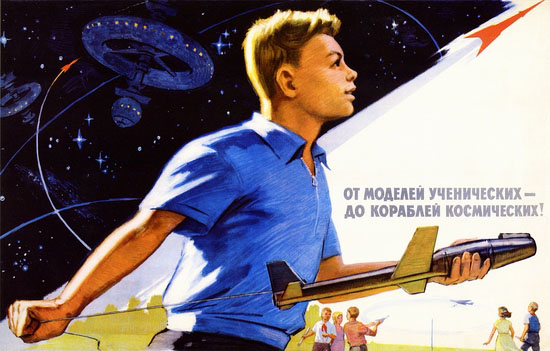 Relat­ed Con­tent:
Sovi­et Artists Envi­sion a Com­mu­nist Utopia in Out­er Space
NASA Enlists Andy Warhol, Annie Lei­bovitz, Nor­man Rock­well & 350 Oth­er Artists to Visu­al­ly Doc­u­ment America's Space Pro­gram
Down­load 14 Free Posters from NASA That Depict the Future of Space Trav­el in a Cap­ti­vat­ing­ly Retro Style
Watch Inter­plan­e­tary Rev­o­lu­tion (1924): The Most Bizarre Sovi­et Ani­mat­ed Pro­pa­gan­da Film You'll Ever See
Josh Jones is a writer and musi­cian based in Durham, NC. Fol­low him at @jdmagness