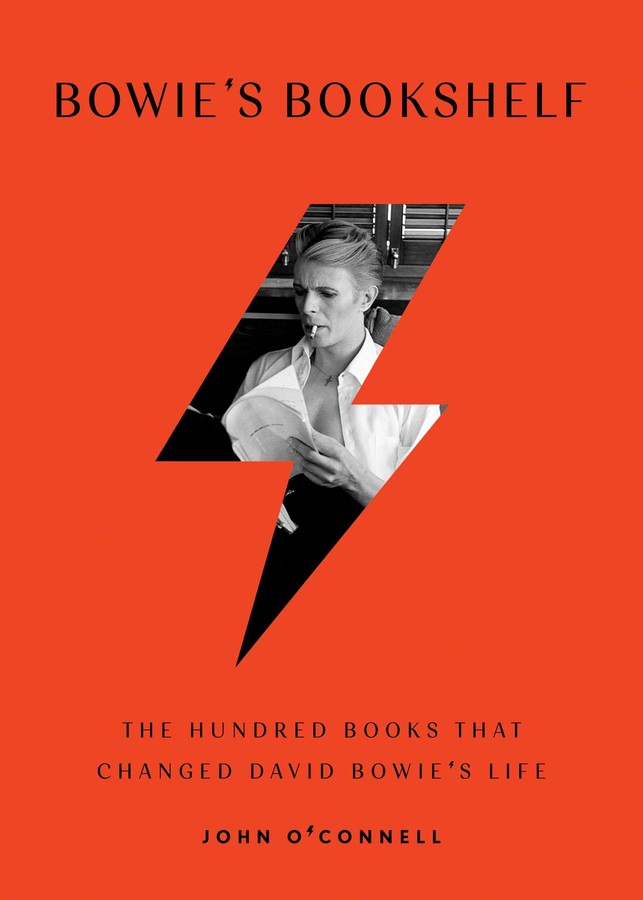 Like some rock stars of his generation, David Bowie had a literary cast of mind; unlike most of those colleagues, he also made his association with books explicit. (Not for nothing did he appear on that READ poster.) Whenever this subject arises, it's tempting to bring up the story of how The Man Who Fell to Earth director Nicolas Roeg poked fun at the extreme number of books with which Bowie surrounded himself during the time he was acting in that film, as we did when we posted about the David Bowie book club. Launched by Bowie's son, the filmmaker Duncan Jones, that project was meant to read through Bowie's own list of top 100 books, previously featured here on Open Culture. Now, thanks to the work of music journalist John O'Connell, Bowie's love of books has a book of its own.
Published in the UK as Bowie's Books and in the US as Bowie's Bookshelf, O'Connell's essay collection takes the 100 books the man who was Ziggy Stardust, Aladdin Sane, and The Thin White Duke named as favorites. In each he finds the relevant questions (or at least fascinating ones) to ask about each book's relationship to Bowie's life and work: "How did the power imbued in a single suit of armor in The Iliad impact a man who loved costumes, shifting identity, and the siren song of the alter-ego?" Or, "How did the poems of T.S. Eliot and Frank O'Hara, the fiction of Vladimir Nabokov and Anthony Burgess, the comics of The Beano and The Viz, and the groundbreaking politics of James Baldwin influence Bowie's lyrics, his sound, his artistic outlook?"
Kirkus Reviews notes that "many of Bowie's selections speak to his obvious passion for music, especially early rock 'n' roll and R&B (Greil Marcus, Gerri Hershey), his famous Japanophilia (Yukio Mishima, Tadanori Yokoo), and his stint in Germany (Alfred Döblin, Otto Friedrich)." O'Connell's completist analysis of Bowie's top-100-books list, composed for an exhibition at the Victoria & Albert Museum just six years ago, also reveals "the range and playfulness in Bowie's reading, from hefty tomes on the Russian Revolution to laddish comic books like The Beano." Other essays cover Lolita, The Gnostic Gospels, A Confederacy of Dunces, and White Noise, all part of a mixture that would tantalize any cultural critic — much like the work of David Bowie, who still constitutes a culture unto himself.
Bowie's Bookshelf: The Hundred Books that Changed David Bowie's Life can be ordered now.
Related Content:
The David Bowie Book Club Gets Launched by His Son: Read One of Bowie's 100 Favorite Books Every Month
David Bowie Urges Kids to READ in a 1987 Poster Sponsored by the American Library Association
David Bowie Songs Reimagined as Pulp Fiction Book Covers: Space Oddity, Heroes, Life on Mars & More
The Story of How David Jones Became David Bowie Gets Told in a New Graphic Novel
Brian Eno Lists 20 Books for Rebuilding Civilization & 59 Books For Building Your Intellectual World
David Bowie Picks His 12 Favorite David Bowie Songs: Listen to Them Online
Based in Seoul, Colin Marshall writes and broadcasts on cities, language, and culture. His projects include the book The Stateless City: a Walk through 21st-Century Los Angeles and the video series The City in Cinema. Follow him on Twitter at @colinmarshall or on Facebook.