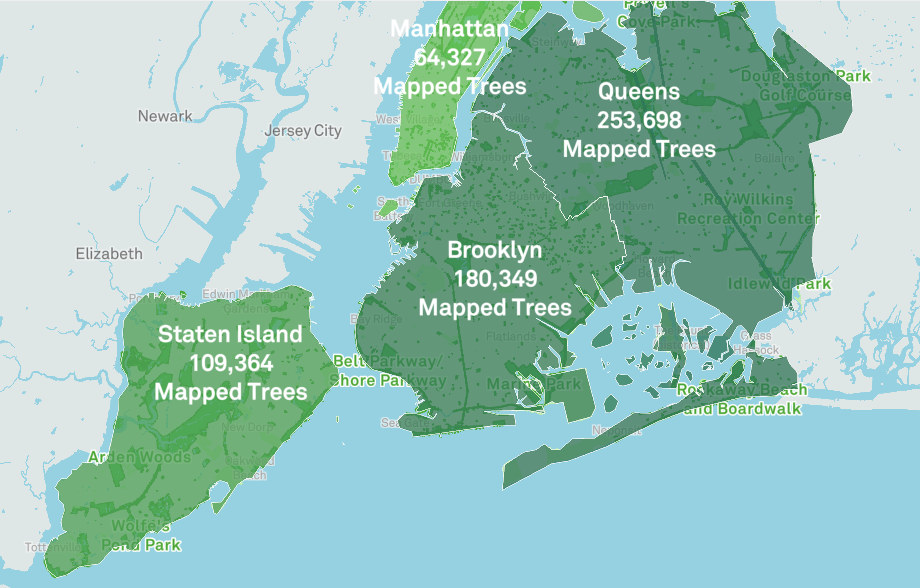 It may sound odd, but one of the things I miss most about liv­ing in New York City is the abil­i­ty to hop on a bus or train, or walk a few blocks from home, and end up loung­ing in a for­est, the cacoph­o­ny of traf­fic reduced to a dim hum, squir­rels bound­ing around, birds twit­ter­ing away above. Such urban respites are plen­ti­ful in NYC thanks to its 10,542 acres of forest­ed land, "about half as much as the Con­ga­ree Swamp in South Car­oli­na," notes James Bar­ron at The New York Times, in one of the most dense­ly pop­u­lat­ed urban areas in the coun­try.
"Most of the city's for­est is deep in parks"—in Cen­tral Park, of course, and also Prospect Park and River­side, and dozens of small­er oases, and the lush Botan­i­cal Gar­dens in the Bronx. The city's forests are sub­ject to the usu­al pres­sures oth­er wood­ed areas face: cli­mate change, inva­sive species, etc.
They are also depen­dent on a well-fund­ed Parks Depart­ment and non­prof­its like the Nat­ur­al Areas Con­ser­van­cy for the preser­va­tion and upkeep not only of the large parks but of the trees that shade city streets in all five bor­oughs.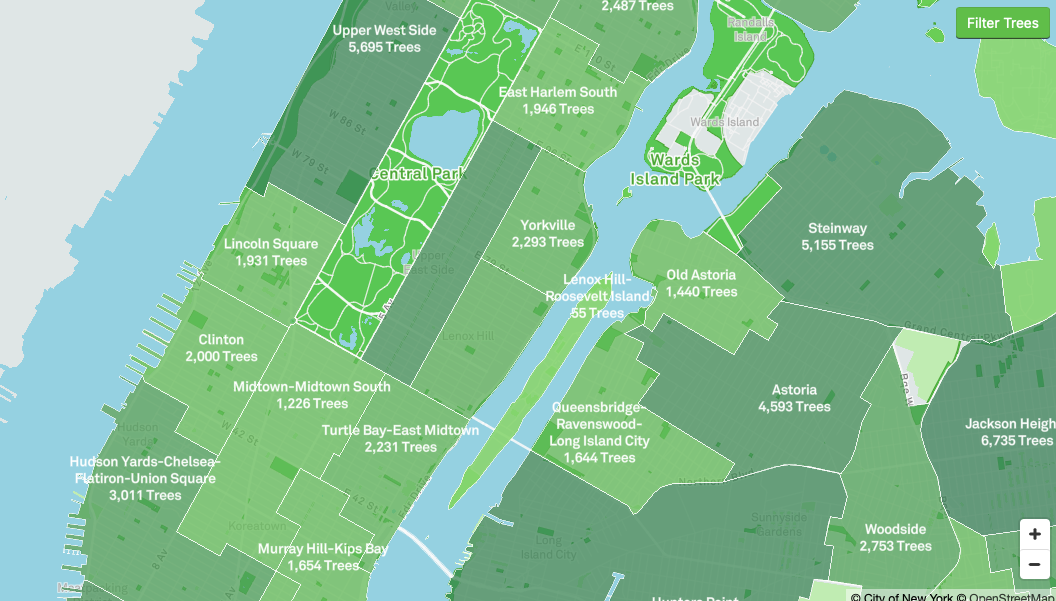 Luck­i­ly, the city and non­prof­it groups have been work­ing togeth­er to plan for what the conservancy's senior ecol­o­gist, Helen For­gione, calls "future forests," using big data to map out the best paths for urban wood­land. The NYC Parks depart­ment has been busy com­pil­ing fig­ures, and you can find all of their tree stats at the New York City Street Tree Map, which "brings New York City's urban for­est to your fin­ger­tips. For the first time," the Parks depart­ment writes, "you have access to infor­ma­tion about every street tree in New York City."
Large forest­ed parks on the inter­ac­tive map appear as flat green fields—the depart­ment has not count­ed each indi­vid­ual tree in Cen­tral Park. But the map gives us fine, gran­u­lar detail when it comes to street trees, allow­ing users to zoom in to every inter­sec­tion and click on col­ored dots that rep­re­sent each tree, for exam­ple lin­ing Avenue D in the East Vil­lage or Flat­bush Avenue in Brook­lyn. You can search spe­cif­ic loca­tions or comb through city­wide sta­tis­tics for the big pic­ture. At the time of this writ­ing, the project has mapped 694,249 trees, much of that work under­tak­en by vol­un­teers in the TreesCount! 2015 ini­tia­tive.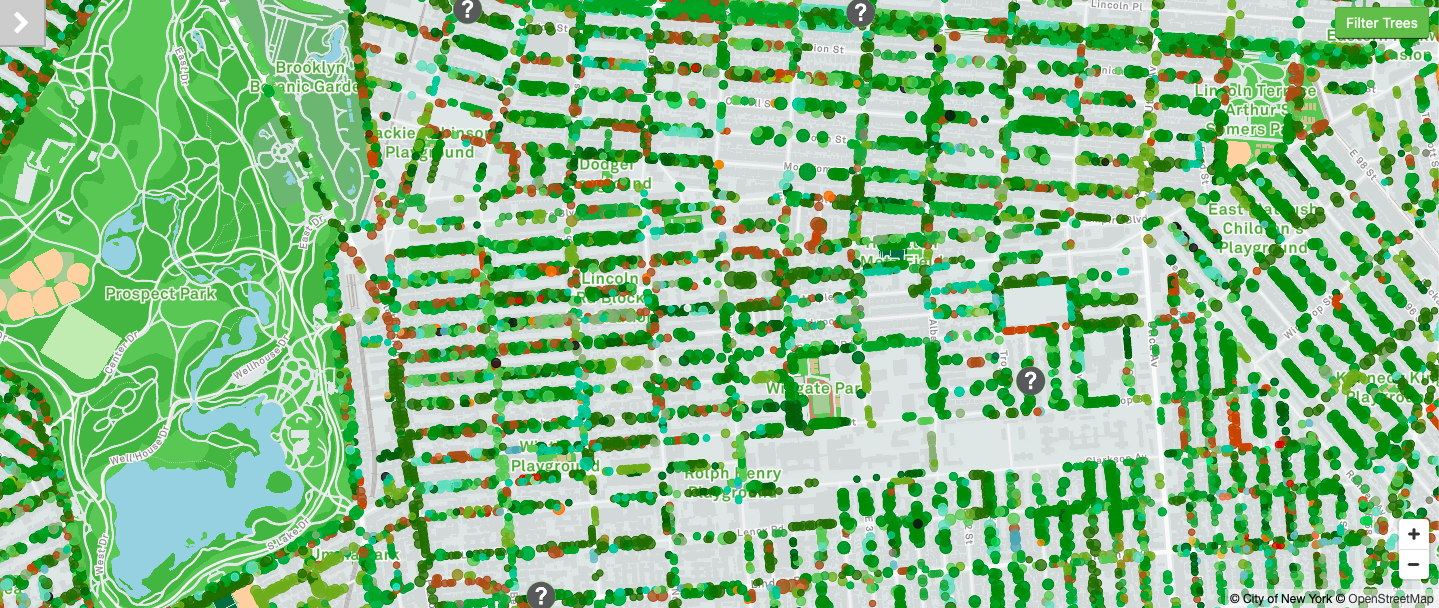 There are many more trees yet to map, and the department's forestry team updates the site dai­ly. Out of 234 species iden­ti­fied, the most com­mon is the Lon­don Plan­e­tree, rep­re­sent­ing 12% of the trees on the map. Oth­er pop­u­lar species include the Lit­tle­leaf Lin­den, Nor­way Maple, Pin Oak, and Ginko. Some oth­er stats show the eco­log­i­cal ben­e­fits of urban trees, includ­ing the amount of ener­gy con­served (667,590,884 kWh, or $84,279,933.06) and amount of car­bon diox­ide reduced (612,100 tons).
Vis­it the New York City Street Tree Map for the full, vir­tu­al tour of the city's trees, and marvel—if you haven't expe­ri­enced the city's vibrant tree life firsthand—at just how green the empire city's streets real­ly are.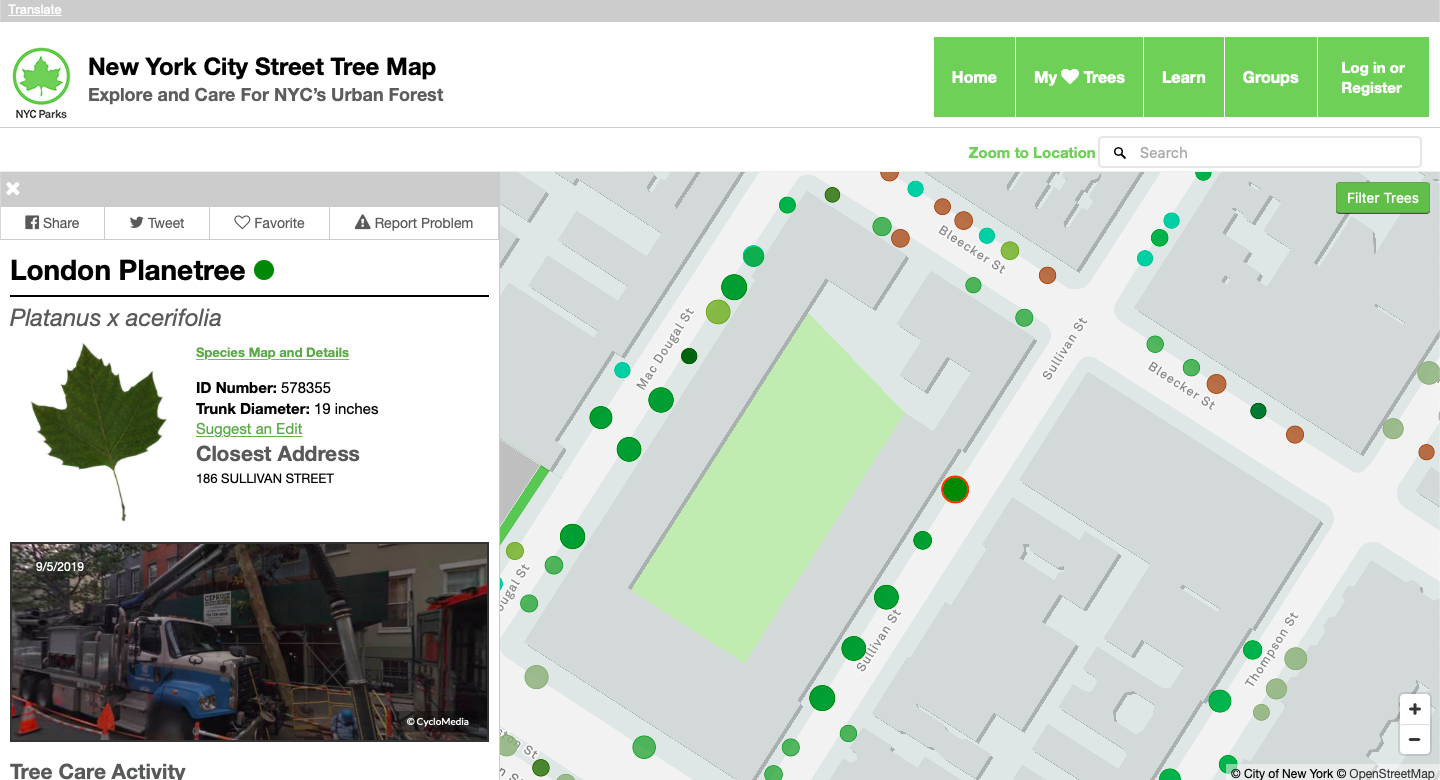 Relat­ed Con­tent:
New York Pub­lic Library Puts 20,000 Hi-Res Maps Online & Makes Them Free to Down­load and Use
New York City: A Social His­to­ry (A Free Online Course from N.Y.U.)
The Secret Lan­guage of Trees: A Charm­ing Ani­mat­ed Les­son Explains How Trees Share Infor­ma­tion with Each Oth­er
Josh Jones is a writer and musi­cian based in Durham, NC. Fol­low him at @jdmagness