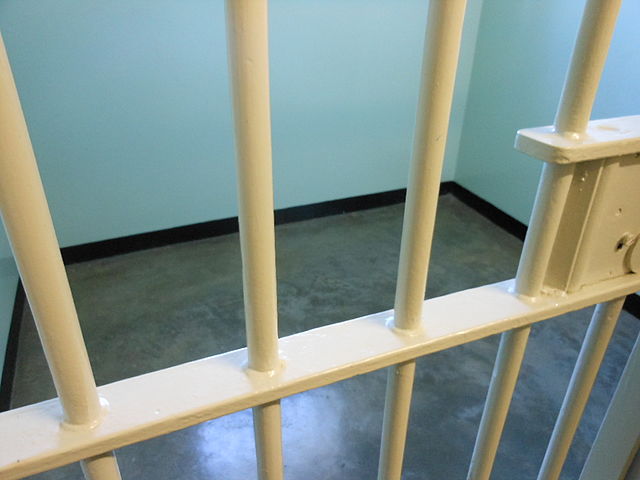 "We live," wrote philosopher Alain Badiou, "in a contradiction." Dehumanization must be normalized in order to keep the economy going. "A brutal state of affairs… where all existence is evaluated in terms of money alone—is presented to us as ideal." Yet the market that promises freedom just as often strips it away, in public-private partnerships that bring censorship and rent-seeking into happy symbiosis.
In recent years, free market opportunism has taken hold in the most unfree places in the U.S., the country's prisons, which hold more people proportionally than in any other nation in the world: a huge, previously untapped market for sales of hygiene products and visits with family. "Like the military," writes Adam Bluestein at Inc.,, "the corrections system is a big, well-capitalized customer."
One recent commercial encroachment on prisoners' freedoms arrived this year when the West Virginia Division of Corrections issued inmates tablets, under a contract with a company called Global Tel Link, who charge them by the minute to read books online. One might make the argument that forcing inmates to pay for basic needs satisfies some ideal of punishment. But to restrict access to books seems to dispense with the pretense that prison might also be a place of rehabilitation.
"Any inmates looking to read Moby Dick," reports Reason, "may find that it will cost them far more than it would have if they'd simply gotten a mass market paperback." Katy Ryan of the Appalachian Prison Book Project, which donates free books and materials to prisons, points out how limiting the scheme is: "If you pause to think or reflect, that will cost you. If you want to reread a book, you will pay the entire cost again."
West Virginia is not banning print books, purchased or donated. It is, however, charging inmates for already free material. The books they pay per minute to read online are all on Project Gutenberg, the open platform for thousands of free eBooks. That the program amounts to a kind of economic-based censorship may hardly be coincidence. Other states around the country have begun limiting, or outright banning, books in prisons.
The Washington State Department of Corrections has prohibited all books donated by nonprofits, presumably because they might be used to smuggle contraband. Prison officials at the Danville Correctional Center in Illinois made clear what they considered contraband—books about black history, 200 of which were removed from the prison library—including W.E.B. Du Bois The Souls of Black Folk and Harriet Beecher Stowe's Uncle Tom's Cabin—after they were deemed "too racial."
These are only a few examples of a widespread phenomenon PEN America details in a new report, "Literature Locked Up: How Prison Book Restriction Policies Constitute the Nation's Largest Book Ban." Paradoxically, some restrictions can seem at odds with market demands—such as limits on inmates' ability to order books from online retailers. But like many contradictions in the system, perhaps these also serve a larger goal—preventing prisoners from educating themselves may ensure a steady stream of repeat customers in the hugely profitable carceral industry.
Related Content:  
Inmates in New York Prison Defeat Harvard's Debate Team: A Look Inside the Bard Prison Initiative
On the Power of Teaching Philosophy in Prisons
Artist is Creating a Parthenon Made of 100,000 Banned Books: A Monument to Democracy & Intellectual Freedom
Josh Jones is a writer and musician based in Durham, NC. Follow him at @jdmagness.