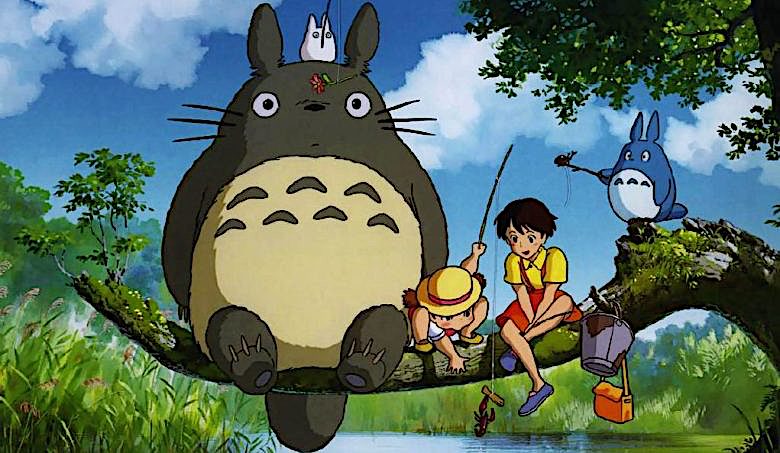 Some describe Studio Ghibli, the animation company founded by Hayao Miyazaki and Isao Takahata, as "the Japanese Disney." That does justice to the true nature of neither Ghibli nor Disney, though both ventures have displayed an uncanny ability to produce beloved animated films — and beloved animated films that haven't always been easy to see on demand. Just this past summer we featured the release of Ghibli's Spirited Away in China, eighteen years after its premiere, but even in less politically sensitive territories, fans have had their challenges: finding a way to stream Ghibli movies, for instance, which (at least in North America) will become much easier on December 17th.
On that date, reports Variety's Dave McNary, "GKids will release the entire Studio Ghibli catalog of animated films for digital purchase." From Nausicaä of the Valley of the Wind and My Neighbor Totoro to From Up on Poppy Hill and The Tale of the Princess Kaguya, Ghibli's films "will be available to purchase in both English and Japanese languages on all major digital transactional platforms."
This marks "the first time the Studio Ghibli films will be available for digital purchase anywhere in the world," including the studio's homeland of Japan — a country, in any case, with a slightly different relationship to the internet than most, and one that tends to result in a preference for physical distribution over digital.
If you've never seriously watched Studio Ghibli's films, don't be fooled by the name GKids: the American distributor specializes in artisanal animation, mostly but not entirely Japanese (its catalog also includes Nina Paley's Sita Sings the Blues), and those in charge there know full well the draw of Ghibli for demographics far beyond those still in childhood. One can fairly argue, in fact, that youngsters aren't Ghibli's primary audience; whereas Disney makes animation for kids that many grown-ups can enjoy, Ghibli in some sense does the opposite. The films of Miyazaki, Takahata, and Ghibli's other stalwarts will thus make ideal material for the all-ages at-home movie marathons without which no holiday season is complete, seeing as their animated magic will arrive in the realm of on-demand not a moment too soon.
Related Content:
How the Films of Hayao Miyazaki Work Their Animated Magic, Explained in 4 Video Essays
Watch Hayao Miyazaki's Beloved Characters Enter the Real World
Studio Ghibli Releases Tantalizing Concept Art for Its New Theme Park, Opening in Japan in 2022
Based in Seoul, Colin Marshall writes and broadcasts on cities and culture. He's at work on a book about Los Angeles, A Los Angeles Primer, the video series The City in Cinema, and the crowdfunded journalism project Where Is the City of the Future? Follow him on Twitter at @colinmarshall or on Facebook.