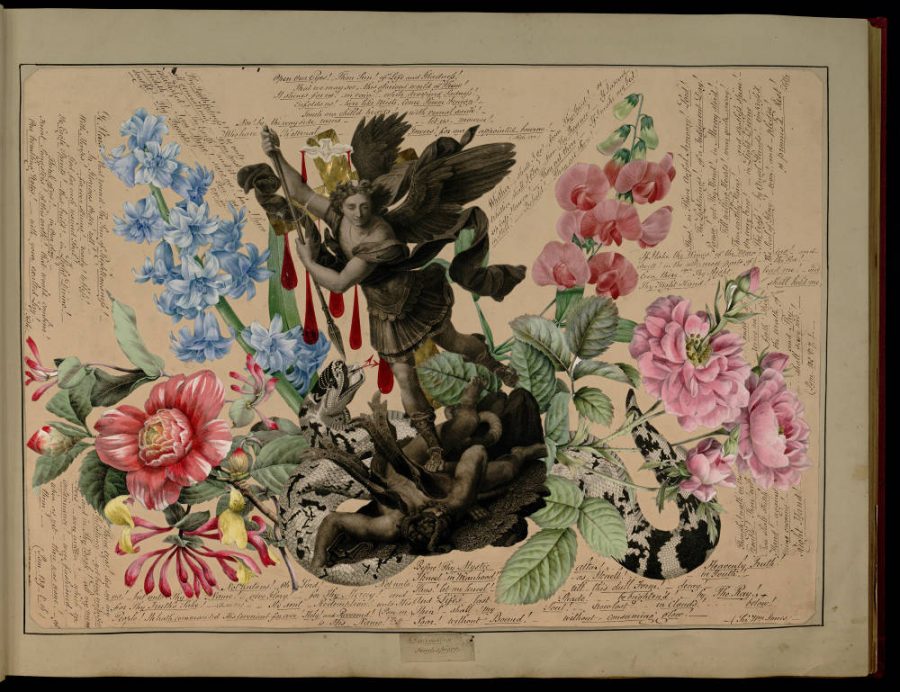 Most U.S. read­ers come to know Eve­lyn Waugh as the "seri­ous" writer of the saga Brideshead Revis­it­ed (and inspir­er of the 1981 minis­eries adap­ta­tion). This was also the case in 1954, when Charles Rolo wrote in the pages of The Atlantic that the nov­el "sold many more copies in the Unit­ed States than all of Waugh's oth­er books put togeth­er." Yet "among the lit­er­ary," Waugh's name evokes "a sin­gu­lar brand of com­ic genius… a riotous­ly anar­chic cos­mos, in which only the out­ra­geous can happen—and when it does hap­pen is out­ra­geous­ly divert­ing."
The com­ic Waugh's imag­i­na­tion "runs to… appalling and macabre inven­tions," incor­po­rat­ing a "lunatic log­ic." The sources of that imag­i­na­tion now reside at the Har­ry Ran­som Cen­ter at the Uni­ver­si­ty of Texas, Austin, who hold Waugh's man­u­scripts and 3,500-volume library.
The nov­el­ist, the Ran­som Cen­ter notes, "was an invet­er­ate col­lec­tor of things Vic­to­ri­an (and well ahead of most of his con­tem­po­raries in this regard). Undoubt­ed­ly the sin­gle most curi­ous object in the entire library is a large oblong folio decoupage book, often referred to as the 'Vic­to­ri­an Blood Book.'"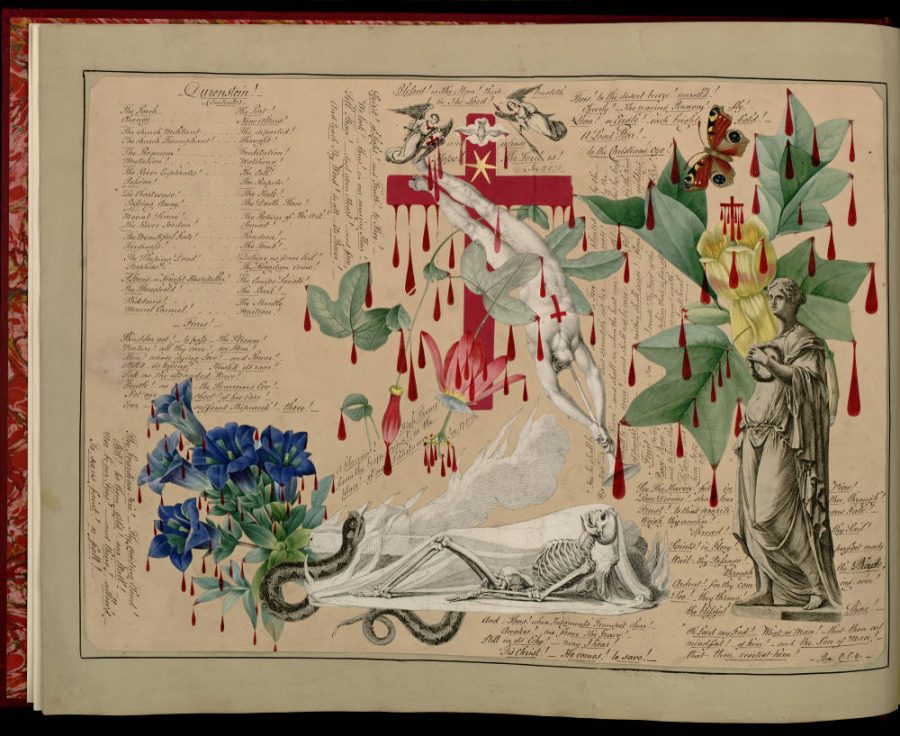 Waugh deeply admired Vic­to­ri­an art, and espe­cial­ly "those nine­teenth-cen­tu­ry ene­mies of tech­nol­o­gy, the Pre-Raphaelites," writes Rolo. Still, like us, he may have looked upon scrap­books like these as bizarre and mor­bid­ly humor­ous, if also pos­sessed by an unset­tling beau­ty. (One 2008 cat­a­logue described them as "weird" and "rather ele­gant but very scary.") More than any­thing, they resem­ble the kind of thing a goth teenag­er raised on Mon­ty Python and Emi­ly Dick­in­son might put togeth­er in her bed­room late at night. Such an artist would be car­ry­ing on a long "cher­ished tra­di­tion."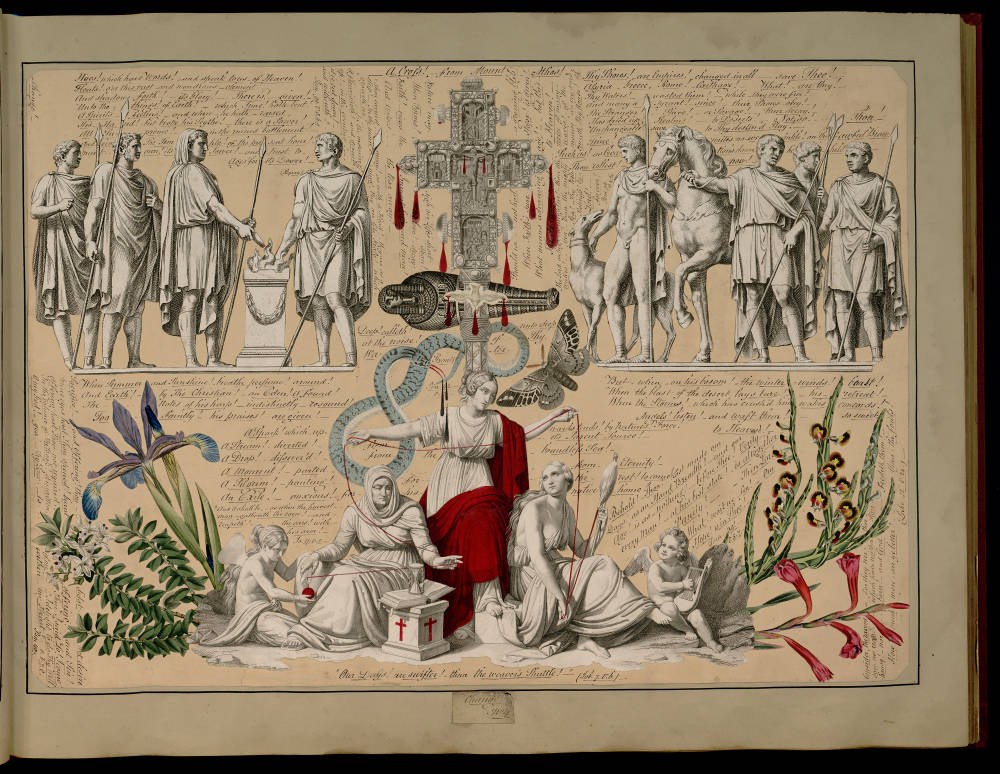 "Vic­to­ri­an scrap­book­ing," the Ran­som Cen­ter writes, "was almost exclu­sive­ly the province of women," a way of orga­niz­ing infor­ma­tion, although "the esthet­ic aspect" could some­times be "sec­ondary." The "Vic­to­ri­an Blood Book," how­ev­er, is the work of a pater­fa­mil­ias named John Bin­g­ley Gar­land, "a pros­per­ous Vic­to­ri­an busi­ness­man who moved to New­found­land, went on to become speak­er of its first Par­lia­ment, and returned to Stone Cot­tage in Dorset to end his days."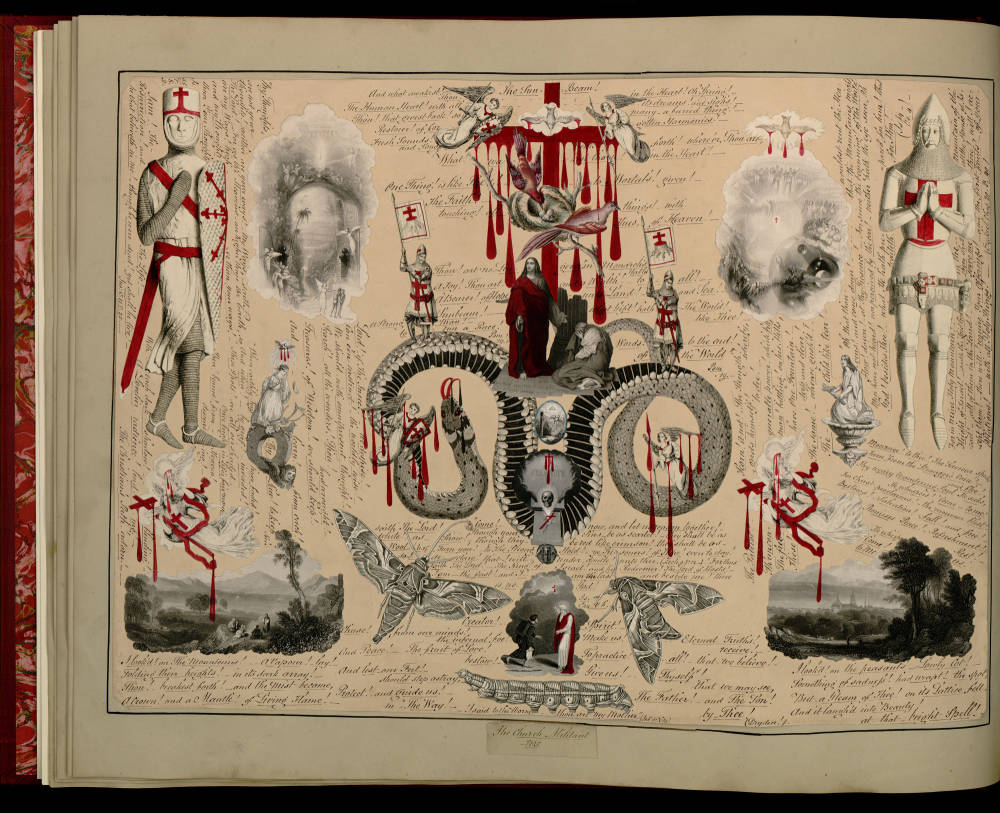 Inscribed to Bin­g­ley's daugh­ter Amy on Sep­tem­ber 1, 1854, the book seems to have been a wed­ding present, made with seri­ous devo­tion­al intent:
How does one "read" such an enig­mat­ic object? We under­stand­ably find ele­ments of the grotesque and sur­re­al. But our eyes view it dif­fer­ent­ly from Vic­to­ri­an ones. As Gar­land's descen­dants have writ­ten, "our fam­i­ly does­n't refer to…'the Blood Book;' we refer to it as 'Amy's Gift' and in no way see it as any­thing oth­er than a pre­cious reminder of the love of fam­i­ly and Our Lord."
The "Blood Book" 's actu­al title appears to have been Duren­stein!, which is the Aus­tri­an cas­tle where Richard the Lion­heart­ed was impris­oned. Assem­bled from hun­dreds of engrav­ings, many by William Blake, it appar­ent­ly depicts "the spir­i­tu­al bat­tles encoun­tered by Chris­tians along the path of life and the 'blood' to Chris­t­ian sac­ri­fice." The "blood" is red India ink. The quo­ta­tions sur­round­ing each col­lage, accord­ing to the Gar­land fam­i­ly "are encour­ag­ing one to turn to God as our Sav­iour."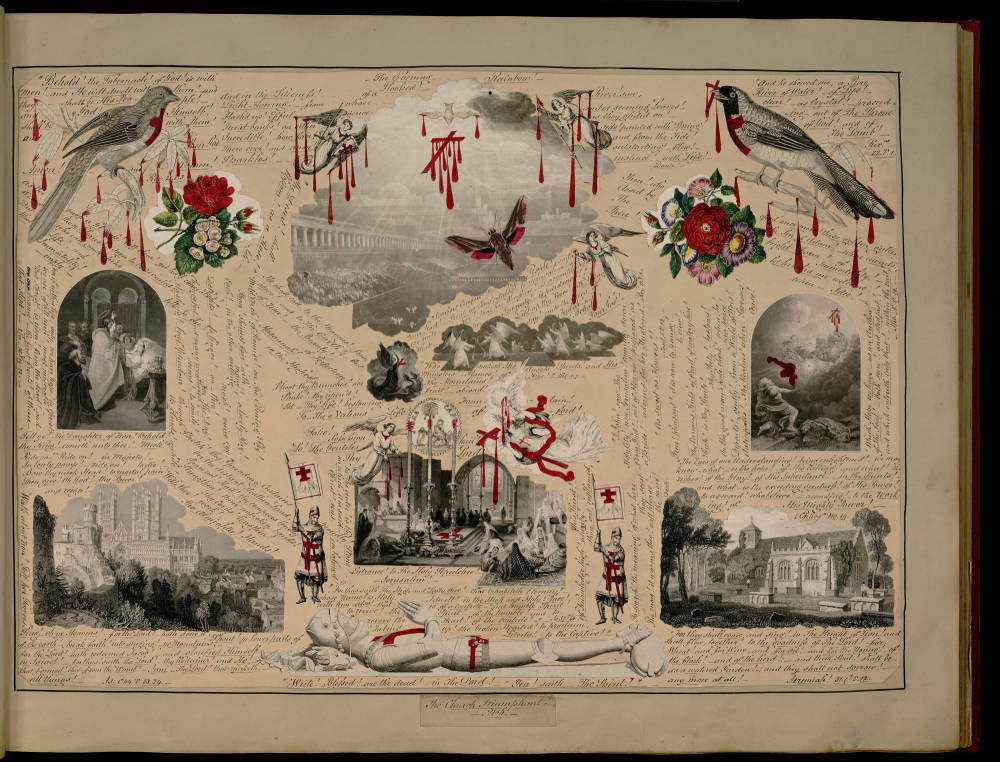 One can imag­ine the "seri­ous" Waugh look­ing on this strange object with almost rev­er­en­tial affec­tion. He lapsed into a high­ly affect­ed, reac­tionary nos­tal­gia in his lat­er peri­od, announc­ing him­self "two hun­dred years" behind the times. One con­tem­po­rary declared, "He grows more old-fash­ioned every day." But the sav­age­ly com­ic Waugh would not have been able to approach such a bizarre piece of folk col­lage art with­out an eye toward its use as mate­r­i­al for his own "appalling and macabre inven­tions."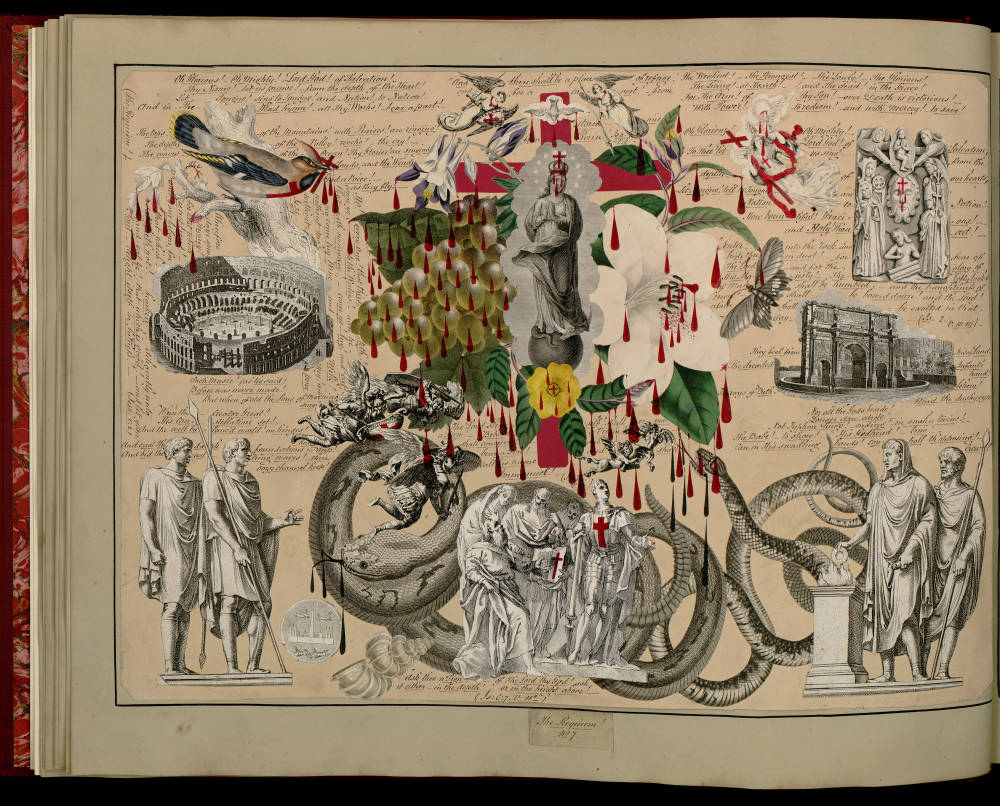 See a full scanned copy of the "Vic­to­ri­an Blood Book," and down­load high-res­o­lu­tion images, online at the Uni­ver­si­ty of Texas, Austin's Har­ry Ran­som Cen­ter.
Relat­ed Con­tent:
19th-Cen­tu­ry Skele­ton Alarm Clock Remind­ed Peo­ple Dai­ly of the Short­ness of Life: An Intro­duc­tion to the Memen­to Mori
Browse The Mag­i­cal Worlds of Har­ry Houdini's Scrap­books
A Wit­ty Dic­tio­nary of Vic­to­ri­an Slang (1909)
Josh Jones is a writer and musi­cian based in Durham, NC. Fol­low him at @jdmagness