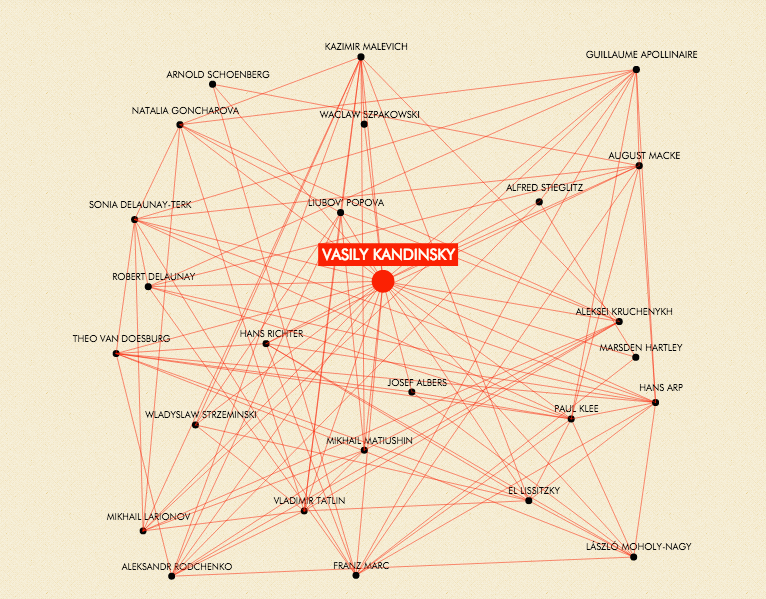 Who's your favorite abstract artist? Some of us, if we like early abstraction, might name a painter like Wassily Kandinsky, some a composer like Arnold Schoenberg, some a poet like Guillaume Apollinaire, and some, even, a photographer like Alfred Stieglitz. When we answer a question like this, we tend to consider each artist, and each artist's body of work, in isolation. But when we talk about artistic movements, especially one overarching and influential as abstraction, all names, all paintings, all compositions, all poems, all photographs — all works of any kind — are interconnected. Just as abstract artists managed to make visible, audible, and legible concepts and feelings never before realized in art, the Museum of Modern Art's interactive social-network map of abstract art puts all those connections on display for us to see.
"Abstraction may be modernism's greatest innovation," says the web site of Inventing Abstraction 1910-1925, the MoMA exhibit for which the map (downloadable as a PDF poster here) was originally designed. "Today it is so central to our conception of artmaking that the time when an abstract artwork was unimaginable has become hard to imagine."
But when abstract art emerged, it seemed to do so quite suddenly: beginning in 1911, Kandinsky and other artists, including Fernand Léger, Robert Delaunay, František Kupka, and Francis Picabia, "exhibited works that marked the beginning of something radically new: they dispensed with recognizable subject matter." You can view the Inventing Abstraction diagram with Léger at the center, which reveals his connections to such figures as Man Ray, Marcel Duchamp, and Pablo Picasso. Reconfigured with Delaunay at the center, links emerge to the likes of Blaise Cendrars, Edgard Varèse, and Paul Klee.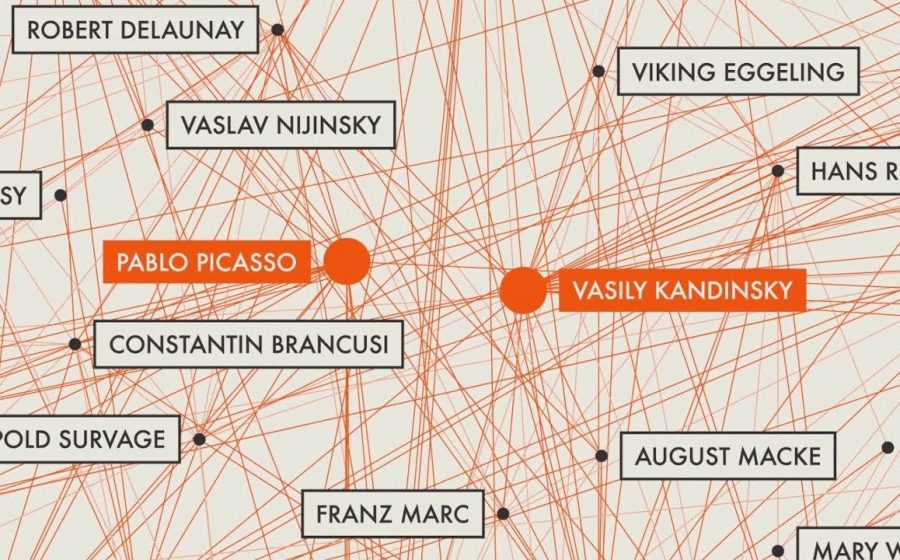 But no abstract artist seems to have been as well-connected as Kandinsky, who "became a central force in the development and promotion of abstraction through his intrepid efforts as a painter, theorist, publisher, exhibition organizer, teacher, and as a generous host to the dozens of artists and writers who trekked, often from great distances, to meet him." So says the bio alongside Kandinsky's page on the diagram, which depicts him as the node connecting figures, influential in their own right, like Josef Albers, László Moholy-Nagy, and Hans Richter. Kandinsky's "message about abstraction's potential transcended distinctions between mediums, and his impact was felt from New York to Moscow." But only a community of artists spanning at least that range of the globe, each in his or her own way looking to create a new world, could bring abstract art into being. More than a century later, we can safely call it here to stay.
Enter the social network of abstract artists here.
Related Content:
Steve Martin on How to Look at Abstract Art
How to Paint Like Kandinsky, Picasso, Warhol & More: A Video Series from the Tate
Who Painted the First Abstract Painting?: Wassily Kandinsky? Hilma af Klint? Or Another Contender?
The First Masterpieces of Abstract Film: Hans Richter's Rhythmus 21 (1921) & Viking Eggeling's Symphonie Diagonale (1924)
A Quick Six Minute Journey Through Modern Art: How You Get from Manet's 1862 Painting, "The Luncheon on the Grass," to Jackson Pollock 1950s Drip Paintings
How the CIA Secretly Funded Abstract Expressionism During the Cold War
Based in Seoul, Colin Marshall writes and broadcasts on cities, language, and culture. His projects include the book The Stateless City: a Walk through 21st-Century Los Angeles and the video series The City in Cinema. Follow him on Twitter at @colinmarshall or on Facebook.